Just over a year ago, the meat magicians at charcuterie powerhouse Olympia Provisions unveiled OP Wurst, a sausage-centric entry into their empire of restaurants. With three locations, OP Wurst put its sausagey stamp on Southeast Division, Oregon City, and Pine Street Market. "Wurst/worst" puns abounded. I wrote in this very column that in a big sausage town, OP Wurst offered the most compelling of dogs.
Sponsored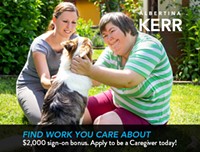 Become an Albertina Kerr Caregiver & help people experiencing intellectual and developmental disabilities.
A year later, it turns out sausage is a bit limiting, especially when you're known for the sorts of fancy meat that comes thin-sliced or whipped up on charcuterie boards. OP Wurst, having buried the lede by abbreviating the company's name in the branding, accidentally became just another hot-doggery.
It was time for a rebrand. OP Wurst would become Olympia Provisions Public House Eatery, leaning into the Division location's neighborhood bar feel (its huge patio was already something of an oasis of human social activity, surrounded as it is by opaque new condos), pushing it even further in the direction of German beer halls with a menu reboot and a partnership with German-style brewery Rosenstadt (German, of course, for "City of Roses").
Lucky for us, that rebrand keeps an awful lot of sausage on the menu—but adds German delights like schnitzel, beer-battered trout, and a schweinshaxe plate. The latter is less daunting than the chicharron-fried, dinner-for-two version that put Stammtisch on the German food map, but it is happily manageable for just one. It's still a hearty whole pork shank, served over sauerkraut and potatoes in a puddle of jus worth getting a side of fries to dip in. (And at $15, you don't have to bring a friend to split it with you.)
The trout and schnitzel are both available in sandwich form, but the schnitzel plate comes with the secret weapon of Olympia Provisions Public House Eatery—the gemischter salat, or mixed salads. Seasonal or based on the chef's whim, you've got classics like potato salad and cabbage slaw, but among my favorite things on the menu were a creamy apple and radish salad and a mushroom offering with toothsome cooked morels in a dark vinaigrette.
You can order those salads all together for $12, but the Toggi Schnitzel plate comes with three of them for $17, topped with a slab of pork schnitzel stuffed with cheese and smoky country ham—breaded and fried, it's the chicken cordon bleu of schnitzel. It'll make you forget that sausage exists.
Not really: Sausage is still a big part of the menu, and you can get sandwiches like a "reuben," a cheese-stuffed kasekrainer with ham, sauerkraut, and thousand island dressing on a bun. (Calling it a reuben seems questionable and unnecessary, but you don't question the gods, you just eat what they give you.)
For snackier fare, good thick French fries are available as a side or covered with cheese sauce, sage, peppers, and of course, sausage. Meanwhile, "fried pickled vegetables" turned out to just be a basket of just fried jalapeños, delicious but underwhelming. And of course, a charcuterie board beckons if you like your meats more manageably sized.
Washing all this down with Rosenstadt kolsch or lager feels totally natural, but don't miss the rotating radlers, Rosenstadt Weissbier mixed with housemade soda—not cloyingly sweet yet terrifically bubbly, a recent grapefruit radler gave Stiegl a run for its euros. Cocktails are also available in the $8-10 range—including a classic paloma, a mezcal old fashioned (is this a thing everyone's doing now?), and the Aperol-vodka-St Germain-and-rose Rosato Stone (a bit on the sweet side, but I admire the pun).
The spacious patio is a hot spot for folks with kids and non-hot dogs, and it's neighborhood-friendly enough that some friends of mine and their children walked by playing a roving game of hide and seek, with the patio with its cornhole and puppies clearly tempting both the kids and adults. But honestly, not much has changed here structurally. It's not that it's now a public house, it's just that its name is finally catching up with its vibe.
---
EAT THIS!
At the time of writing the Wurst sign still hangs at Pine Street Market. But a few blocks away, at Pioneer Square, among the newish smattering of food trucks stands yet another Olympia Provisions outlet— this one a combo deal with another beloved Oregon animal-product company, Tillamook Cheese. The Melty & Meaty Sandwich Eatery is slinging sandwiches showing off meat and cheese alike, but the actual star of this cart is an ultra-creamy mac and cheese—leave it to the experts to figure that one out—to which you can add any of the Olympia Provisions meats. Get ready to nap at your desk. Melty & Meaty, Pioneer Square, Daily 11 am-4 pm.