What, exactly, makes for a Christmas beer? I don't really have a good answer. Brewers around the world have upheld different traditions and experimented with new styles so that there are almost as many types of Christmas beers as there are brewers. Generally speaking, brewers tend to have fun around the holidays, often concocting brews that are pretty strong (although sometimes not), usually on the darker end of the spectrum (although sometimes not), and sometimes making use of spices and other festive ingredients—but, again, not always. Sometimes a Christmas beer is little more than a goosed-up IPA with a festive label on the bottle. Brewers also tend to play it off the cuff, often tweaking their Christmas beer recipe from year to year.
Sponsored
Sketch comedy troupes from all over N. America descend on The Siren Theater for 3 glorious nights.
There are some benchmarks: Austria's Samichlaus, from the Eggenberg brewery, is in some ways the ne plus ultra of Christmas beers—a phenomenally potent beer (at one point, the strongest in the world) that's classified as a doppelbock but functions like something closer to sherry or brandy. California also boasts two established Christmas standards: Anchor's Our Special Ale contains different spices every year, ranging from spruce to allspice to heaven knows what (Anchor isn't saying). And Sierra Nevada's Celebration Ale is a full-bodied IPA with plenty of piney hops—once a seasonal treat, but now a style that runs rampant through the craft beer industry.
Oregon's holiday beers run the gamut, although established standbys like Deschutes' Jubelale and BridgePort's Ebenezer betray a proclivity toward lightly spiced, malty ales in the English "winter warmer" tradition. Some local breweries pull out all the stops: Lompoc Brewing is unveiling seven different holiday beers this year, while Hopworks is offering no less than 13.
Since there's no reasonable way to comprehensively navigate the dozens of different beers of the season, we grabbed what looked like a representative handful of Oregon-made Christmas-themed beers and hoped for the best. We also thought up some seasonally appropriate food and music pairings for each.
Heater Allen's Sandy Paws is a Baltic porter, although they're not allowed to say so on the label. It's a dark, velvety brown that seems to absorb light like a black hole. The substantial alcohol flavor (it clocks in at 7.8 percent ABV) works in tandem with a very slight sourness, and an austerity that would likely benefit from aging. The massage-like mouthfeel is shockingly soft, but the beer at times can be a little cruel-tasting. Let it warm in the glass, and lighten it up with some creamy chocolates or a funky cheese, and put on some inspirational music, like Alfred Reed's stirring piece for wind instruments, Russian Christmas Music.
Golden Valley's Tannen Baum is another Oregon mainstay, a crimson-tinged oceanic amber that smells like cookies. Even at 8 percent ABV, the very easygoing candy sweetness makes this friendly beer pairable with any kind of Christmas roast, from duck to ham, and it'll also probably work just fine with sharp cheddar or fruitcake. Music? Vince Guaraldi's A Charlie Brown Christmas, of course.
Bocks are often thought of as springtime beers—monks used to subsist on the bready tasting, high-alcohol doppelbocks during their times of fast—but Mazama Brewing's Mazamanator Doppelbock is undeniably a winter beer, perhaps crafted in the vein of Samichlaus. A dark, almost evil ruby-tinged brown with barely any aroma, it offers a huge malt flavor that goes right up to the line of "too sweet," then backs off. There's a clean, succinct taste of bread crust and caramel alongside an almost invisible hop spice, and the 8.2 percent ABV is very well concealed but eventually shows up in a late hit of alcohol warmness. This is a nice American-made doppel, appealingly smooth around the edges, if a little tepid compared to the classic Germans. Use it as an after-dinner drink while listening to Handel's Messiah.
Double Mountain's Fa La La La La Winter Ale is a ruddy mahogany with lots of fluffy head that lingers, and a brightly appealing aroma of hops, hops, and more hops. The sweet malt profile is powerful to hold its own against the hop bitterness, which is piney with tangs of oranges. This is a very sturdy, solid beer in the Celebration Ale tradition, with a twinge of alcohol burn from the 7.5 percent popping its head up at the end of the sip. It should go great with chestnuts roasted on an open fire, if that's a thing people actually do. And Nat King Cole is the music you want.
pFriem's Winter Ale is a dark golden ale with the volume turned up two notches—extra malt and extra hops. It's like a whirlwind visit home for the holidays, where you see too many people and don't have enough time to talk to everybody. Despite its size (7.5 percent ABV), it's quite smooth and drinkable, and will pair well with any and all leftovers in the fridge. Drink it while listening to John Denver and the Muppets' A Christmas Together.
Alameda's Papa's Olde Ale is a deep, dark copper color, with a strong, candy-like aroma and an ABV of 7.2 percent. I found it incredibly sweet this year, with aggressive brown sugar and maple syrup flavors. At times it veers into root beer territory, although the nice thing is that it never gets too thick or cloying. One's initial reaction is to drop a scoop of vanilla ice cream into it and make a float, but as everyone who's ever tried one knows, beer floats are always a mistake. Anyway, that'd be too sweet, so maybe drink it with something tart, like a crisp pear (from the tree that came with that damn partridge). And put on some holiday tunes that are just a touch saccharine, such as A Christmas Gift for You from Phil Spector.
Full Sail's Wreck the Halls is their beer specifically made for Christmas (as opposed their Wassail, which is for winter in general). It pours a glowing rust color with a gentle, lacy head and clocks in at a user-friendly 6.5 percent. It's a lovely beer—just a giant hop wallop, with cracker-y malts and a hint of apple juice, and the strong malt and hop characteristics dominate Full Sail's sometimes buttery yeast flavor. Full Sail recommends pairing it with spicy foods such as Thai, and this sounds exactly right to me. Put on something funky and soulful, like James Brown's Hey America It's Christmas.
Sponsored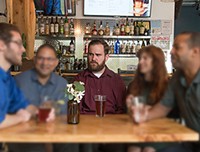 Adults aged 18-35 with good hearing will be paid for their time. Located at the Portland VA Medical Center