I'm fortunate that my job requires me to drink and think. I had a wine recently, and my thoughts bounced from what the wine tasted like (a fizzy savory biscuit) to its status (hip in all the right places) to its history (it dates back 500 years) to how it's made (the so-called méthode ancestrale) to what it means to the winemaker (pulling it off can be a gamble) to what it is culturally (a modern throwback).
Sponsored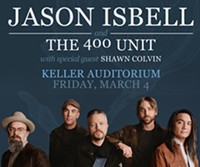 Jason Isbell has established himself as one of the most respected songwriters of his generation. Don't miss Jason Isbell and the 400 Unit, March 4th at Keller Auditorium!
And you thought wine was just something to swig on....
The wine
A pétillant naturel, which means "naturally sparkling," usefully shortens to pét-nat. They are generally unassuming and easygoing, with a rustic element. I might call it the hillbilly of fizzy wine.
---
The taste
The actual wine was Day Wines' Mamacita ($32 from 1856, 1465 NE Prescott). It was floral, yeasty, and biscuity, and shone with lemon oil and honey. Nicely effervescent, it was fresh and light, and would make a great aperitif. I wanted a clear summer's day, my feet dipped in the lake as I sat on a dock sipping it.
---
Status
Pét-nats are "a thing" in certain corners of the wine world where sommeliers compete to find obscure wines, and where the bottle you take to a barbecue says everything about you. They've been referred to as the hip younger sister of champagne, which sounds neat, but isn't true. They taste nothing like champagne, and the method itself is older than champagne (see below).
The Mamacita was the street version of pét-nat—which is a little wild and edgy. But technically, a pét-nat is a wine made in the méthode ancestrale fashion, so it may just be a pleasant, lightly sparkling wine without any awkwardness to it. Those don't tend to get written about so much.
---
The method
Méthode ancestrale refers to a wine partly fermented in the bottle. Fermentation happens when yeasts eat the sugar inside grapes, producing alcohol and carbon dioxide. If that happens inside the bottle, the CO2 will be trapped and only released when you pop open the cap.
The "naturel" part is important. Manipulation isn't necessary for pét-nats like it is with champagne, which requires two fermentations—one completed in a tank, the other artificially stimulated by the addition of sugar and yeast after the wine has been bottled. The pét-nat fermentation happens naturally and the fairly simple process lends itself to naturalist winemaking, where the wine is a pure representation of the place it comes from.
---
History
The first recorded mention of méthode ancestrale dates back to 1531 and the region of Limoux in southwest France, a good couple of centuries before sparkling wine became a thing in Champagne. However, pétillant naturel is a recent term, coined in the 1990s.
---
The winemaker
Winemaker Brianne Day was introduced to the style on a trip to France when she was still something of a wine novice.
"There was an authenticity and lack of pretension or polish that drew me in," she says. She doesn't use commercial yeast or sulfur in her wines. "It's just juice that's fermented to a certain level and then put into the bottle."
Which can be a gamble, because once the winemaker has capped the bottle, she has no control over what happens. The resulting character, flavor, and fizz are left up to nature. That unpredictability doesn't just flow across a vintage; each bottle can be different. That's the appeal, since it means the wine is alive: "[It's] a celebration of the year and of the vitality of life," says Day.
---
Culture
When I tried the Mamacita there was a nice chunk of sediment in the bottleneck. In our culture that eulogizes the artisanal and handmade, the sludge is a badge of authenticity. When winemakers dig into tradition they sometimes celebrate the rough edges that were once flaws born of necessity. The rustic is genuine, and old methods are hip. Maybe I should stop thinking and do more drinking.
---
On April 18, the Southeast Wine Collective (2425 SE 35th Pl., sewinecollective.com) is hosting a tasting group on pét-nat from 6-7:30 pm with sommelier Dana Frank.