COUNTRY SINGER/SONGWRITER Brandy Clark has lived in Nashville for years, but she grew up in Morton, Washington, a logging town of 1,100ish folks about 100 miles north of Portland. Her first childhood memory is the 1980 eruption of Mount St. Helens.
Sponsored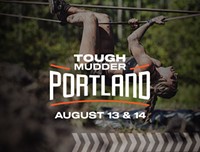 Lock in your summer adventure, Portland. Join us for world famous obstacles over a 5K or 10K distance.
Clark gets back to the Northwest as often as she can to visit her mom, who now lives in Randle, Washington.
"She's a small-town lady," Clark says, a smile shining through her acquired Southern accent.
Mom raised one, too—Nashville's bigger than ever, but over the past five years Clark has become one of its most in-demand songwriters, largely due to her ability to channel the people and stories of America's small towns. She spent years as one of the creative cogs in Music City's hit machine, writing and co-writing perfect country songs for stars like Miranda Lambert, Reba McEntire, and her longtime friend and writing partner Kacey Musgraves.
Clark broke through as a recording artist with 2013's 12 Stories, an immaculate collection of country-folk songs about love, infidelity, heartbreak, and the various substances men and women use to get through it all. (Along with Musgraves and Ashley Monroe, Clark sent a jolt through country music by singing plainly about marijuana.)
"[12 Stories] was [full of] songs that other artists loved, but were a little too scared to cut," says Clark.
The album earned her critical praise and award nominations, setting the stage for her highly anticipated follow-up, Big Day in a Small Town, released in June. Here Clark takes a solid step toward arena-ready country-pop without sacrificing the emotional resonance or attention to detail that makes her songs so endearing.
"I definitely was a little more deliberate this time," she says, "but I never try to lose that perspective of just writing songs that entertain me, because I believe if it doesn't move me and doesn't entertain me, it's not gonna entertain anyone else."
Like 12 Stories, Big Day is wall-to-wall packed with the sharpest lines in country music. The family in "Broke" has a rusted Chevy in the driveway (or maybe front yard), and drinks generic Coke. In "Homecoming Queen," an old sequin dress doesn't fit the protagonist like it did before she had kids. And in the title track, Clark nails what gets people talking in a small town: a teen pregnancy, a nervous breakdown, a flipped pickup after drinking a whole 12-pack of beer, a touchdown for the local team.
Where she used to write in hopes of getting songs cut by bigger artists, now Clark has to consider what to pitch to others and what to keep for herself.
"My line is, if I don't like the idea of someone else doing it, I keep it," she says with a laugh. "If I think, 'Man, I don't want anyone but me singing that'—at least not first—that's when I know I need to hang onto it."
There are exceptions, of course; Clark won't complain about recent cuts of her songs by George Strait, Tim McGraw, or Jennifer Nettles, that's for sure. Navigating the line between her songwriting career and her own music career is trickier than it used to be, Clark says, but it doesn't keep her up at night.
"I do believe that songs find their right home," she says. "The reason why songs of mine end up with me is because they were supposed to be with me."