For many Americans, March 17 is the day to cut loose and LARP Flogging Molly's sloppy anthem "Drunken Lullabies" while chugging green beer and pretending to jig. If you'd rather protect your liver and dignity from the wrath of St. Patrick, I'd like to suggest pouring yourself a quiet pint and listening to Clannad.
Sponsored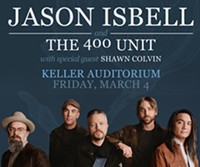 Jason Isbell has established himself as one of the most respected songwriters of his generation. Don't miss Jason Isbell and the 400 Unit, March 4th at Keller Auditorium!
Formed in County Donegal in the early '70s, Clannad is Moya, Ciarán, and Pól Brennan and their uncles Noel Duggan and the late Pádraig Duggan. You're probably familiar with the Brennans' younger sister, Enya, who left the family band in her 20s to pursue a wildly successful solo career (she's sold an estimated 80 million records worldwide). Clannad's members grew up in one of Ireland's Gaeltacht regions, where the predominant language is still Irish. This bilingual upbringing is reflected in the group's traditional folk music, which weaves together English and Irish lyrics.
Though Clannad is best known for spacy new age compositions that resemble Enya's 1988 breakthrough "Orinoco Flow" more than any traditional Irish music, the moments when they emphasize their Gaeltacht roots are the brightest spots of the band's catalog. Their 1973 self-titled debut gently folds together harp, acoustic guitars, piano, mandolin, upright bass, tin whistle, and Moya's guiding lilt. It's rooted in the old style, but tracks like "Siúbhán Ní Dhuibhir" show that even Clannad wasn't impervious to the percussive, jazzy influence of the '70s (plus, their cover of "Morning Dew" sounds like Joni Mitchell fronting Crosby, Stills, Nash & Young).
The album also includes the bewitching bonus track "An Bealach Seo 'tá Romham," which finds Clannad doing what Clannad does best: putting traditional music in modern arrangements without losing the mystical quality that sounds like it's echoing from the fabled realm of Tír na nÓg. Moya plucks the harp and sings in Irish about "the journey to the grave" while her brothers and uncles harmonize, their feet stomping out rhythms as they strum guitar, upright bass, and mandolin. Tin whistle pierces through the folky melody like the piping-hot shriek of a boiling kettle, and the baroque sound of a feverish harpsichord joins the fray.
Their 1975 follow-up, Clannad 2, settles into haunting ballads with unexpected twists, like the bizarre electric guitar solo in the middle of "Dhéanainn Súgradh." Just so things don't get too modern, it's joined by a dueling flute, all while Moya's still in the back playing the harp. It's completely weird, but exactly why Clannad's music still sounds so innovative today—they took these ancient sounds from their home on the northwest coast of Ireland and handed the metaphorical druid an electric guitar.
1976's Dúlamán is Clannad's best record, named for the chanted opening track that's a rendition of an Irish folk song about seaweed (which used to be gathered and eaten, particularly during famine). This oceanic influence threads throughout the album: Its cover is a photo of a beach at low tide, with a candelabra-topped table surrounded by kelp sitting in the foreground. The band stands off in the distance, watching the scene from afar. "Two Sisters" repurposes the old Irish murder ballad about two sisters in love with the same man, until the younger woman meets a salty fate: "As they were a-walking by the foamy brim/The eldest pushed the youngest in." Moya sings the brutal story with dark Irish wit against instrumental accompaniment that's unnervingly cheerful.
Clannad found commercial success in 1982 with "Theme from Harry's Game," which was literally the theme from a British TV show called Harry's Game. It's the sonic equivalent of too much dry ice, and represents the band's permanent foray into easy-listening, synthesizer-heavy Celtic pop that's at times pretty cheesy (see Bono's cameo on 1985's "In a Lifetime," yikes). But it worked for them: 1983's Magical Ring went gold, and was followed by more industry achievements—more popular records, more TV and movie soundtracks, and a Grammy.
Though they're now considered trailblazers of the new age genre, Clannad's greatest accomplishment might've been forging the river that separated traditional Ireland from popular culture during those early years.