Read up on the Wild Reeds, and you'll find writers describing the Los Angeles band with any number of hyphenated genre mashups that include "folk" and "country." Which is kind of weird, because those aren't the first words that come to mind when listening to the band's new album, The World We Built.
It's a rock-solid collection of confident, well-crafted pop songs that are sometimes delicate, sometimes elegant, and sometimes heavy, but not heavy like metal. Heavy like substantive. These songs feel dense and deeply rooted, as if they've been around for decades.
"People hear with their eyes first. We are not a country band," says Kinsey Lee, one of the Wild Reeds' three lead vocalists. "We used to have a banjo, and people would quickly assume that we were gonna bust out a 'Wagon Wheel' cover or something."
Lee and the other two singing, songwriting Reeds—Sharon Silva and Mackenzie Howe—met in college, backed each other up at open mics for a bit, and eventually formed a band around the idea that gorgeous, interwoven three-part harmonies could anchor their songs. They recruited drummer Nick Jones and bassist Nick Phakpiseth to hold down the rhythms, and have been soaring upward ever since.
The band's 2014 album Blind and Brave put them on the radar of discriminating music lovers (and on Pickathon's 2016 lineup). Released last month, The World We Built is a significant step forward that reflects both the good and the bad of the Wild Reeds' experience so far.
"When it was done, we realized the three years of writing and touring we'd done had produced similar feelings in all of us that came out in the songs. Feelings of exhaustion, liberation, disillusionment, and empowerment," Howe says. "The World We Built refers to both our outlook on the world as traveling female performers, and the tight-knit unit we've created between the five of us to survive it all."
Sponsored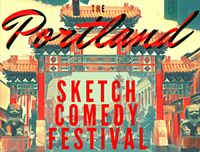 Sketch comedy troupes from all over N. America descend on The Siren Theater for 3 glorious nights.