Supposedly, Emma Ruth Rundle lives in Portland. The gothic folk singer/songwriter relocated here from Los Angeles last summer, just prior to the release of her darkly emotional third album, Marked for Death. Or at least most of her possessions did—she's been on the road nearly nonstop ever since.
Rundle hasn't spent much time here in 2017, either. She's toured European and has a few more swings through the US. These are the promotional obligations of the modern musician. The results seem to justify the outlay of time and energy that touring requires, as Marked for Death received warm reviews from major music publications, and she's seen plenty of fans at her shows. At the same time, she sounds ready to move forward.
"If I had my absolute druthers, I wouldn't tour this music in this way," Rundle says, speaking from a truck stop in Alabama. "There was a lot of dread about going out and playing these songs at first. I didn't want to do it. I had written all these new songs between the time I had recorded [Marked] and when it was released. I wanted to tour these songs that no one had heard before."
Her fears about playing the material from Marked on a regular basis were warranted. The album works through one of the darkest stretches of Rundle's life—a period of interpersonal drama, alcohol abuse, and, for a while, complete isolation in a desert retreat. All of those components are audibly and spiritually present on the finished LP. The music is fraught and beautiful, with reverb-heavy guitar lines rubbing roughly against the light rumble of a drum kit. Rundle reacts by singing through gritted teeth, forcing out lines like "Heaven, I'm done/If one and one and one is three/Something in this life I'll never see/Baby is gone." It feels almost vulgar to be listening as she unleashes these malignant spirits from within.
Performing the material live has gotten much easier, though. Her early run of shows was done solo, with just Rundle and her electric guitar. But lately, she's been using a backing band that has made the experience "less taxing all around."
"It's not just having people around onstage to share in the musical experience," she continues. "They're helping with the driving, and there's a certain levity that comes with being on the road in a group of people. I don't think I would have ever described playing music as being fun, but this has been fun."
Rundle is also working to maintain a healthier lifestyle, both physically and emotionally. There have been nice, long stretches of sobriety and therapy sessions, and there's the promise of more time to settle into her new hometown. Then there's the matter of trying to write new songs that weren't born from a place of internal agony.
"Up until this point, that has not happened," she says. "I think that writing from that sort of space where things have come from is not a sustainable way of making music or being. I'm interested in seeing where things go as I change as a person."
Sponsored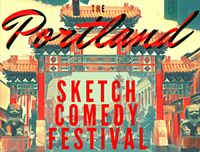 Sketch comedy troupes from all over N. America descend on The Siren Theater for 3 glorious nights.