Most modern country artists strain to appear authentic, namechecking standard bearers of the genre like Johnny, Waylon, and Willie as though the last 40 years never happened. The rest achieve that legitimacy naturally, either by ignoring the trends of the moment or rooting their sound firmly in the past.
The latter route is where you'll find Jenny Don't and the Spurs, a local combo of shit-kickers and romantics whose throwback sound is rooted less in '60s Nashville and more in the DIY-fueled, Los Angeles cowpunk scene that spawned X and the Blasters. (Frontwoman Jenny Connors and several of her Spurs also record combustible punk tunes under the name Don't.)
Jenny Don't and the Spurs' latest full-length, Call of the Road, finds the group nestled in a snug comfort zone where they provide the soundtrack for the trample of boot heels and the path of whiskey bottle to mouth. The Spurs play the role of honky-tonk house band, with shuffling odes to wanderlust (the devilish title track), a couple of boozy waltzes ("She's to Blame," "This Heart of Mine"), and songs ideal for an imaginary spaghetti western ("My Only Desire," "Ghost of His Love").
It's Connors that sets her band apart from the revivalist herd. Her voice perfectly marries the twang and sweetness of her avowed idol Patsy Cline with the earthier push of X's Exene Cervenka. Often, though, she highlights one element of her voice for unexpected purposes, like her quaint tone in the kiss-off "Nobody's Cryin' Over You."
But respect must also be paid to the rest of the Spurs. Intentional or not, the group's slightly rusty take on outlaw country lends an appreciable honesty to Call of the Road. Where their contemporaries aim for flash and perfection, this quartet lets an appreciable roughness leak into their performances. That may ruffle the feathers of some Nashville purists, but that's not who this record is for. Call of the Road is for the folks who don't mind some ring wear on their secondhand Loretta Lynn LPs, nor a bit of dirt under their fingernails.
Sponsored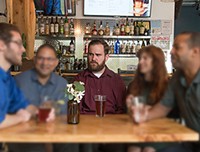 Adults aged 18-35 with good hearing will be paid for their time. Located at the Portland VA Medical Center