It's been over a year since La Luz left their hometown of Seattle and took their seismic sounds to Los Angeles. Trading constant drizzle for sunshine has proven so inspirational, Shana Cleveland (lead vocals/guitar) promises it's helped produce their best record yet.
During our phone call, Cleveland is off the grid with spotty reception and no internet in the sleepy Northern California town of Grass Valley. In the thick of the surf band's longest break yet, she's taking a breather from city life to focus on writing and personal projects. Although La Luz finished recording and mixing their new album last November, it'll be at least another six months until it's released. Cleveland says the wait is frustrating—though her retreat has been idyllic, she's itching to get back on the road.
"You think it's going to be really nice, but then it just starts to make you question everything about your life and what [you're] doing to contribute to the universe," she explains with a laugh.
In the five years since La Luz released their debut EP, Damp Face, on Burger Records, they've experienced waves of intense ups and downs. In 2013 they released their first full-length, It's Alive, and another in 2015, Weirdo Shrine. The quartet's velvety doo-wop harmonies and psychedelic instrumentals have transfixed a cult following lovingly called "Luzers," and they regularly sell out shows across the country. However, the 2015 one-off single "Believe My Eyes" touches on a darker moment in the band's history.
Rereleased last month on their current label Hardly Art's 10th-anniversary compilation, Hardly Released, the track highlights the strangeness of feeling heartbroken after the near-fatal car crash the band survived in 2013. In signature La Luz style, sweet vocals emanate a sense of calm, despite the lyrics' heavy subject matter.
LA is similarly marked by contrast, but the former Seattleite is surprised by how much the band is enjoying their new digs. "It feels it's got all of the good and all of the crappy things about America," Cleveland says. "It's sunshine magic place, but also smog-choked nightmare town. It's got mountains and ocean and desert. It's so much more diverse than the Northwest, which is really refreshing... You can drive down the street and only see billboards that are in Spanish, and then two blocks later there's only billboards in Chinese, and then all of a sudden you're back to English."
Aside from keyboardist Alice Sandahl, the band's members are biracial—Cleveland, drummer Marian Li Pino, and bassist Lena Simon each house two identities within themselves.
"The whole city kind of feels like that—no one is in charge and it's a free for all," Cleveland says. "It's for everybody."
As the band continues settling into the City of Angels, she says the metropolis' effect on their sound is still unclear.
"I always feel like the biggest factor is just what we've been up to as a band, and mostly how long we've been together," Cleveland says. "I feel like our music kind of changes, like a person might change in four years' time. Your style changes a little bit and your attitude changes a little bit, but you can't say how or when it happened."
Sponsored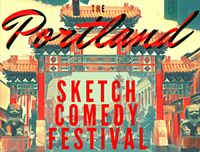 Sketch comedy troupes from all over N. America descend on The Siren Theater for 3 glorious nights.