The singer/songwriter known simply as Cam has managed to carve a comfortable path between the two extremes of country music success. Her sound is neither solidly nostalgic, à la Margo Price and Kacey Musgraves, nor does it turn down the twang and stomp used by crossover hitmakers like Lady Antebellum.
Instead, the Bay Area-born artist found a verdant middle ground with "Burning House," a balanced and patient ballad written when she lived in Portland for a year. Sent aloft by a chilly string section, it's free of nostalgic winks or contemporary glitz, and landed in heavy rotation on country radio, helping to carry Cam's 2015 album Untamed into the upper reaches of the charts. It's also kept her wheels spinning for the past two years between headlining tours and opening spots for everyone from George Strait to former One Direction member Harry Styles.
"I think it's easier to not get tired when you're excited," Cam says of her packed schedule. "Luckily, with shows like the George Strait tour dates, they're all in Las Vegas, [so] it makes it easier to have it all in one spot. But it's still the best part about music for me: writing a song and sharing it and watching people react. It's so unexpected to see a Harry Styles crowd be silent and listen to all your words."
During our phone conversation, Cam is resting at home in Nashville—a brief respite before hopping on a plane to New York to be part of the Macy's Thanksgiving Day Parade. That'll be followed by a short West Coast tour that wraps up this Saturday at the Hawthorne Theatre.
When that's done, there's the little issue of a sophomore album. Cam has already given the world the first taste: "Diane," a rousing apologia sung from the perspective of a mistress, manages to evoke both Queen and Dolly Parton. It's a hint that Cam is willing to play the throwback game a little, finding inspiration in that late '70s/early '80s period when country artists like Parton and Kenny Rogers collaborated with the Bee Gees and Lionel Richie.
It's also a reminder that Cam is comfortable swimming in the mainstream. Before "Burning House" took off, she released an album of solid adult contemporary pop under her full name, Camaron Ochs, and while living in Los Angeles she wound up co-writing "Maybe You're Right," a track on Miley Cyrus's 2013 album Bangerz. That experience, combined with the fact that she crowdfunded the initial sessions for Untamed, has left Cam feeling blissfully free of the pressure of trying to replicate the gains she's made thus far in the country scene.
"The budgets are better and the dreams are bigger," she says, "but after jumping through so many hoops and over so many hurdles, you wind up being in a spot where you know your skills. I feel confident now to go deeper with my storytelling. I think this new record is my best-to-date songwriting. And it feels like such a relief to say that standing here on the finish line."
Sponsored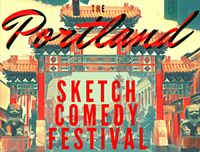 Sketch comedy troupes from all over N. America descend on The Siren Theater for 3 glorious nights.