When I meet Gary Bahen, owner of Portland's Accident Prone Records, he's clad in black, sitting behind the register of Green Noise Records at its newish home on Northeast Killingsworth.
Bahen bought the record shop and punk institution this past spring from longtime Portlander (and Dirtnap Records owner) Ken Cheppaikode, although the 37-year-old has been running Accident Prone since he was a senior in high school.
"It's been hard to keep going at times," Bahen admits. And while there have been lulls in production over the years, the label has cranked up its output since Bahen took over Green Noise in March. "I was working on five releases simultaneously while in the middle of buying the shop and finding a new location," he says.
Bahen started Accident Prone as an underground punk label in Southern California, its first release a 1,000-run of 7-inches from San Diego's Tiltwheel in 1997. He went on to release records from bands like Second Class and Against the Wall that helped shape SoCal's punk scene. Through the years the label has maintained its DIY ethos while broadening its scope, and has recently released records by San Diego gore metal carnivore haters Cattle Decapitation as well as Portland dark synth band Vice Device.
In fact, it was Vice Device's Andrea K who helped pull together Accident Prone's latest release, a four-way split between K's solo project Caustic Touch, Aaron Turner's (Sumac, Old Man Gloom) noise project House of Low Culture, EMS (Vern Avola of Elrond and formerly of Bay Area sludge gods Prizehog), and local experimental noise technician Daniel Menche. Although the artists recorded the songs separately, the record plays like a cohesive piece of music in a slow-burning wash of static and noise.
Bahen is understandably pleased with the results. Not only did the new release tap into uncharted sonic dimensions for Accident Prone, but it brought together artists who mean the world to him. For a guy who's been running a label for 20 years, it's nice to see him still get as giddy about music as he did in his formative teens.
Sponsored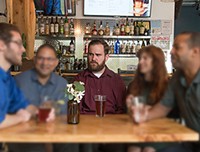 Adults aged 18-35 with good hearing will be paid for their time. Located at the Portland VA Medical Center