Though Plastic Cactus' name calls to mind fake houseplants impersonating the real deal, the Portland band's music conjures images of faraway landscapes dotted by spiky green saguaros with big open skies and relentless sun. Between standouts like "Dark and Moody" and "Mum's the Word" (which contains the steely warning, "Don't say I play well for a girl"), their 2017 debut EP Pricks put the dueling guitars and vocals of Brooke Metropulos and Michaela Gradstein at the forefront of catchy but menacing songs, with bassist Bill Willson and drummer Tyler Brown holding down the rhythm section.
Pricks sounds equally inspired by Ennio Morricone's spaghetti western soundtracks, 1980s desert rock band the Gun Club, and contemporary surf outfit La Luz. Plastic Cactus' new EP, Moth Eyes, continues in this trajectory, with giddy-up rhythms, earth-rumbling bass lines, rattlesnake-like percussion, and twangy guitar riffs. With lyrics about dust and whispering skulls, it plays like a mini existential breakdown; all four songs dwell on time's steady crawl toward death over melodies that sound fever-dreamy and detached from reality.
Beginning with opening track "Nothing"—which centers on numb repetitions of the phrase "feel like nothing" before collapsing into a psychedelic whirlpool of "oohs," "ahs," and screeches—Moth Eyes feels paranoid and nervous. The whole EP is marked by the sensation of watching and waiting for something to appear on the horizon; it's creepy, but moving further into those warped, surreal sounds works well for Plastic Cactus. One thing they should definitely include more of on their next release: those horns on closing track "Tumbleweeds (Plactus Theme)."
Sponsored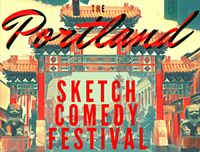 Sketch comedy troupes from all over N. America descend on The Siren Theater for 3 glorious nights.