For those who thrive on music's cutting edge, tickets for the Oregon Symphony just might be a necessity. Rarer than a blue moon, our hometown big band is offering a world premiere in the form of a new percussion concerto. "Just like the audience, it will be a surprise to me, too," says Karen Wagner, Oregon Symphony's assistant principal oboe. "Is there anything more exciting than a percussion concerto? You never know what you are going to hear."
Sponsored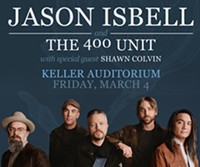 Jason Isbell has established himself as one of the most respected songwriters of his generation. Don't miss Jason Isbell and the 400 Unit, March 4th at Keller Auditorium!
Andy Akiho—a native South Carolinian who now calls Portland home—created the five-part, 32-minute composition. A professional musician himself (specializing in the steel pan), Akiho is becoming more widely known for his writing. He was granted this commission by the Oregon Symphony, who wanted to celebrate the culmination of their three-year artistic residency with Colin Currie, a virtuoso percussionist from Scotland.
"I had hankered after a concerto from Akiho since as long ago as 2012," Currie says. "He fits perfectly with the sensibility of the Oregon Symphony and the kind of music their audience reacts strongly to. Expect colors galore, quirky delights, and intense joy through this music."
I first witnessed Colin Currie as a guest soloist with our symphony back in 2011, and it was my first time seeing a percussionist perform as a solo artist. The unique challenges of a percussion concerto were on full display before a single note was delivered: Unlike most guest musicians who are attached to a single instrument, percussionists are called upon to master a battery of drums, struck keyboards like the vibraphone, and other odd bits designed to be hit. Currie was a lot of things during that performance, but stationary he was not—often sprinting between precisely arranged instruments, deftly utilizing pre-determined mallets and sticks, and quickly navigating to his next note wherever and on whatever that might be. It was mesmerizing.
When I asked Currie to elaborate on the upcoming Akiho composition, his reply evoked laughter.
"There are many notes here!" Currie says. "The sheer volume of licks, runs, and sustained sections of patterns will keep me very focused. Much of the music is groove-based or in the very least rhythmic and dance-like."
I also found Currie's take on unplugged classical performances refreshing: "Live music keeps everything real, so we get the thrills, and indeed I hope, some spills too."
With Currie on the Schnitzer stage, the warmth and positive energy between the soloist and our hometown orchestra should be palpable. Currie has now collaborated with the symphony in five different seasons. "He's like family to us," says Nancy Ives, who has has been Oregon Symphony's principal cellist throughout. "During his three-year residency, in addition to phenomenal percussion concertos with the orchestra, he did many community events with some of our musicians, and he is every bit as friendly and fun a guy as he seems. Not to mention that he's an impeccable and inspiring musician."
This program (which will be played at three performances) contains a couple of other stellar works for orchestra that, in combination with Currie's performance, set the stage for perhaps the most intriguing concert of the symphony's 2019-20 season. The show kicks off with "Three Places in New England" from the radically unique Charles Ives—an early 20th-century insurance executive whose idiosyncratic musical compositions sound like they were written tomorrow. (And in case eagle-eyed readers are wondering, the composer is indeed related to cellist Nancy Ives—her first cousin thrice removed!) Concluding the setlist is Igor Stravinsky's The Firebird Suite, which gives every section of the orchestra multiple opportunities to shine brilliantly. Prepare for its glorious finale to smolder in the heart long after the sound waves have extinguished.