THURS DEC 5
The Thesis: Donte Thomas, Maarquii, Kid Indigo, Trox
The Thesis is known for consistently bringing together some of the most promising names in Portland hip-hop, and this month's lineup is true to form: esoteric rapper Donte Thomas, R&B/pop crooner Kid Indigo, commanding MC Mickey Taelor, skilled sampler Trox, and locally beloved DJ Verbz. But my personal favorite artist on this month's bill is Maarquii, the dynamic genderqueer rapper/performer whose latest singles feature a full, expertly produced sound and a good amount of lyrical swagger. "Won't you bump that new Maarquii?" they ask on "Day Ones." Indeed, won't you? (Thurs Dec 5, 9 pm, Kelly's Olympian, 426 SW Washington, $10) BLAIR STENVICK
Madame Gandhi, SassyBlack, MILCK
MILCK (real name Connie Lim) first rose to national prominence when her song "Quiet"—about the expectations survivors of sexual assault are too often faced with—went viral during the 2017 Women's March. It's a beautifully sad and uniquely powerful anthem that's buoyed by Lim's full, lush vocals—though there's much more to listen to and enjoy from this artist. Her first releases are similarly defiant with songs that are heartfelt and pertinent, like the bold "Devil Devil" or the soft, cooing storm of "Ooh Child," a cover of the Five Stairsteps' classic. Her newest release, "A Little Peace," is a gospel-inspired message of survival and empowerment in these oh-so-trying times, and it should be on a playlist for anyone who just needs to get through the day. (Thurs Dec 5, 9 pm, Doug Fir Lounge, $15) WM. STEVEN HUMPHREY
Sponsored
Sketch comedy troupes from all over N. America descend on The Siren Theater for 3 glorious nights.
---
FRI DEC 6
CRITIC'S PICK: Vampire Weekend
"Something's happening in the country/And the government's to blame/ We got married in a gold rush/And the rush has never felt the same."
Those opening lyrics from "Married in a Gold Rush," from the latest Vampire Weekend album, Father of the Bride, perfectly entwine the running themes of the album: what it means to exist in a relationship, in a country, and on a planet that seems every day to be documenting its own demise.
But for such a fatalistic album, it's got a remarkably chill sound—much chiller than a track like, say, 2010's "California English," in which frontman Ezra Koenig spits clever phrases out of his mouth like they're on fire. Vampire Weekend slows down and simplifies on Father of the Bride, especially on songs like "2021," a tender reflection on the nature of time that clocks in at one minute and 38 seconds. Lyrics like "2021, will you think about us?/Copper goes green, steel beams go rust" float over a plucked-out string riff, leaving space for the listener to consider everything that isn't being said. That threadbare poeticism is invoked continuously throughout the album, like on "Unbearably White": "You walked to the bedroom/And sat down to write/The page in your notebook was unbearably white."
Considering this new sense of simplicity—and it's important not to confuse simplicity with shallowness here—it makes sense that Vampire Weekend is performing a rare unplugged acoustic set at the Crystal Ballroom. Koenig duets with HAIM's Danielle Haim on a few of Father of the Bride's best songs, heightening the theme of a crumbling relationship, so here's hoping we get a special appearance at the show. But even if it's just the band's core members, that will be more than enough to fill the venue with the album's warm, meditative sound. (Fri Dec 6, 8 pm, Crystal Ballroom, 1332 W Burnside, $65-70) BLAIR STENVICK
---
SAT DEC 7
Allah-Las, Mapache, Tim Hill
Los Angeles quartet Allah-Las came up in the same fertile West Coast scene that spawned psych-rock juggernauts like Thee Oh Sees and Ty Segall, but where those acts incorporate a double-drummer rhythm section or a terrifying baby mask to stoke the flames of showgoers, Allah-Las seem more than content to entrance audiences with deep, hypnotic grooves on their latest Mexican Summer-issued album, Lahs. Across its 13 tracks, the band shares songwriting and vocal duties; "Prazer Em Te Conhecer" finds drummer Matthew Correia crooning in Portuguese over a catchy slide guitar hook, while guitarist Pedrum Saidatian takes the lead on the sun-soaked psych-pop single, "In the Air." You won't find the same wild exuberance that defines the live shows of those aforementioned peers, but if you're looking for a brief respite from all the cold and rain, Allah-Las might be just the warmth you seek. (Sat Dec 7, 9 pm, Wonder Ballroom, $20, all ages) CHIPP TERWILLIGER
Portland Cello Project: Purple Reign
The gorgeous virtuosity of the Portland Cello Project (PCP), which first took the stage in 2006 to bring classical instruments to the masses by playing pop music in unusual venues, has hit a goldmine this time around by taking on the hits of Prince in a performance titled "Purple Reign." And along with some help from former Prince contributors Saeeda Wright and Tyrone Hendrix, of course you'll be hearing classics such as "When Doves Cry" and "I Would Die 4 U," which seem tailor-made for PCP's lush orchestrations. But I'd pluck out my own eye to hear their take on the Purple One's sexier compositions like "Darling Nikki" and "U Got the Look." I only have one two-part question: Why didn't they do this sooner, and why can't they keep performing this sold-out show for the rest of my life? (Sat Dec 7, 8 pm, Revolution Hall, sold out, all ages) WM. STEVEN HUMPHREY
---
MON DEC 9
Khemmis, UN, Drouth
You want to go to this show to hear what Denver-based doom metal group Khemmis have been up to since the release of their 2018 album Desolation. That makes sense. But you need to go to this show to subject yourself to the all-out onslaught of local death dealers Drouth. Like many of their heavy rock brethren, this quartet has been slow to release music, with only a pair of albums and one EP arriving in six years. Their collective mindset has been "quality over quantity," but it's also an insistence that the best way to experience their black metal scourge is live and in person, where their volume and intensity can shave years off your life and some of the hair from your body. (Mon Dec 9, 9 pm, Doug Fir Lounge, $15-17) ROBERT HAM
CRITIC'S PICK: The Make-Up
Cool is that ineffable quality, that rare element that so many of us spend our younger days seeking out—and so few of us actually manage to get a hold of. If we do achieve some measure of cool, it is almost impossible to maintain for long. That is, unless you are the members of the Make-Up. This DC-born quartet are cool, were cool, and will remain cool long after they've shimmied off this mortal coil.
Everything about the group exuded cool when they arrived in the underground rock scene in the '90s: They wore chic matching outfits and sexy, aloof expressions that gave them the air of a cadre of dangerous foreign agents from an episode of The Man from U.N.C.L.E. And when they spoke, they spoke of music as both the healing force of the universe and the flint that could spark worldwide revolution.
And their music? Ice cold. Throughout six albums (both studio and live) and an excess of 7" singles, the Make-Up took the minimalist rock of its members' past—three of the group's members belonged to the agitprop punk outfit the Nation of Ulysses—and imbued it with the raw charge of soul, gospel, and R&B. Looked at from various angles and placed in different lights, they could be party starters or anthems for a protest march.
Since the Make-Up's conscious dismantling in 2000, its members have kept their cool through various other endeavors. Guitarist James Canty joined Ted Leo and the Pharmacists, and firebrand frontman Ian Svenonius has written manifestos and hosted TV shows when he wasn't starting new badass bands like Chain and the Gang and Weird War. But its members have kept finding their way back together, reuniting to bring the good word of positive insurgency to the people. How fucking cool is that? (Mon Dec 9, 9 pm, Mississippi Studios, 3939 N Mississippi, $25-28, w/Seth Bogart) ROBERT HAM
Angel Olsen, Vagabon
For her latest album, the excellent and immense All Mirrors, North Carolina-based singer/songwriter Angel Olsen enlisted composers Ben Babbitt and Jherek Bischoff to contribute string arrangements, adding cinematic flair and downright apocalyptic flourishes to her dark and stormy guitar rock and synth-pop ballads. While it might seem like overkill for a musician who is more than capable of commanding cavernous rooms with nothing more than a guitar and a spotlight, Olsen's penchant for defying expectations and one-upping herself on each record has elevated her live performances into unmissable spectacles. Vagabon, the songwriting project of Brooklyn-based artist Laetitia Tamko, opens the show with a striking set of her own; be sure to arrive early and grab a spot up close to hear goosebump-inducing songs like the gospel-tinged "In a Bind" and the heart-wrenching "Fear & Force." (Mon Dec 9, 8 pm, Roseland Theater, sold out, all ages) CHIPP TERWILLIGER
---
TUES DEC 10
Phantogram, Oh, Rose
The most recent release from electro-pop duo Phantogram—October's single "In a Spiral," which will be on their forthcoming album—kicks off with a riff that sounds like it'd be at home somewhere in an Ennio Morricone score (or, maybe more accurately, like it'd be snipped out of an Ennio Morricone score and needle-dropped into a Tarantino movie). But then Josh Carter's beat drops in, and the handclaps pile on top of the synths, and Sarah Barthel's vocals drive ahead, sometimes clear, sometimes echoing. It's a remarkably constructed track, and rolls ahead with such energy that, even at over three minutes long, feels way too short. "In a Spiral" and a few other singles are the only work that's come from Phantogram since their 2016 album Three, but the tracks hint toward something very good coming down the line—excellent news for everyone who's been nodding along ever since their pretty much universally beloved debut, 2010's Eyelid Movies. Like that album, and like 2014's Voices, "In a Spiral" highlights what makes Phantogram stand out from the rest of the synth-riffing hordes: An ability to bring imaginative structures and a welcoming, intimate warmth to a genre that all too often feels chilly and self-satisfied. (Tues Dec 10, 8 pm, Crystal Ballroom, $35-40) ERIK HENRIKSEN
Omni, Boink, Dress Forms
Atlanta trio Omni instinctively understand something that most post-punk bands just can't seem to grok: There's no need to tart-up one's sound with all kinds of bells and whistles and hyperbolic statements of intent; just make a simple sound and do it with purpose. Through three near-perfect LPs, Omni has stripped their sound down to the barest of essentials, trusting that their knotted-up guitar and bass work and unhurried vocal performances by Philip Frobos have exactly enough to say to get the point across. Their last album Networker (the group's first for Sub Pop Records) is further proof of this unspoken truth, with the band getting somehow even more sparing in their approach to songwriting. There's plenty of empty space between each serrated, jangling chord and within each supple rhythm. (Tues Dec 10, 8 pm, Mississippi Studios, $16-18) ROBERT HAM
Lee Fields & the Expressions, Y La Bamba
Sexagenarian soul/funk singer Lee Fields is an American treasure. In 1969 he released his first single "Bewildered/Tell Her I Love Her," and the man is still pumping out bangers—the most recent of which are on 2019's It Rains Love. The soul veteran has worked with countless legendary artists—from B.B. King to Kool and the Gang—but the younger cats appreciate Fields' work as well; Travis Scott's mega hit "Antidote," for instance, samples Lee Fields and the Expressions' "All I Need" from 2014's Emma Jean. Tonight Fields is paired with an opening performance from Portland-based indie folk rock icon Y La Bamba, who will no-doubt be performing highlights from the two excellent projects she put out this year: the 14-track Mujeres and an EP called Entre Los Dos. This evening is one of those instances where making the trip downtown for an experience at the Roseland will be totally worth it. (Tues Dec 10, 8 pm, Roseland Theater, $20-40) JENNI MOORE
---
THURS DEC 12
The Head and the Heart
Seattle folk-pop band The Head and the Heart got their start performing on street corners for dollar bills, and there's still a distinctive, pleasant "everyman" quality to their music. Even if you haven't heard this band, you'd probably recognize their radio hits, like "Honeybee" and "All We Ever Knew." They're the kind of band you put on shuffle when you want to stare out the window and watch the rain, or just feel moody, cozy, and introspective. The quiet, mournful melodies and big, swelling, piano-backed choruses all hit at just the right times, as perfectly crafted as their Polaroid-nostalgic album covers. (Thurs Dec 12, 8 pm, Crystal Ballroom, $37.50-42, all ages) BLAIR STENVICK
Drae Slapz, Brown Calculus, Rasheed Jamal
For the last few years, Portland producer/engineer/DJ/artist Drae Slapz has been consistently making the local hip-hop scene more lit with his fun-loving energy and onstage charisma. On this particular mid-December evening, Slapz is headlining after a smooth and soulful set of space-age jazz by Brown Calculus. The show is also an opportunity to see a rare-ish performance from rapid-fire MC Rasheed Jamal, who's been fairly quiet ever since releasing his latest full-length Messiah Complex, one of the best rap albums to come out of Portland this year. (Thurs Dec 12, 8 pm, Mississippi Studios, FREE) JENNI MOORE
---
SAT DEC 14
Wynne, Karma Knows, Jerry Bandito
While Wynne has played a small handful of shows around town in the last three years, a proper hometown headliner gig has been elusive, due to her being under 21 and the fact that she lacked a debut EP or LP. Having finally released her impressive debut mixtape If I May in late October, the golden-haired MC appears fully committed to authentically representing her hometown (Lake Oswego), her college town (Eugene), and her current city (Portland), regardless of where her career takes her. I understand and respect the blonde-haired rapper's intent with this perfectly ordered, 11-track "mixtape" available on all streaming platforms: to demonstrate her self-awareness of entering the hip-hop arena tentatively, and as a guest in the culture. But If I May is album-worthy TBH. Now that the artist is of legal drinking age and has plenty of material to perform, the time has finally come for Wynne to start playing shows at venues in Portland and beyond. (She also just got added to EarthGang's upcoming "Welcome to Mirrorland" tour.) It all begins with this all-ages joint at the Hawthorne, and you shan't miss it. (Sat Dec 14, 8:45 pm, Hawthorne Theatre, sold out, all ages) JENNI MOORE
---
SUN DEC 15
Speaker Minds, Rich Hunter, Madgesdiq, CEG
Led by classically trained singer Adrian Adel and MC Randal Wyatt, Portland-based six-piece Speaker Minds specializes in hip-hop, rock and R&B. The band hasn't released anything new since their 2018 EP Wastelands—but that doesn't mean we can't enjoy all the groovy tunes that're already out. Neo-soul singer Rich Hunter (who formerly performed under the moniker Risky Star) accentuates the soul-drenched bill, bringing even more allure to a show that ALSO provides an opportunity to devour some tasty vegan "chicken" strips from the adjoining Bar Bar. (Sat Dec 14, 8 pm, Mississippi Studios, $5) JENNI MOORE
---
MON DEC 16
Yacht
You wouldn't call Yacht a designer band, as they were not created by some Orlando mogul or a team of strategists. It would be fine, however, to call them a "designer-y" band, because the duo's creative output does not restrict itself to making the slick, unique, slow aerobics of EDM. Singer Claire L. Evans was an early voice writing on technology and last year released a well-received book on little-known women tech innovators called Broad Band. With her Yacht teammate Jona Bechtolt, the duo run an LA event app and have been working to restore the Triforium, a public art sculpture that also may be the world's largest musical instrument. It's hard to categorize the group. But if cool, collected dance pop that sounds like something models would walk the runway to is your style, most everything Yacht puts out is ultra high-end. (Mon Dec 16, 9 pm, Mississippi Studios, $18-20) SUZETTE SMITH
---
WED DEC 18
The Joy Formidable, Twen, Bryde
Having vacated their Atlantic deal in 2016 and overcome the romantic split of lead singer/guitarist Ritzy Bryan and bassist Rhydian Dafydd, the Joy Formidable are an indie rock band once again. They're currently touring in celebration of more than 10 years together, and in support of their fourth studio album AAARTH, from 2018. Live, the Welsh band really rips. As someone who doesn't seek out alternative rock music, I found out about the Joy Formidable because I happened to be passing through their mainstage set at Seattle's Capitol Hill Block Party a few years ago. After hearing them bring a relentless barrage of guitars and crashing drums, I was sold. (Wed Dec 18, 8:30 pm, Doug Fir Lounge, $28-58) JENNI MOORE
Fruit Bats, Kacey Johansing
Eric D. Johnson, the singer/songwriter responsible for all the singing and songs heard on albums by his band Fruit Bats, refers to his work as "existential make-out music." It's a clever quip, true, but damn if it doesn't perfectly describe the sound of the group's latest album Gold Past Life. Johnson's lyrics are ruminative and romantic, struggling with both concerns of the heart and his frustration with a changing political (and actual) climate. And the music is perfect for long nights of the soul and long nights smooching your partner. (Wed Dec 18, 8 pm, Aladdin Theater, $25-30, all ages) ROBERT HAM
Sponsored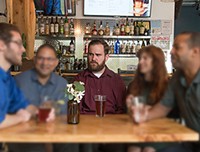 Adults aged 18-35 with good hearing will be paid for their time. Located at the Portland VA Medical Center