THURS JAN 2
Icebreaker: Benefit Show for Friends of Noise
Friends of Noise, an organization advocating for more all-ages music opportunities in Portland, is kicking off 2020 by throwing a benefit show to raise funds for future programming. The lengthy lineup includes Wav Pro (featuring Daniel Josef, TwoThreeFive, Rain Ezra, Sotaé), Voodoo and the Dollz, plus DJ Stretchman, DJ Kro5, Out of Luck, and Pocket. Perhaps the most alluring part of the show, however, will be an appearance from emerging young R&B singer White Lotus. (Thurs Jan 2, 7 pm, Holocene, $10, all ages) JENNI MOORE
---
FRI JAN 3
Galaxe, Brown Calculus, Lisa Vazquez
Energetic, bilingual beat genius Lisa Vazquez not only writes and raps over her own samples, but she loops them in exhilarating displays of controlled melody making, playing with her soulful vocal samples until she approaches Erykah Badu-levels of smoothness. This is why we keep hearing stories of her sets snapping people back to the stage, though she's still a relatively unknown—but rising—presence. Pair that with the thoughtful rhymes of Galaxe and the spiritual bedroom pop/jazz/hip-hop of Brown Calculus, and you've got one hell of a show. (Fri Jan 3, 9 pm, Doug Fir, $10) SUZETTE SMITH
Sponsored
Win a behind-the-scenes tour of our kitchen, see how we make our artisan edibles, and get some swag.
---
FRI JAN 3
Farnell Newton: The Soul of Jazz
Local trumpeter Farnell Newton is one of the Portland jazz scene's most stalwart musicians, but he's also revered for being a "dad" to the music scene at large for providing relentless support as a teacher, mentor, and through fluid collaborations with other artists making hip-hop and R&B. If you can catch him on his own, or with his band the Othership Connection, you'll be sent home with a renewed appreciation for the artform, and the fact that you have so many cheap and casual opportunities to see this guy play: every first Friday at the 1905. (Fri Jan 3, 7 pm, the 1905, FREE) JENNI MOORE
---
SAT JAN 4
Sus, Hoshin, Blossom
Behold! This "Texture" showcase brings together some of the super-smooth and soulful sounds being made in this creative hotbed we call the Pacific Northwest. Hip-hop/funk/jazz five-piece Sus—whose 2018 EP See U Soon is giving me the Roots vibes—makes the trip down from Seattle for the gig, along with indie-soul quintet Hoshin. And because every Portland R&B concert requires it, Rose City native Blossom joins the lineup to perform new tracks from her 2019 sophomore album Maybe (and hopefully some older cuts like the reggae-inspired "Black Magic Woman"). (Sat Jan 4, 8 pm, the Fixin' To, $10) JENNI MOORE
Fiesta! With Edna Vazquez
Fusing mariachi with contemporary jazz, folk, and rock is far from typical, but Edna Vazquez isn't one to stay within the confines of a label. With roots in Jalisco, Mexico—a state rich with musical tradition—Vazquez made Oregon home at age 17, and has since become a beloved fixture both locally and abroad. The genre-bending bilingual artist has made a habit of disrupting ethnocentric narratives both in her role as a queer woman in mariachi and by challenging what's expected from her as a Latin American musician. Seize the opportunity to experience Vazquez in the uptown digs of the Arlene Schnitzer Concert Hall, where she'll be joined by special guests Mariachi Una Voz, the award-winning Hillsboro School District's mariachi band which explores Latin American culture through music. (Sat Jan 4, 7:30 pm; Sun Jan 5, 2 pm, Arlene Schnitzer Concert Hall, $24-110, all ages) EMILLY PRADO
TK & the Holy Know-Nothings
Taylor Kingman's frequent performances at venues like the Laurelthirst have garnered him a strong local following, made all the more powerful when he's backed by his band, the Holy Know-Nothings. The group's debut LP, Arguably OK, possesses a gruff kind of poise, thanks to Kingman's smart, relentlessly honest songwriting. Throughout the record, Kingman's strengths as a songwriter transform otherwise traditional country scorchers into something more rebellious, fragmented, and poetic. Take "Desert Rose," where Kingman & Co. let the melody melt into a trippy breakdown before piecing the whole thing back together again. And although the myth of the outlaw poet has waned in the new century, songwriters like Kingman prove that same gritty spirit is still around, just waiting for someone to embody it. Catch them playing all this new material in the New Year at the glorious Mississippi Studios. (Sat Jan 4, 9 pm, Mississippi Studios, $13-15) RYAN J. PRADO
Bike Chain Rain: A Tribute to David Cloud Berman
David Berman was on the cusp of a big 2019. Purple Mountains—his first album in over a decade—brought renewed attention to his soulful lyrics and withered worldview, and a tour to support the record was on the horizon. Unfortunately, all that momentum came to a halt when Berman took his own life last August. On what would have been Berman's 53rd birthday, an all-star lineup of musicians and writers, including Stephen Malkmus and Bob Nastanovich (both members of Berman's old project Silver Jews), Rebecca Gates, and Kjerstin Johnson are gathering to honor his work through songs, readings, and storytelling. (Sat Jan 4, 8 pm, Bunk Bar, sold out) ROBERT HAM
---
WED JAN 8
Bryson Cone, Dim Wit, Raincult
"Who's driving gas cars and eating shitty food?/Who's staring at a screen, with a shitty attitude?/I am, I am, I am, I am," sings Dim Wit vocalist Jeff Tuyay on "Wee the People," a power-pop-punk track that feels like it was yanked right out of the '90s—and I mean that in the best possible way. It's both brutally realistic and infectiously catchy, like most of Dim Wit's catalog. They'll be joined tonight by moody synth-pop musician Bryson Cone and groovy art-rock group Raincult. (Wed Jan 8, 9 pm, Mississippi Studios, $5) BLAIR STENVICK
---
THURS JAN 9
The Thesis: Zyah Belle, Blossom, Covi., Motaz, Verbz
Portland's premier monthly hip-hop & R&B event—which, full disclosure, I help out with—is coming off a stellar five-year anniversary show and has no plans of slowing down. The showcase kicks off a new year (and decade!) tonight with a headlining performance by R&B singer Zyah Belle, alluring sets from Portland neo-soul queen Blossom, and rapper Covi. The bill also offers some seriously hefty support from Portland-raised R&B singer and multi-instrumentalist Motaz, giving us even more reason to come out for a night of 21+ live music, imbibing, vibing, networking, and tots. (Thurs Jan 9, 9 pm, Kelly's Olympian, $10) JENNI MOORE
Sea Caves, Møtrik, Afterplay
If you're on the hunt for overlooked albums of the past year, Sea Caves' excellent November release, Across the Water, is the perfect place to begin your search. The album finds the long-running Portland band expanded to a quintet, with newly added member Sydney Rohrs adding a voice that effortlessly ebbs and flows over the band's twinkling indie pop sound. It's impossible not to become mesmerized by stand-out tracks like "Hieroglyphs" and "Dart," where Rohrs' fluttering and heartfelt presence calls to mind Sheena Ozzella (of the veteran Buffalo-based indie rockers Lemuria). Elsewhere on the bill, which doubles as a benefit for the youth services of Outside In, you'll be treated to the Krautrock-influenced post-punk of Møtrik, whose entrancing live set has established them as one of the city's must-see acts. (Thurs Jan 9, 8:30 pm, Holocene, $8) CHIPP TERWILLIGER
---
FRI JAN 10
Shooter Jennings, Jaime Wyatt
If Shooter Jennings were content to coast on nepotism (he's the son of outlaw country legends Waylon Jennings and Jessi Colter), he wouldn't have recorded Countach (For Giorgio), a blend of honky-tonk and Italo-disco that boasted a Bowie cover sung by Marilyn Manson, nor would he have collaborated with Duff McKagan on the G'N'R bassist's solo album Tenderness. Still, Jennings' DNA demands that he continue down the path carved out by his parents, as heard on his 2018 album Shooter, a psychedelicized ode to hard living, hard drinking, and hard hearts. (Fri Jan 10, 9 pm, Mississippi Studios, sold out) ROBERT HAM
Dboi LTD, Cool Nutz, I$$A, Eso.XO.Supreme, DJ Fatboy
Bay Area rapper and Dutch Bros aficionado Dboi LTD shares an all-ages bill with Portland hip-hop legend Cool Nutz when the "Life Outside Social Media" Tour rolls into the Hawthorne Theatre. (Fri Jan 10, 8 pm, Hawthorne Theatre, $13-15, all ages)
---
SAT JAN 11
Mr. Wrong, Ex-Kids, Trash, All Hits, DJ Sonic Medusa
Mr. Wrong and Ex-Kids are two Portland-based rock outfits whose Bandcamp pages both include the word "snotty." Tonight, post-punk trio Mr. Wrong celebrate the release of their sophomore record Create A Place, the follow-up to 2017's Babes In Boyland. Along with Portland punk rockers Trash and All Hits, Ex-Kids are a big draw. The quartet will hopefully play some punky power jams from their 2018 EP Don't Grow Up, like the fuzzy and rebellious "Vitriol Anthem" (a rigorous rock track peppered by the bandmates' maniacal laughter in its last 30 seconds), the poppier "Bruise Cruise," and the appropriately titled "Theme Song." (Sat Jan 11, 7:30 pm, Black Water Bar, $8, all ages) JENNI MOORE
Cedric Burnside
Grammy-nominated blues artist Cedric Burnside may have the Hill Country pedigree (he's the grandson of legendary blues master R.L. Burnside), but that's not what makes him such an amazing, infectious performer—it's the personality, pain, and spirit he brings to the music. On his latest release, 2018's Benton County Relic, pulsing blues riffs teeming with raw intention and emotional honesty ("Call On Me") reside comfortably next to sweet 'n' nasty barn burners filled with sexual desire ("Give It to You"). A consummate, entertaining musician, Burnside takes his grandfather's vision and builds on it, creating a vibrant, distinct, and joyful sound (as in "Ain't Gonna Take No Mess") that pays tribute to his Hill Country past while celebrating his individuality as an artist. (Sat Jan 11, 8 pm, Mississippi Studios, $17-20) WM. STEVEN HUMPHREY
Leila Josefowicz, Oregon Symphony
The big-ticket attraction is the chance to hear the Oregon Symphony tear into Richard Strauss' Also sprach Zarathustra, the tone poem best known for its use in the opening and closing moments of 2001: A Space Odyssey. The true draw for this run of shows is an appearance by violinist Leila Josefowicz, who will be on hand to perform "Scheherazade.2," a lush, oblique symphony written expressly for the musician by brilliant composer John Adams, and a performance of Charles Ives' haunting "The Unanswered Question," which the Symphony recorded for its Grammy-winning album Music for a Time of War. (Sat Jan 11 & Mon Jan 13, 7:30 pm; Sun Jan 12, 2 pm, Arlene Schnitzer Concert Hall, $24-125, all ages) ROBERT HAM
Jeanines
The Brooklyn-based group Jeanines play indie pop the way it was meant to be heard: in short jangly bursts, wasting no time in giving you a melodic hook and heartfelt lyric to latch onto. The duo's focus and attack are precise and direct, meaning the longest song on their self-titled debut just barely creeps past the two-and-a-half-minute mark. Theirs is the kind of music that sounds best when heard on a 7" single packaged in a roughly folded paper sleeve, but it will surely sound just as good when played live and in person. (Sat Jan 11, 9 pm, the Firkin Tavern, FREE) ROBERT HAM
---
SUN JAN 12
Girl Fest 2020: Chong the Nomad, Guayaba, Pool Boys, Dan Dan, Basil Strawberry, DJ No Manche
Girl Fest—a celebration of women and non-binary artists in the Pacific Northwest—is back! Now in its sixth year, the two-day event includes a songwriters luncheon with Robin Bacior, Clara Baker and Tara Velarde, a comedy happy hour with Kate Murphy and Becky Braunstein, a fundraiser brunch, and an undoubtedly cool show featuring performances by Chong The Nomad, Guayaba, Pool Boys, DAN DAN, Basil Strawberry, and No Manches of the Noche Libre Collective. Show up for your girls, Portland. Read our story and interview with Girl Fest creator Madison Sturdevant. (Sun Jan 12, 7 pm, Holocene, $10-15, all ages) ALEX ZIELINSKI
Cry Babe, Deathlist, Spoon Benders, Elly Swope
It feels like I hear Cry Babe's "Soft Honk" song everywhere I go, and I might. Not only is it a relatable, catchy, funny song about street harassment, but singer Anaïs Genevieve's unusual contralto delivers the mundane tale with an unforgettable "Northern ballad" style of singing—like Morrissey, but punk, and all her own. The indie rock three-piece is locally beloved for their unique, soft punk approach, which sometimes touches on baroque pop (like on "Picard," from their 2019 EP Be Cool). Their sound is immediately identifiable and usually a welcome earworm. This show is your last chance to see Cry Babe before they embark on a West Coast tour, and the first chance to grip their new 7'' from Drunk Dial Records. (Sun Jan 12, 8 pm, The Liquor Store, $7) SUZETTE SMITH
---
WED JAN 15
Roddy Ricch
Armed with three Grammy nominations, Compton singer/rapper Roddy Ricch exploded onto the national stage after making a name for himself in South Los Angeles. A friend and collaborator of the late rapper and LA icon Nipsey Hussle, his voice appears in Hussle's "Racks in the Middle," which is nominated for both Best Rap Song and Best Rap Performance. The third nod from the Grammys comes due to his contribution to prolific producer Mustard's "Ballin'," a track about stunting and the come-up. The 20-year-old rapper has a sound and vibe that suits trap beats as well as R&B riffs. You won't want to miss this. (Wed Jan 15, 8 pm, Roseland Theater, $25-100, all ages) JASMYNE KEIMIG
Sponsored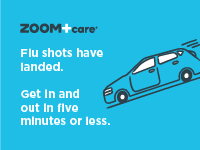 ZOOM+Care makes flu shots easy and safe. Schedule ahead, skip the line—get in and out in 5 minutes.