In the vast landscape of pop music circa 2020, Sinead O'Connor is all but invisible, a speck on the horizon that most people over the age of 35 have to squint to recognize.
Sponsored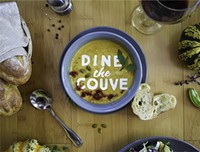 Experience the bounty of northwest flavor with special menus at Clark County restaurants all month.
If she does ring any bells for those folks, it's usually connected to incidents the 53-year-old singer/songwriter probably wishes we would all move past: her tearing up a picture of the pope on SNL, her distressing Facebook posts that included a suicide threat, her angry tweets decrying all religions that aren't Islam.
The only time a beam of light seems to poke through those cloudy memories is whenever her peerless rendition of the Prince-penned "Nothing Compares 2 U" slips into a '90s-themed playlist or onto the airwaves of an Adult Contemporary radio station.
How, then, do we account for the reality that every date on O'Connor's first US tour in nearly six years, including a Crystal Ballroom performance on February 5, is sold out? If she is obscured by a culture that prizes youth and immediacy above all else, why does everyone still want to see her?
The easiest answer to those questions can be found on YouTube via a 2019 clip of O'Connor singing "Nothing Compares 2 U," backed by a string section, on RTÉ's The Late Late Show. There's no denying her voice has leveled off in the 30 years since she originally recorded the song; her thunderous upper range has quieted with age, and the lilt of her Irish accent is more prominent. But watching her through the distance of a streaming platform and hearing the passion she imbues into each lyric, it feels like gravity released its hold on the planet for those brief five minutes.
What shouldn't be discounted, though (and what might account for a good chunk of the ticket sales for this tour), is the music that O'Connor has made beyond her 1990 breakthrough album I Do Not Want What I Haven't Got. Setting aside diversion into big band-backed jazz standards on 1992's Am I Not Your Girl?, her work has maintained an undeniable intensity and beauty, and a thorny blend of the personal and the political.
On her 2000 album Faith and Courage, that all comes out with an air of defiance and radical honesty. Backed by a trip-hop-inspired beat cooked up by Eurythmics' co-founder Dave Stewart, O'Connor calms her father's worries about her career path on "Daddy I'm Fine" with a curled lip and a profane tongue. She sings of being a "strong independent Pagan woman" who gets "sexy underneath the lights/like I wanna fuck every man in sight." And on "The Lamb's Book of Life," she pleads for the future of her native country, still unsettled after decades of sectarian violence, while admitting, "I know I've done many things to give you reason not to listen to me."
O'Connor's most recent albums, 2012's How About I Be Me (And You Be You)? and 2014's I'm Not Bossy, I'm the Boss, feature far rougher transitions between the giddy warmth and bitter chill of her writing. (It feels worth mentioning that she was diagnosed with bipolar disorder in 2004.) On the former, she jumps from the love song "4th and Vine" to the moody "Reason With Me"; from the earnest rocker "Old Lady" to "Take Off Your Shoes"—a chest-beating bit of invective directed at the Vatican. I'm Not Bossy rides similar waves. "James Brown," recorded with an assist from Nigerian Afrobeat artist Seun Kuti, is a sexy-as-hell ode to a night out on the town. But O'Connor's next stop on the album is the poignant and courageous "8 Good Reasons" where she sings and, in one powerful moment, speaks about her suicidal thoughts: "If I could have gone without it hurting anyone/like a bird I would have been flown."
Even if the attention on O'Connor seems to stick with the more unpleasant moments of her life instead of her creative work, she is, as proven by "8 Good Reasons," trying to turn it into a net positive. In September 2017, a month after posting a stirring video on her Facebook page where she tearfully talked about her loneliness and suicidal ideation, she made a very public appearance on Dr. Phil McGraw's syndicated talk show. Even as she spilled out the gory details of her childhood, which she says was marked by sexual and physical abuse at the hands of her mother, and how she fell into a deep depression after losing custody of her then-13-year-old son, O'Connor was insistent that her main goal was to destigmatize mental illness for anyone watching, but especially for her fellow musicians.
It might be, then, that the reason so many folks in America and beyond still connect with O'Connor and her music is due to how absolutely human she is. She still has possession of a powerhouse voice that has won her Grammys and accolades the world over, but it is powered by a mind that is full of contradictions, messy thoughts, and moments of blinding clarity. And she dares to publicly ask difficult questions and confront ugly issues that many of us wouldn't dare address if we were put in the same spotlight. If you can't see some flicker of yourself in O'Connor, or at least recognize how rare and remarkable she is, you're not looking hard enough.
Sponsored
This 9th floor patio boasts stunning views of the city, three mountains, and Portland's West Hills.