THURS JAN 30
Juliana Hatfield, Chris Margolin
Former Blake Babies frontwoman Juliana Hatfield has her thing honed to a science. That thing—which she's been doing since 1987—is indie rock that unfailingly finds the golden mean between sweet and tart melodies, with her endearingly pleading voice lending everything a diaristic feel. The last few years have seen Hatfield on a prolific roll, including a savage Trump diss song ("Short-Fingered Man"); surprisingly enjoyable full-length tributes to Olivia Newton-John and the Police; and the 2019 solo joint, Weird, another sparkling power-pop effluence that proves her inspiration's still running high all these years later. (Thurs Jan 30, 9 pm, Doug Fir Lounge, $20) DAVE SEGAL
---
FRI JAN 31
Dude York, Kyle Craft, On Drugs
Seattle power pop and alt-rock trio Dude York are no strangers to Portland audiences. Last year, the trio's seemingly non-stop touring schedule found them gracing stages in this neck of the woods more frequently than some locals. The band's love for the road should come as no surprise; with crunchy guitars, soaring solos, and sing-along choruses propelling their unabashedly exuberant live set, Dude York makes each venue they play a communal space for longtime fans and newcomers alike. The band's latest Hardly Art-issued album, Falling, finds guitarist Peter Richards and bassist Claire England trading off songwriting duties, with Richards' somber and subdued contributions offering space to reflect before England comes along with another freight train-sized anthem to knock you back to the present. (Fri Jan 31, 9 pm, Mississippi Studios, $12-14) CHIPP TERWILLIGER
Sponsored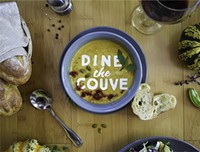 Experience the bounty of northwest flavor with special menus at Clark County restaurants all month.
Mojo Holler
Let us now sing the praises of the bar bands; those valiant players who soundtrack the hangouts and meet-cutes at pubs and clubs throughout Portland, but rarely if ever get talked about by the so-called music geeks. A recent favorite is Mojo Holler, the husband-and-wife duo of Missi Hasting and John Baker. The pair work in the rich soil of roots and Americana, writing warm-hearted odes to simple pleasures and deeply felt hurts. And, as all good bar bands should, they've got a firm handle on a multitude of cover songs for the folks with a taste for the familiar. (Fri Jan 31, 9 pm, Mock Crest Tavern, FREE) ROBERT HAM
---
SAT FEB 1
Tyrone Hendrix & The PDX Soul Collective: '90s R&B Night: Saeeda Wright, JoyyaMaria, Paul Creighton, Alonzo Chadwick, DJ OG ONE
Look, if you're not a fan of '90s R&B—and I'm talking about the sultry, sexy-hot sounds of Babyface, Toni Braxton, Blackstreet, Brandy, and Aaliyah—then I can't even with you. For everybody else, you're going to want to grab your coat and run (DO. NOT. WALK.) to this '90s R&B Night presented by local soul treasure/master drummer Tyrone Hendrix and the PDX Soul Collective. Performing some of the top hits of that blessed era, Tyrone will be joined by the glorious voice of Saeeda Wright (who toured with Prince!), neo soul singer Joyya Marie, amazing vocalist Paul Creighton, and Alonzo Chadwick (Oregon Symphony's Gospel Christmas). And with DJ OG One on the turntables, you'll be guaranteed a night of the smooth, sexy fun that will definitely heat up this cold, dreary winter. (Sat Feb 1, 10 pm, the Goodfoot, $15) WM. STEVEN HUMPHREY
Federale
Federale, the gently psychedelic country ensemble led by Brian Jonestown Massacre member Collin Hegna, has spent the better part of 15 years carving out a pleasant niche in the music scene of Portland and beyond. It's a fantasy world where spaghetti Westerns play nonstop in a dusty drive-in theater and Lee Hazlewood is still holding court in a LA recording studio. What Federale does, it does very well. The group's fifth studio album No Justice bears that out with 10 songs that hew to a formula of '60s film music and the tanked spirit of outlaw country. They get every last detail right: rubbery basslines and well-placed percussion accoutrements; spectral melodies provided by pedal steel, whistling, or the wordless vocals of Maria Karlin; a backdrop of strings played by members of the Oregon Symphony. It's lustrous and rich and exactly what you'd expect. (Sat Feb 1, 8 pm, Polaris Hall, $15-17) ROBERT HAM
---
SUN FEB 2
Homeboy Sandman, Quelle Chris, Mic Crenshaw
Having signed a new record deal with Mello Music Group last year, New York underground rapper Homebody Sandman comes to town in support of his 2019 album Dusty, a project that offers clever bars, and the technical delivery he's become known for. (The Queens MC released First of a Living Breed with Stones Throw Records back in 2012.) The bill also showcases Detroit rapper Quelle Chris (a notable feature on Sandman's album), and Portland hip-hop pioneer Mic Crenshaw. (Sun Feb 2, Mississippi Studios, 8 pm, $13-15) JENNI MOORE
---
MON FEB 3
Loudon Wainwright III
With almost 30 albums under his belt, Loudon Wainwright III has been going strong since the '70s, which makes it hard to figure out where to start digging into his catalog of funny, melancholy folk rock. So I'll tell you where I started: Strange Weirdos, Wainwright's 2007 album consisting of songs inspired by Judd Apatow's comedy Knocked Up. These days, Knocked Up seems most memorable for introducing the world to the now-derided genre of "Seth Rogen making out with women who are way out of his league," but Knocked Up is also an excellent showcase for Apatow's unmatched ability to blend crassness and sentiment, unearthing laughs and heart in equal measure. Apatow chose Wainwright to contribute to the film's soundtrack—as well as casting the musician, who's been acting since M*A*S*H, as a gynecologist—and Wainwright went to town with an album that's clever, tender, warm, and sharp. Wainwright's from-the-gut songs on Strange Weirdos (particularly his take on Peter Blegvad's "Daughter") hit hard, but come with a grin and a quick elbow to the ribs. "When it's gray in LA/it's much better that way," Wainwright sings. "It reminds you that this town's so cruel/yeah, it might feel like fun when you're sportin' sunglasses/but really you're one more fool." (Mon Feb 3, 7:30 pm, Alberta Rose Theatre, $28-45) ERIK HENRIKSEN
---
TUES FEB 4
Mattiel and Calvin Love
Atlanta artist Mattiel got one of her big breaks when Jack White invited her to tour with him in 2018; when listening to her latest album Satis Factory, it's easy to see why. Like White, Mattiel's got a handle on Southern blues-rock that sounds modern but rooted in tradition—a slightly spooky, vibrating voice and haunting, body-shaking instrumentals. She'll be joined tonight by Calvin Love, a master of West Coast indie rock ennui, as evidenced in the lyrics to songs like "Warm Blindness & a Cool Breeze": "I'm lying here/ staring at the moon/ trying to find you/ again." (Tues Feb 4, 9 pm, Doug Fir Lounge, $13-15) BLAIR STENVICK
Josiah Johnson, Caitlin Jemma
I haven't heard Josiah Johnson's solo work before—but if it's anything like that of his band, The Head and the Heart, then I know what to expect: sweet, melodic pop-rock that's perfect for a road trip or dinner party. Caitlin Jemma, on the other hand, is a bit more stripped-down and bare, unapologetically acoustic. On "Lean On My Love," from her new album Places Beyond You and Me, she seduces without much more than a few guitar plucks and a smooth, steady voice. (Tues Feb 4, 8 pm, Mississippi Studios, $12-14) BLAIR STENVICK
---
WED FEB 5
Begonia
Straight outta Manitoba, Canada, Alexa Dirks (AKA Begonia) has made quite an impression in the States after releasing 2019's Fear, a collection of R&B-inspired songs that also touch on gospel, jazz, and indie rock—not surprising, since it was produced by members of Royal Canoe. Blessed with powerful vocals, Dirks excels on songs like "Beats," which soars with introspective, clever, and self-aware lyrics, as well as "The Other Side," a gospel-infused howler that touches on the yearning vagaries of relationships without ever dipping into desperation. Dirks exposes her life and loves through music—and this heartfelt openness is something that'll keep making Begonia a name to watch out for. (Wed Feb 5, 9 pm, Bunk Bar, $10-12) WM. STEVEN HUMPHREY
Sinead O'Connor
Maybe the reason so many folks in America and beyond still connect with O'Connor and her music (her show at the Crystal has long been sold out) is due to how absolutely human she is. She still has possession of a powerhouse of a voice that has won her Grammys and accolades the world over, but it is powered by a mind that is full of contradictions, messy thoughts, and moments of blinding clarity. And she dares to publicly ask difficult questions and confront ugly issues that many of us wouldn't dare address if we were put in the same spotlight. If you can't see some flicker of yourself in O'Connor, or at least recognize how rare and remarkable she is, you're simply not looking hard enough. Read our full story on Sinead O'Connor. (Wed Feb 5, 8 pm, Crystal Ballroom, sold out, all ages) ROBERT HAM
MAITA, Sama Dams, Wave Action
Maria Maita-Keppeler, known by her stage name MAITA, has quickly risen to Portland indie-rock fame in the past few months. After inspiring Kill Rocks Stars' founder Slim Moon to return to the label (dubbing MAITA the record label's "guiding light"), MAITA's ready to drop a fresh album, Best Wishes, on April 3. The forthcoming project boasts the single "Can't Blame a Kid," a powerful ode to a childhood friend that weaves Maita-Keppeler's cool, vulnerable vocals with power chords and pop hooks. (A personal favorite lyric: "My old friend/she used to be a dick.") At the Doug Fir Lounge, MAITA will be joined by fellow Portland indie darlings Sama Dams (no, not the former-mayor-turned-council-candidate) and Wave Action to formally release this new single. (Wed Feb 5, 9 pm, Doug Fir Lounge, $10-$12) ALEX ZIELINSKI
City of the Sun, Kiltro
New York trio City of the Sun started getting stuck in my head after I heard their New Age mariachi-style song "Ventura" on Spotify's Brain Food playlist. Seeing as how that song has been listened to approximately 13 million times, I choose not to be embarrassed by this admission. Brain Food playlist is legion! Another place you may have heard City of the Sun's spaced out, instrumental ballads is on the streets of New York City, where the group legendarily created their complicated song composition style over the course of endless busking and outside jam sessions. This all sounds super crunchy—and IT IS—but the prowess the band shows in their classical string playing and the entertainment quality of their live shows cannot be denied. (Wed Feb 5, 8 pm, Mississippi Studios, $15-18) SUZETTE SMITH
Lloyd Cole
Guesswork, the latest album from British-born singer/songwriter Lloyd Cole, draws together, for the first time, his twin interests: writing literate pop songs about life's joys and disappointments, and messing about with modular synthesizers. The combination was just the spark the 58-year-old artist needed to craft some of the most lush and meaningful material of his lengthy career, also inspiring him to reflect with some resignation and appreciation at this older age. Cole returns to Portland in solo mode, with an acoustic guitar, his wry wit, and a setlist crammed with pop masterpieces. (Wed Feb 5, 8 pm, Polaris Hall, $25-28) ROBERT HAM
---
THURS FEB 6
Temples, Art d'Ecco, Shadowgraphs
Until last year's fantastic Hot Motion, I hadn't really listened to Temples since their 2014 debut, Sun Structures, an album of '60s-soaked psych rock that I dug, though it didn't rock my socks off (it felt a bit too derivative). Fast forward five years to the British quartet's third and latest album, the aforementioned Hot Motion, one of my favorites of 2019. Their sound has slipped naturally and easily into neo-psychedelia, an evolution that makes perfect sense, and finds them playing around with melody and sonic textures in vaguely vintage rock that's both catchy and trippy as hell. It's hard not to compare them to their Aussie contemporaries, Tame Impala, especially in tracks like the fine, drug-fueled "You're Either on Something," or the urgent, doomy "Atomise," but Temples definitely has their own distinctive appeal. (Thurs Feb 6, 8 pm, Doug Fir Lounge, $26 adv, $28 door) LEILANI POLK
Basil Strawberry, Sheers, Ancient Pools
This Pabst Extra $5 show is guaranteed to do the opposite of what live shows usually promise: It'll settle your pulse right down. Get chill and dreamy with the crooning harp melodies of Sheers, or slowly dissolve into the ether of Ancient Pools' ghostly sweet electro-pop. Basil Strawberry is the electronic singer/songwriter project of Basil Jane Stevens, whose 2019 debut Woman explores gender transition with warm, synthy, punk production and lyrics like "My body is nothing/more significant/than a single drop/or everything at once." (Thurs Feb 6, 8 pm, Mississippi Studios, $5) SUZETTE SMITH
Young Dolph & Key Glock
The cover of Dum & Dummer, the 2019 mixtape from Young Dolph and Key Glock, shows the Memphis rappers passing a blunt from one man to the other. One could read that as Dolph, the older of the two at age 34, passing the metaphorical torch to his younger protégé (Glock clocks in at 22 years of age). But to these eyes and ears, the mixtape is more a reflection of two talented spitters on equal ground; a mutual admiration society of shared interests (drip, ice, weed), and shared frustrations (girl problems, a lack of weed). (Thurs Feb 6, 8 pm, Roseland Theater, $22-150, all ages) ROBERT HAM
---
SAT FEB 8
Phora
If you can relate to young, emo-leaning hip-hop artists who are most certainly influenced by Drake, then you'll likely enjoy the introspective, emotionally available rap of Phora, an MC from Anaheim, California signed to Warner Bros. While I'm all set in that regard, the 25-year-old does have something going for him. I'm a sucker for a soulful chipmunk effect, which is utilized beautifully on his 2017 song "To the Moon," with its well-placed sample of Alex Isley's "Into Orbit." Another one that might ring true for understandably jaded millennials is "Fake Smiles," which has racked up more than 36 million streams on Spotify. (Sat Feb 8, 8 pm, Hawthorne Theatre, $25-125, all ages) JENNI MOORE
---
SUN FEB 9
Sessa, the Ambassador
Read why this show is a critic's pick! (Sun Feb 9, 9 pm, Doug Fir Lounge, $10-12)
---
TUES FEB 11
Portland Opera: An American Quartet
Portland Opera's commitment to balancing out their big productions with much smaller presentations of their chosen artform is on display this month with their upcoming performances of four one-act operas at the humble Hampton Opera Center. On the docket is Douglas Moore's Gallantry, a loving spoof of '50s soap operas; Bon Appétit!, a tribute to the late celebrity chef Julia Child; charming comic opera The Telephone, which premiered in 1947; and Samuel Barber's A Hand of Bridge, a lovely piece where four singers express their inner thoughts over a game of cards. (Fri Feb 7 and Tues Feb 11, 7:30 pm & Sun Feb 9, 2 pm, Hampton Opera Center, sold out) ROBERT HAM
Tones and I, Lime Cordiale
Proving too large of a draw to remain in the cozy confines of Holocene, Tones and I—real name Toni Elizabeth Watson—has moved to the much roomier Roseland for this leg of her "The Kids are Coming" tour. Pop radio listeners are familiar with Watson's "Dance Monkey" which has been flying up the charts with its bouncy, '20s ragtime vibes. Formerly an Australian busker, 19-year-old Watson's singular voice—which growls, leaps, and swoops with raspy, incessant energy—along with radio-ready ear worm hooks, have endeared young audiences around the globe, and with the youth-empowered message of her lyrics, you can bet the crowd for Tones and I will be testing the capacity of the Roseland as well. (Tues Feb 11, 9 pm, Roseland Theater, $20-23, all ages) WM. STEVEN HUMPHREY
Bat for Lashes
English singer/songwriter/multi-instrumentalist Bat for Lashes (AKA Natasha Khan) makes indie dream pop and folktronica that's exceedingly emotive. Having established herself as a powerhouse star by touring with Radiohead in 2008, and making big-money moves like collaborating with Beck on "Let's Get Lost" for the Twilight Saga: Eclipse soundtrack in 2010, Bat for Lashes also put out five solid albums between 2006 and 2019. Now she's kicking off a new era in 2020 by touring in support of her latest full-length, the '80s-reminiscent Lost Girls, which sees her pulling inspiration from Cyndi Lauper, Bananarama, and legendary film composer John Williams. (Tues Feb 11, 8:30 pm, Wonder Ballroom, $25) JENNI MOORE
---
WED FEB 12
Run River North, New Dialogue
The latest iteration of Los Angeles indie pop/rock group Run River North has released a fresh new album that, according to the Korean-American trio, is pure joy. Split into two volumes, the new album Monsters Calling Home is meant to emulate the genuine happiness that comes from making music together. It checks out: With simple hooks and clean electronic beats, the end result is undeniably upbeat. Catch Run River North with fellow Angelenos New Dialogue, a group that describes itself as "a culmination of indie spirit, alternative whimsy, and pop ambition." (Wed Feb 12, 9 pm, Doug Fir Lounge, $15-17) ALEX ZIELINSKI
Reva Devito, Donte Thomas, Montel Spinozza
R&B/pop singer Reva Devito's Valentine's Day shows at Holocene are always a lovely time, but this year it's a pre-Valentine's show. And with V-Day landing on a busy fucking Friday this year, this gig might just be the move. Speaking of, let's hope the singer will be performing tracks from her 2016 EP The Move (like the Kaytranada-produced "So Bad," the title track, or "Babesquad"), as well as newer cuts from This Time, her album with B. Bravo under their joint project Umii. This show is pretty much guaranteed to be lit, since the bill also boasts support from Portland-based rapper Donte Thomas, whose 2019 project Colors was highly lauded from critics in the PNW region, as well as Montel Spinozza, and art installations by Kue. (Wed Feb 12, 8:30 pm, Holocene, $12-15) JENNI MOORE
Alexandra Savior
With a voice that sounds like it was cut straight from the era when Nancy Sinatra reigned supreme, the music of Portland-based singer-songwriter Alexandra Savior conjures haunted dolls, patterned carpet, and the chill of a forest in winter. It's cinematic and full of longing. After working with Alex Turner on her 2017 debut Belladonna of Sadness (which admittedly sounds Tranquility Base Hotel & Casino-adjacent), her latest album, The Archer, borrows all the old-school synthesizers and pairs it with a '70s Italian-horror mood. "Crying All the Time" purrs with a woozy sophisticated sadness while "Howl" shimmers with synths, held down by an ominous bass line. (Wed Feb 12, 8 pm, Lola's Room at Crystal Ballroom, $10 adv, $12 door, all ages) JASMYNE KEIMIG
C.W. Stoneking
Australian singer/songwriter/banjo player C.W. Stoneking is the definition of an old soul. The blues artist came to town in 2016, as an ideal act for the hot-and-dusty Pickathon music festival, where he no-doubt turned swarms of absent-minded (read: stoned) listeners into faithful fans with wholesome renditions of "On a Desert Isle" and "Gon Boogaloo," the '60s-harkening title track from his 2014 full-length. Mississippi Studios is exactly the kind of intimate venue you'd want to be at while hearing Stoneking's gritty vocals and superb "Jailhouse Blues" finger-picking. Always true to style, expect to see Stoneking dressed in his typical clean, all-white garb, and possibly a bowtie. (Wed Feb 12, 8 pm, Mississippi Studios, $20-24) JENNI MOORE
Sponsored
This 9th floor patio boasts stunning views of the city, three mountains, and Portland's West Hills.