Due to a statewide ban on events with more than 250 attendees, some events may be cancelled or postponed. Check the event producer's website to verify before attending.
There's no better way to put it: The return of Bikini Kill is a big fucking deal.
Sponsored

Custom framing, photo frames, printing on metal, paper and canvas.
Not simply because all the shows on their current reunion tour—including two nights at the Crystal Ballroom—sold out almost instantly. And not only because this run of performances serves as another victory lap for vocalist Kathleen Hanna, who is in great health after years of suffering from Lyme disease. No, the Bikini Kill reunion is a big fucking deal for scores of artists who saw and heard themselves in the quartet's unabashedly feminist punk rock. During their initial seven-year run, the Olympia-born group released only two albums and a handful of singles, but every slashing, noisy song, anchored by Hanna's fluid voice—her coos and screeches carried equal amounts of force—and lyrics that raged and inspired, hit the eardrums and hearts of its fans hard. And, more importantly, inspired a couple of generations of young people to make their own righteous and revolutionary art.
With that in mind, we reached out to a handful of local artists who cite Bikini Kill as an influence—those musicians who turned songs like "Rebel Girl," "Double Dare Ya," and "I Like Fucking" into rallying cries and anthems—to talk about what the band and their music meant to them.
Sonia Weber, vocalist for Alien Boy
The first time I heard Bikini Kill was as a student in the performance program at School of Rock. I was probably around 15. We were doing covers of bands from the Northwest and we covered "Rebel Girl." It was the first time I heard about riot grrrl or queercore. I immediately loved those songs and loved playing them. The impact it had on me didn't happen until I was older. I got asked to be in one of the bands for Riot Grrrl Karaoke, an annual event that benefited Not Enough Fest. Playing music with other queers changed my life and definitely played a key role in my working up the guts to start my own project.
"New Radio" is my all-time favorite song by Bikini Kill. The line "Come here, let me kiss you like a boy does" made me feel powerful as a teenager and still does now. It's hot and bad ass. You could make out to it or fight to it. Even just talkin' about it gets me all riled up.
Erika M. Anderson, the artist known as EMA
I was probably 12 or 13 at a used CD store in Sioux Falls, South Dakota and I found a copy of Pussy Whipped. My life was changed from then on. They had a confidence in their music and in their message and vision that gave it an authority, even if it wasn't the most technically perfect music. That really spoke to me.
The first band I played in was formed with the only kid in town who was out of the closet. He wanted to have a band and had a crazy vision for it. I ended up taking it over. It was the first band I knew of in Sioux Falls that was female-fronted and had alternate spectrum sexualities on stage. The indie boys in my high school used to call me "Riot Grrrl" because I had a shaved head. It became my destiny to start the first female-fronted band in town. And I think a lot of that was based on the Bikini Kill records.
There was this other girl in school that was really cool-looking and kind of punk. I had never talked to her, but I went up and was like, "Hey I'm going to form a band. Do you want to play bass?" We became best friends. Now, however many years later, she's coming here and we're going to see Bikini Kill together.
Mandy Morgan, bassist for Nasalrod and owner of Nadine Records
I found out about the band Bikini Kill from Sassy magazine when I was about 14 around 1994. My sister bought Pussy Whipped, which I promptly stole and dubbed a copy of. I remember thinking it was "noisy" and "scary" in a way that made me need to keep listening to it. I had a pretty sheltered, religious upbringing, and I hadn't ever heard anyone singing about things like that. I listened to it obsessively. Part of what I love is how many characters there are in Kathleen's voice. She can sound playful or sexy, beautiful or ugly, mocking or sincere, sing-songy or gut-wrenching, touching or terrifying. You never doubt that she feels what she sings. I started writing my own songs around this time, and bands like Bikini Kill inspired me to feel that no subject matter or perspective was off limits. They also made it seem like playing in a band was totally possible and within reach for a person like me. You didn't have to look or behave or play a certain way. I took a lot of comfort from their bravery.
Once I discovered them, I saw them live every chance I could. They played Portland frequently. I was pen pals with Tobi Vail [the musician who coined "riot grrrl"] for a while in high school, which led to my band Berzerk getting to open up for Bikini Kill in Olympia. It was the single best day of my life up to that point!
Bob Desaulniers, bassist for Lithics
I know more musicians than I can count who had their lives and outlooks radically changed by Bikini Kill and riot grrrl—their impact has been enormous. Punk was supposed to be a haven for radical thought, but in reality it harbored all the same prejudices as the culture at large. Bikini Kill were talking about feminism and misogyny in a way that made men defensive and they took a lot of heat for it. On a purely musical level, they made the sort of gleeful, noisy, feedback-drenched rock 'n' roll that makes me happy to be alive.
Sponsored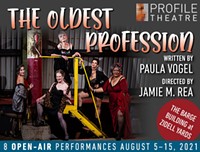 What's the retirement plan for the oldest profession? A moving comedy by the premier writer of our time.