Due to a statewide ban on events with more than 250 attendees, some events may be cancelled or postponed. Check the event producer's website to verify before attending.
When taking a plunge into Snoh Aalegra's lush, emotive soundscapes, it's easy to deduce that the singer/songwriter, born Shahrzad Fooladi, listens to a lot of '90s R&B. I first stumbled upon her single "Fool for You" while watching season three of HBO's Insecure, as one does. And as it turns out, there's not a Snoh Aalegra song I don't like. Her entire catalog is relatable, vulnerable, and exceptionally produced R&B, with vocals that're never doing too much or too little, but just enough. In addition to her excellent 2017 studio debut Feels, her two EPs (There Will Be Sunshine and Don't Explain) are nearly just as lovely. Aalegra's quality control and remarkably smooth production makes sense when you find out she's related to prolific producer No I.D. (he's married to her cousin/manager), who executive produced both Feels and her 2019 follow-up Ugh, those feels again. No I.D. signed Aalegra to his Def Jam imprint ARTium Recordings in 2013, alongside artists like Common, Jhene Aiko, Cocaine 80s, and Vince Staples. Many will instantly recognize Feels' track "Time" from when Drake sampled it on "Do Not Disturb," the final song on his album More Life. Aalegra's "Time" is about the loss of her dad to cancer in 2009, and not having enough time with him; Drake put a photo of his dad on the cover of his album.
Whether she's crooning on one of her two EPs or studio albums, Aalegra's vocal influences are clear, and jump out from time to time: Whitney Houston, Michael Jackson, Mariah Carey, Brandy, and Lauryn Hill. Another inspiration, obviously, is Prince; Aalegra became a protégé of the Purple One in 2014, a relationship that continued until his death in 2016. Aalegra credits Prince for her decision to leave a major label at the time.
The 32-year-old singer grew up in Sweden (hence the accent), but has Persian ancestry. Now based in Los Angeles, Aalegra is currently touring in support of Ugh, which is packed with some of her best work yet. While Aalegra channels Sade in the cover art, the album's contents are dripping with exquisite soul from front to back: from the vibrant and enamored single "I Want You Around," to "Situationship," and "Whoa" (Aalegra makes out with Michael B. Jordan in its steamy music video), to "Find Someone Like You," and the sultry "Toronto." For the duration of her career, Aalegra hasn't missed one damn note, and if her recent Tiny Desk Concert performance for NPR is any indication, she and her band are simply stunning live. JENNI MOORE
Sponsored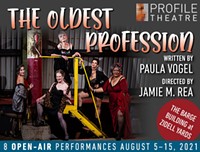 What's the retirement plan for the oldest profession? A moving comedy by the premier writer of our time.