Back in August, at a sunset Pickathon show, Mount Hood was aglow, kaleidoscoping from whitewashed freckled brown to burnt orange to a dusky blue. 
"This is so nice," folk singer Margo Cilker gushed from the farm music festival's newly named Paddock Stage. "Watching the sun go down, and the moon come up." 
It was nice. But that same backdrop also included the progress coming for Pickathon, the housing developments that had encroached upon Pendarvis Farm since the last time the Happy Valley festival was held. Murmurs of Pickathon's demise—annually abundant, but this year within view—reverberated from the oversold weekend parking lot to the Woods stage. So the setup for Cilker's next number felt prescient. 
"This is a song about when you're having a beautiful night, and you look around. And it's so beautiful," she said. "And then you realize. It's slipping away." 
That song—from Cilker's 2021 album Pohorylle—was the wistful "Wine in the World," about fleeting dreams, bottles of wine drunk and loved ones here no longer: 
"A funny thing happened this last time I was out traveling / Nobody's lives stood still / My grandfather tended to his bees and his garden / And we lost him on the first of the year," she sang.
In the next verse, Cilker sang of being a woman split between places. After living in the up-and-coming Wallowa mountain town of Enterprise for three years, rising costs of living pushed her and her husband to Goldendale, WA. 
Cilker loved living in eastern Oregon, she told the Mercury, in an interview between her four(!) festival sets. But that beautiful time had to come to an end. "We were working as hard as we wanted to be working," she said. "And it just wasn't enough."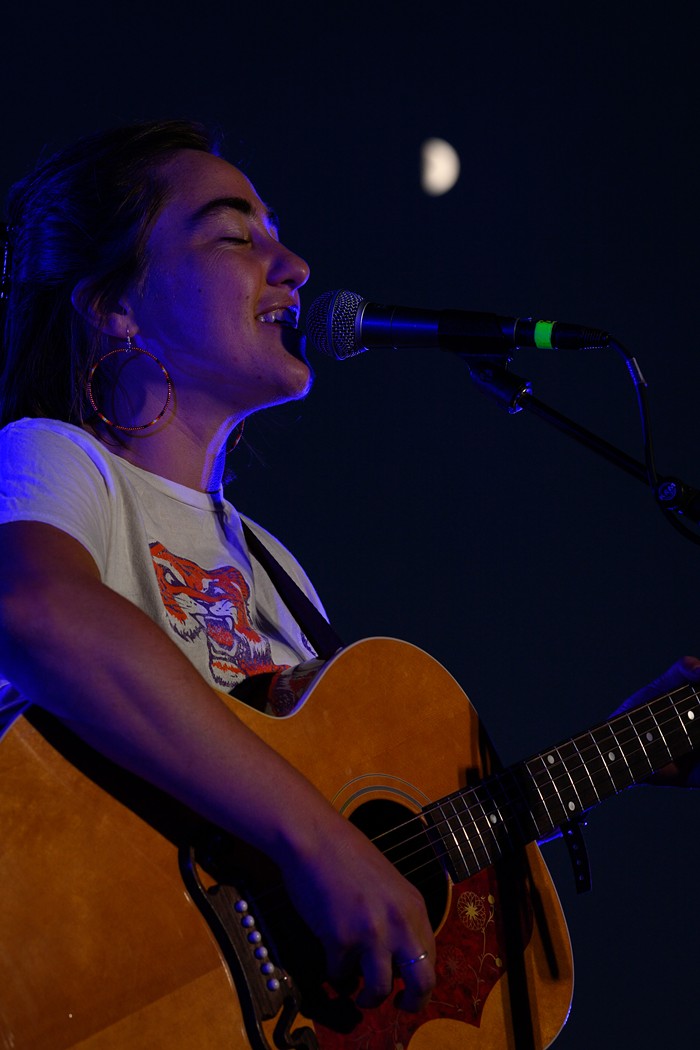 However, Cilker's future is looking rosy, no matter what side of the Oregon-Washington border she calls home. Pohorylle catapulted the folk singer from a decade of career baby steps: church choirs and coffee houses. In 2017, she and her sister Sarah Cilker embarked on a tour from California to South Carolina, and four years later they put out the record that would change everything. 
"My other recording projects were like: OK, I have four days and 'X' number of dollars. And then this album was two years in the making, and more dollars. I kind of doubled down. Then the pandemic struck. I was already in too deep, you know?" 
The success of Cilker's album meant she spent the summer playing bigger festivals, from California's High Sierra to Pickathon to a few different festivals in the United Kingdom, before heading back to Tennessee to play Bristol Rhythm and Roots. 
The goalposts have changed, Cilker says, from a myopic focus on making it in the music business to bigger, holistic dreams. "I'm really re-learning everything," she says. "Like, how to take care of my body, how to take care of my mind, how to take care of my band. How to build a life, how to survive. Just basic goals people have. I'd like to buy a house one day." 
Back in August, looking out over the Happy Valley McMansions, it was easy to see she wasn't the only one.
---
Margo Cilker plays at Mississippi Studios, 3939 N Mississippi, Thurs Dec 15, 9 pm, tickets here, $20, 21+ w/ Jeremy James Meyer