Jean Dawson took the stage at his sold out Holocene show wearing layers: A pull-over anorak and a soft-looking green ski mask. Blond locks poking out from inside framed his face like a halo. 
"I'm only hot in the places that it matters," he said, in response to a comment from the front row.
Just before his ascendance, the audience—composed largely of teens, who left the club's separated, 21+ bar area a ghost town—had been chanting, "Jean! Jean! Jean!" That energy exploded to even the moderate tempo of opener song "Dummy," before finally finding the jump-worthy verses of "Porn Acting*"—"put you on a t-shirt / put you where your knees hurt / put you in the grave."
Heads bopped. Arms flailed. It was an A-grade mosh pit.
Jean Dawson began gaining national notoriety in 2020 with his self-released sophomore album Pixel Bath. It's worth noting that Jean Dawson is an artist name, but it's what he requests to be called. Though his rise may seem swift, all three of Dawson's albums are self released and he's reticent to sign with a label, saying on a social media live stream that he'd been offered insultingly unfair terms: "[they would have] owned basically everything: my tour, my merch, my music, my likeness."
The songs he writes are a hodgepodge of styles and genres—crooner glitch anthems and power punk ballads—and although his rise has come primary through hip hop circles, Dawson says he doesn't think of himself as a rapper. Indeed, Dawson is great reminder of all the places where rap and punk vocals overlap. His recently released Chaos Now* features verses from rappers Isaiah Rashad and Earl Sweatshirt—but feels like Kid Cudi, M83, and the Pixies were all invited to the same party. It's also basically bangers from start to finish.
As genres go, glitch can stray eccentric, but Dawson has the hooks to back it all up. His live band filled out the tinnier moments of songs, like "Power Freaks," and added bass hums that warmed the whole body. 
LA-based—by way of Tijuana—Dawson nimbly incorporates Spanish into his lyrics. One of the night's largest crowd responses popped off to the mostly Spanish "Policia," which sets sentiments about living happily despite the heaviness of oppression against a strangled guitar riff that's a clear nod to the Pixies' "Where Is My Mind?"
Crowd lost it for this one, at the Portland Jean Dawson show. pic.twitter.com/fsQVa0rh89

— Suzette Smith (@suzettesmith) November 14, 2022
The three hundred jumping teens never worked their mosh pit into a circle, which makes sense for how young, polite, and earnest the crowd felt. Rather, they amorphously bobbed like the ocean—an ocean filled with hands clutching bright, glowing cel phones. That's just something you're going to find with a younger crowd. Rather than admonish, we chose to recognize how much they value a digital record of existence.
Running along the back portion of Holocene's stage floor is one long treacherous step that's great for getting a view above the tall. It also provided an easy dividing line, without which the entire room may have been drawn into the scrum.
But the heart was there. We saw one youth aggressively head banging with their glasses pressed to the bridge of their nose. That's the energy that Mosh Critique seeks.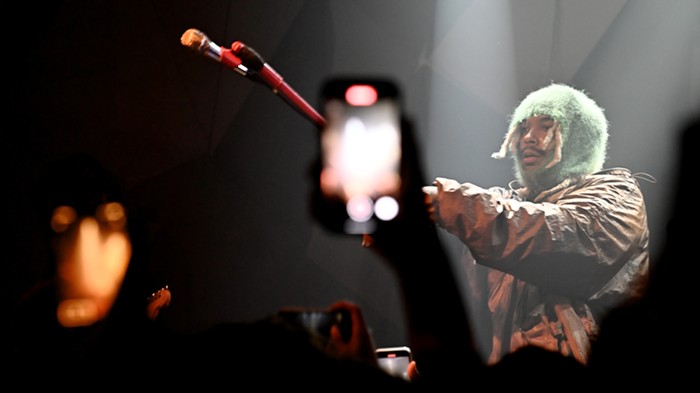 And now, the Mosh Critique:
Head nods: Heads about the snap the heck off.
Shape: Amorphous and blobby, entire floor moving as one.
Pit guards: Untrained, nervous, too trusting of those who want to slam dance outside the pit parameters.
Phone use: Lit and dangerous. Never saw one phone dropped, but the grips of hands holding them—risking it all for the gram—spoke of a desperate desire to connect / record.
That one guy: Man wearing a prep-style sweater, around his shoulders, squeezes through the crowd during during "Policia," then interrupts a stranger's raging to have them take a photo of him where he smiles broadly like he's at the beach. They take the photo with flash (you monsters).
Sign of fan intensity: Barely any crowd movement between opener and headliner, statuesque and earnest spot-holders.
Mosh foul: Person with the sharp elbows climbs out, only to slam dance in the non-pit zone.
Stage interaction: A videographer with a selfie stick hands it over to the crowd. They surf it from person to person.
Pit camaraderie: Zero hugs, much "excuse me." A polite pit.