For about 16 HOURS last week, it looked as though Portland City Council would have the final say in a police oversight case for the first time in 13 years.
Sponsored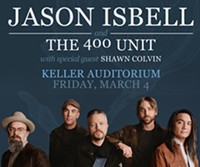 Jason Isbell has established himself as one of the most respected songwriters of his generation. Don't miss Jason Isbell and the 400 Unit, March 4th at Keller Auditorium!
"This has not happened in my time as a city employee," said Independent Police Review (IPR) Director Constantin Severe last Wednesday night, shortly after the city's volunteer Citizen Review Committee (CRC) voted unanimously not to back down from a finding that an officer deserves punishment for inappropriately grabbing an activist's camera lens in 2015.
Acting Chief Donna Henderson—standing in for Larry O'Dea while he's under investigation for shooting a friend during a camping trip—showed up to the June 1 meeting to relay O'Dea's disagreement with the CRC's March 30 vote, where members sided with activist Robert West. But Henderson also said she agreed the officer, Scott Groshong, should be cleared as the bureau's Police Review Board initially ruled (though she did say she'd give the officer a "debriefing," essentially a formal talking-to about how the situation could've been handled better).
"The chief felt the officer did not initiate or provoke the incident, nor did he decide the time or place it occurred," Henderson said. She echoed the bureau's line on the encounter—a claim that Groshong never actually grabbed the camera—even though the video clearly shows he hopped out of his SUV, walked up to West, and did just that.
"If he was trying to grab the camera, he would have grabbed the camera," Henderson said. "But there's nothing in that video that says he tried to grab the camera."
CRC members were unswayed, having rejected the same "non-grab" argument two months earlier, and voted 6-0 to send it to city council.
"I really do trust our findings," CRC member Kiosha Ford said. "I don't think there was any misjudgment. We thoroughly discussed whether there was a grabbing of the lens."
That set up a police oversight showdown in front of city council for the first time since 2003, according to Portland Copwatch's Dan Handelman, who's been closely following the bureau for more than two decades. Shortly after the 2003 case—in which cops had been accused of beating the half-brother of the man they were actually looking for—five CRC members resigned in protest after then-IPR Director Richard Rosenthal wouldn't back them up in front of city council by saying that police were in the wrong, Handelman said.
But this time, the prospective city council showdown didn't last long.
Henderson emailed CRC Chair Kristin Malone around noon Thursday, with news of a surprising reversal. The acting chief announced she'd found out she could overrule O'Dea—and she did, agreeing that Groshong acted unprofessionally. That means Groshong will face some discipline in the incident, though it's unclear what it will be.
"After careful consideration of what was said by the CRC Board last night," Henderson wrote, "and determining that I have the authority to make the decision it is my intent to sustain" the CRC's finding.
It was an odd turn of events, but not wholly unique. Handelman notes that a similar situation occurred six years ago, when the CRC and then-Police Chief Rosie Sizer were at an impasse over what should happen to Officer Ronald Frashour, who used a Taser on a man filming police in 2006. (Frashour, infamously, shot and killed the unarmed Aaron Campbell about six weeks before this 2010 meeting.) Two weeks after the CRC voted to send the Taser case to city council, Sizer, like Henderson last week, reversed course. The case "was a rather close call," Sizer told the Oregonian at the time, "and I decided not to prolong the acrimony around this case by having it heard before city council."
The Groshong case has plenty of its own acrimony. A March hearing on the matter featured raucous audience outbursts and a cup of water thrown on one CRC member. That led to a cancelled meeting, new audience rules, a brief police boycott of the CRC, and a CRC vote to legally compel the cops to show up the next time.
With Henderson's change of heart, it's now over (she declined to be interviwed for this story).
"Although this case took a long path to resolution," Malone told the Mercury in an email, "I think the extended dialogue between the bureau, the CRC, and the public led us to the right result. I appreciate Acting Chief Henderson's willingness to engage with the committee and to reconsider the bureau's findings."