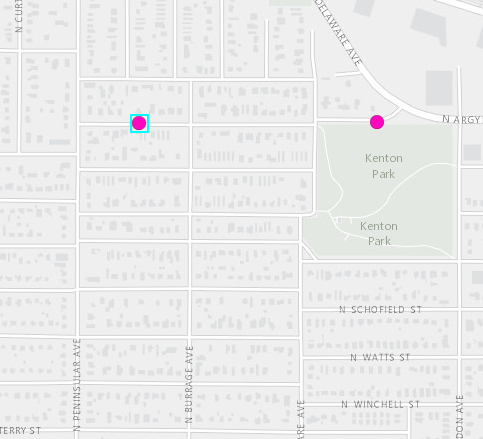 As expected, the US Forest Service has unveiled its latest moss data on heavy metals in Portland, releasing a report to one outlet Tuesday, and to the rest of the media and the public Wednesday. It's the most detailed information we've seen to date on what federal scientists turned up in moss samples collected between December 2 and December 23, 2013.

And while there's not a direct correlation between levels of heavy metals captured in moss and airborne exposure, it seems that the new data [PDF] do place an immediate assignment before the state's Department of Environmental Quality: find out what the heck is going on up in Kenton.

The amount of lead found at a sample site just west of Kenton Park is almost three-and-a-half times higher than then next highest moss reading in the city, and more than ten times higher than the typical amount of lead found in 346 samples around Portland. (Kenton's sample was 129 milligrams of lead per kilogram of dried moss, compared to citywide readings that clustered between 2 and 6 mg/kg.)
The USFS adds that the duration of exposure "likely ranges from several months to a few years." Sarah Jovan, the agency's lichenologist, put the most likely time-frame as from "six months to a year or longer."

What that suggests—but does not prove—is a facility (or facilities) pumping out more atmospheric lead within shouting distance of Kenton during 2013 than anywhere else in Portland.

The report states that, "high concentrations in moss are suggestive (but not conclusive) of high concentrations in the atmosphere." And it concludes that, "Hotspots identified in this study likewise may assist in uncovering additional unknown or unregulated pollutions sources."

What's more, a prior USFS report on moss—one that focused on cadmium and was published in the journal "Science of the Total Environment" back in March—cited prior research that found that, "moss concentrations of cadmium and lead are more consistently correlated with measurement of atmospheric deposition than concentrations of other metals." In other words, for lead, the correlation between moss readings and actual air exposure is pretty strong.

Along with the Kenton neighborhood, the USFS data corroborate a Mercury story that broke the news of seven hotspots of more than one heavy metal. For lead, the moss collection site the prior story refers to as the Pearl District is located at NW Marshall St and NW 15th Avenue; the site we noted was in the vicinity of Portland State University is by SW Clay Street and Lower Broadway. Another hotspot was located in Cully.

It should be emphasized that moss data, though it worked well to identify two Portland glassmakers as potential sources of cadmium, is not definitive. It merely indicates areas ripe for future air-monitoring. That's assuming the lead-spewers don't change their ways.

There was no immediate reply to a query posed to DEQ as to its response to these potential problem areas. In a news release, the agency stated that it's sole additional air monitoring, as of now, will be in "the industrial area in northeast Portland near the Cully neighborhood." Referring to Cully, DEQ added that it's "reviewing information about potential sources of airborne metals, as there may be several sources of pollutants in the area."
Update, 3:30 pm: Given the concern some in Portland have expressed over the moss data's high lead reading in Kenton, it's worth noting a home demolition that occurred across the street from the sample site some time before the moss was collected. The location is on N Argyle Street just east of Peninsular Avenue. A street view from Google Maps from September 2011 shows a ramshackle little yellow house that appears to have been constructed before the year 1978, when lead paint was outlawed. Click on the next date offered, July 2014, and, voila, no more yellow house, but three new town houses. The yellow house had been demolished.
Daniel Forbes is the author of Derail this Train Wreck. He lives in Portland, and can be reached atddanforbes@aol.com.