THE TWO YOUNG Malaysian businessmen had traveled long hours for what was supposed to be a short trip.
Eoin Ling Churn Yeng and Galvin Yeo Siang Ann jetted into Portland last December, envisioning a brief meeting with a valued longtime client. But their visit has lasted a lot longer than planned.
Sponsored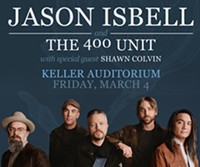 Jason Isbell has established himself as one of the most respected songwriters of his generation. Don't miss Jason Isbell and the 400 Unit, March 4th at Keller Auditorium!
Today, 35-year-old Ling and 33-year-old Yeo, the owners of an online curiosities vendor called Borneo Artifact, are still in Oregon, sitting in a cell at the federal prison in Sheridan, more than six months after federal agents swooped in following their arrival.
Their arrests made headlines around the region after the US Fish and Wildlife Service (FWS) announced its probe of an illegal animal parts smuggling operation in December. The investigation, dubbed "Operation Pongo," showed that Ling and Yeo "used mail parcels to illegally smuggle orangutan skulls and parts of other protected wildlife into the United States," the FWS said.
The federal agency told KGW the bust was "big." The agency continues to crow about it to this day.
"Wildlife smuggling occurs in every city and town in America because purchasing wildlife online has become so easy and anonymous," FWS Public Affairs Officer Brent Lawrence tells the Mercury. "Many consumers don't want to think about the source of the wildlife and ignore the laws that protect the species. We need to reflect on our role and realize that foreign suppliers will continue to meet our unsustainable demands for wildlife and plants until a species is driven into or near extinction."
Lawrence wrote a heartfelt blog post last month after Ling and Yeo pleaded guilty, laying out a grim ledger of their smuggling exploits: five orangutan skulls; four helmeted hornbill skulls; the skull of a fanciful-looking wild pig known as a babirusa; a langur skull; a dugong rib; and more.
But a new case filed last week was met with much less fanfare. There were no press releases, no blog posts, no news coverage. Just a barebones, one-count indictment of a Forest Grove man named Gary Holstrom, accused of illegally selling eight primate skulls (a langur, a loris, four macaques, and two orangutans), a rare bird's head, a turtle shell, and bear claws.
Why didn't Holstrom's crimes get the same pomp the two Malaysians' did? Probably because he helped the feds bust Yeo and Ling.
It turns out the endangered and protected animal parts the two men were convicted of smuggling into the country had been purchased by Holstrom, so he could sell them at a markup at his own online-based antiques and artifacts store, esotericstuff.com, starting at the latest in 2008.
The FWS didn't ever mention that Holstrom, in his early 70s, was the original target of "Operation Pongo" but turned informant, according to records obtained by the Mercury and a source with knowledge of the investigation. After the feds raided his house last June, Holstrom agreed to cooperate with the FWS to bust his longtime suppliers for a reduced punishment.
Holstrom identified the Malaysian men, let an undercover agent pose as him to communicate with the two via email, and then lured Yeo and Ling to Oregon, using the promise of a party, so the feds could finally bust them in person.
"We can't comment on open investigations," Lawrence told the Mercury, when asked for comment on Holstrom's indictment. Holstrom hung up the phone when the Mercury asked him last week if he wanted to comment on the case.
"Throughout most of this investigation, the individual referred to in this affidavit as the CS has been the target of the investigation," wrote a FWS special agent in a footnote in the December arrest affidavit filed against Ling and Yeo, referring to the unnamed Holstrom. "As of June 8, 2015, this individual became a confidential source ('CS') and, therefore, is referred to in the affidavit as a 'CS.'"
For years, Holstrom has held down a niche as an oddities dealer.
"We are the 'home' for unique, one-of-a-kind art pieces from Asia, the Oceanic Islands, parts of Africa and South/Central America... and many parts in between," says his website. "Whether you are seeking an investment-quality 15th century artifact from the Majapahit Empire for yourself or an unforgettable porcelain gift from China for someone else, esotericstuff.com has what you are looking for with selection, reasonable prices, and superb customer service."
Holstrom got on the feds' radar in 2013, court records show, "when a routine search of an international package from Indonesia revealed a helmeted hornbill mandible," the jaw of one of the more critically endangered animals on Earth. It was addressed to Holstrom.
In July 2014, an undercover FWS agent walked into Holstrom's Forest Grove store and bought two orangutan skulls for $4,700—illegal under the Endangered Species Act and international smuggling rules—and a smuggled turtle shell for $2,100, all from Malaysia, records show.
FWS agents raided Holstrom's house a week later. He folded like a cheap suit, implicating Yeo and Ling.
Holstrom told agents that day about the turtle shell, the orangutan skull, and the langur skull he bought from them in 2008, and other primate skulls he bought from the men in 2011. He also let the FWS search through his email account, revealing that a package sent from the dealers to Holstrom was seized four years before, in California.
"Some distressing news today," Holstrom wrote in May 2011 to Yeo and Ling. "I received an envelope in the mail that informed me that the macaque skull you sent has been seized and is subject to forfeiture... Have you had this happen before with one of your US clients? And, what did you do to help?" He asked if he should petition the government for it.
"I am sad to hear this but very important: never admit that you have interest in this thing," Yeo responded. "If you admit that you have interest more investigation will come."
PayPal records analyzed by the FWS revealed Holstrom paid Ling and Yeo $14,000 for 12 shipments of banned wildlife parts between 2008 and 2014.
An agent began posing as Holstrom, communicating with the pair and purchasing more items from them to build their case. The agent asked about the babirusa and langur skulls, and a whale bone listed on their website as "organic bone from the sea."
Ling told him they'd ship one skull at a time, and the babirusa upper and lower jaws separately. He said the whale bones were purchased from Indonesian islands and said, "I'll be in hot soup (or worst [sic] gunned down by FBI) and removed by eBay if stated they are whale bones on eBay."
The agent, as Holstrom, also got the Malaysians to admit they started their business, Borneo Artifact, in 2005, and that their first customer was an American who bought a monkey skull necklace.
For being so cooperative, Holstrom will get a break in the courts. His indictment doesn't list the jawbone of the highly endangered helmeted hornbill he bought in 2013. And though he had been buying from Ling and Yeo since 2008, Holstrom was only indicted for selling a macabre flurry of items between March 2011 and July 2014.