IT'S NOT YOUR FAULT if you have a panic attack anytime you get near a ballot these days.
Last November, despite the valiant efforts of Portland and other cities around the country, we still wound up with a president who lost the popular vote by a whopping 2,864,974 votes, and who is only beginning to offer glimpses of how ugly he can make our daily lives.
But the work of a democracy shuffles on. Once again, a ballot will be arriving in your mailbox any day now. This time around, the election largely concerns who'll lead local school districts facing pressing budget challenges. The Mercury has rarely endorsed in school board races, and we didn't this time, either.
Instead, here are our recommendations for three measures Portlanders will see on their ballots. Two involve changes to the City Charter, Portland's foremost governing document. The more important one could dramatically alter the fate of the city's schoolchildren.
Happy voting! (Seriously, you still need to vote.)
---
MEASURE 26-193: YES
This is far and away the main event of the May 16 election.
Portland Public Schools is asking voters to approve a plan to improve the health and safety of its dilapidated and lead-ridden schools. If passed, PPS would use $790 million in property tax bonds to renovate Benson and Madison high schools, and completely rebuild Lincoln High and Kellogg Middle School. The plan would also include seismic improvements, safety upgrades, and removal of dangerous materials (like lead, asbestos, and radon) for all schools in the district.
If $790 million seems like a lot, that's because it is. The measure PPS is putting before voters amounts to the largest property tax bond in state history.
What's that mean for your wallet? In the short term, the bond will increase property taxes by $1.40 per $1,000 of assessed value—$280 a year for a house assessed at $200,000 (note that this is not the same as a house with a market value of $200,000). The rate would fade after that, but if PPS has its way, your property taxes would stay the same. That's because if this measure passes, PPS will ask for another, slightly smaller bond issuance in 2021.
In fact, the district has designs on six bonds, stretching for the next 30 years—money that would pay for extensive renovations of Portland's aging schools. This is the big vote, though—if this measure passes, PPS would merely have to ask voters to re-up the bond every four years to keep its revenues in place.
We're no happier than you are to shell out the cash, but the fact is our schools need work. While expensive, this school bond is extremely necessary.
The last district-wide school renovation was in 1945. The average PPS school is 77 years old. Our public schools are old, gross, and dangerous, and this measure is vital to bolstering Portland's reputation for high-quality public education.
---
MEASURE 26-189: YES
The City Auditor's Office, Portland's institutional watchdog, needs to be less intertwined with the agencies it's tasked to investigate. Conflicts of interest—in appearance or reality—need to be minimized. This measure does that.
The premise for the change is simple: The Auditor's Office serves as the main oversight arm for Portland government, but the city agencies it's responsible for investigating have sway over the auditor's staffing, budget, and contracts. The Auditor's Office also sometimes gets legal advice from city attorneys who are advising the targets of investigation at the same time.
As Auditor Mary Hull Caballero puts it: "It's a constant cloud over every transaction we're involved in."
A vote for Measure 26-189 will amend Portland's charter to give increased independence and autonomy to the auditor. It will allow for the office to seek outside legal counsel without first getting permission from the City Attorney's Office, will give the office more leeway in staffing decisions, and will allow Hull Caballero to send budget proposals directly to City Council, rather than following a path through the City Budget Office as city bureaus' budgets do.
The measure also enshrines the role of the City Ombudsman, which investigates citizen complaints. Hull Caballero argues that change is necessary in order to give the position security—she believes former Mayor Charlie Hales was considering axing it at one point.
The charter amendment would provide for an outside review of the office's activities, which Hull Caballero says will ensure the increased independence she's fighting for has necessary checks. And of course, elections of the auditor—one of Portland's six elected positions—will continue every four years.
Hull Caballero's push for independence has ruffled some feathers in City Hall, but she makes a compelling case. Vote for this.
---
MEASURE 26-194: YES
HomeAway has decided not to cooperate.
Since it started listing properties in Portland years ago, the short-term rental platform owned by Expedia has steadfastly refused to pay the six percent "transient lodging" tax that Portland slaps on hotel stays.
As Commissioner Nick Fish points out, even Airbnb—which has an abysmal record in helping the city enforce safety requirements—pays that transient lodging tax.
But HomeAway has so far thwarted the city, arguing the 45-year-old language in the city charter that allows Portland to tax hotels doesn't apply to the new business model of short-term rentals. The city even tried to pass an ordinance expanding who was subject to the tax, but a federal judge ruled it wasn't enough. Officials need to change the city's charter if they want to tax HomeAway.
That's what City Council is doing by asking you to pass Measure 26-194. But it's doing more than that, too.
Rather than neatly changing the charter language to rope HomeAway and similar companies into the tax, officials are going further. This measure would give City Council broad authority to interpret the charter language around the lodging tax, making it possible to expand it further in the future by a vote of council.
Fish argues that the change allows council to be nimble in the face of technological advancement. Not surprisingly, HomeAway says this is a power grab that will rob citizens of their ability to decide how council applies the tax.
It's not a terrible argument, honestly. We'd be more comfortable with this measure if council had been content merely to expand the tax to apply to short-term rentals. This verges on overswinging.
But we're supporting this amendment anyway. HomeAway is plainly the type of business the tax was intended to reach. It's exploiting a technicality to gain a pricing advantage over competitors.
And we're heartened by the fact that, should the measure pass, city council would still need to hold a public hearing and vote if it proposes to expand the tax in the future. If the last few months have taught us anything, it's that Portland's citizenry is great at letting commissioners know when it doesn't like a proposal.
The Mercury Endorsement Strike Force is Editor-in-Chief Wm. Steven Humphrey, Managing Editor Erik Henriksen, News Editor Dirk VanderHart, Senior Editor Megan Burbank, News Reporter Doug Brown, and Editorial Intern Claire Holley.
Sponsored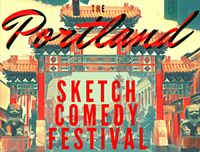 Sketch comedy troupes from all over N. America descend on The Siren Theater for 3 glorious nights.