Portland Police Chief Mike Marshman is getting the boot.
Portland Mayor Ted Wheeler announced Monday afternoon that he's handing the reins of the Portland Police Bureau (PPB) over to Oakland Deputy Chief Danielle Outlaw, who will become the first woman of color and the third woman to serve as Portland's police chief on a full-time basis.
Outlaw is only 41, but has nearly 20 years of law enforcement experience. She'll start no later than October 2, the city says.
The announcement of Outlaw's hiring was met with tempered optimism from local activists, many of whom had railed against Marshman's candidacy. It received relative silence from the Portland Police Association, the city's rank-and-file police union, which favored the existing chief.
The pick came after a more-secretive-than-promised search that lasted nearly three months. Wheeler had pledged a national hunt for a police chief before he became mayor in January, despite the fact Marshman was tapped for the position last summer by then-Mayor Charlie Hales.
Marshman was invited to apply for the job and was one of four finalists. He's now using vacation time and will soon officially retire. Assistant Chief Chris Uehara is acting as chief until Outlaw takes over.
"During the selection process, Mayor Wheeler emphasized the qualities he wants in a police chief, based upon the principles of President Obama's Task Force on 21st Century Policing," the mayor's office said in a statement on Monday. "The Mayor selected Outlaw based on her ability to provide leadership and supervision to over 950 sworn and 270 non-sworn employees to work effectively with diverse communities, and to lead an organization committed to community policing, transparency, and accountability."
Outlaw's got fans in Oakland. John Burris, a prominent civil rights attorney in the Bay Area who says he has sued the Oakland PD "more times than I can count," tells the Mercury she's genuinely interested in community-based police reform. Outlaw's ethical and interested in civil rights, he says.
"She's fair, a fair-minded person, and she appreciates the community's concerns about quality policing," Burris says. "I think she'll effectively communicate with the community, the politicians, and, hopefully, the officers themselves."
Burris notes that Outlaw emerged unscathed in an underage sex abuse scandal that recently plagued Oakland's police.
So far, the pick is playing well locally, too.
"We are cautiously optimistic that this hiring will mark a new direction for policing in Portland," activist group Portland's Resistance said in a statement. "We are also proud to have a woman of color as our police chief." The group had promised a recall effort for Wheeler if the mayor re-hired Marshman.
Outlaw became a deputy chief in Oakland in 2013 after rising through the ranks. The city says she first joined the department as a high school student in 1997, then got a degree in sociology from the University of San Francisco and a master's degree in business from Pepperdine University.
"My life's passion is policing," she said in a statement. "I want to make a positive difference in the lives of my fellow officers and the residents of the community. Portland is an amazing city. I am humbled by the tremendous opportunity in front of me, and am ready to get to work."
Sponsored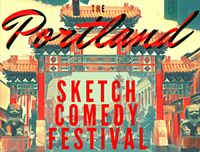 Sketch comedy troupes from all over N. America descend on The Siren Theater for 3 glorious nights.