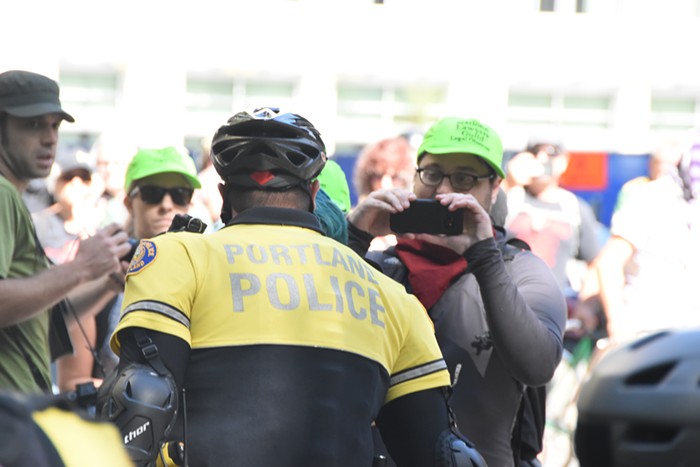 The Portland Police Bureau is again taking heat for questionable actions during Sunday's protest downtown.
First, an officer nonchalantly chucked a grenade at non-threatening people during a chaotic arrest on the corner of SW 3rd and Salmon. That's under "review" by the bureau. Then, within moments, another cop forcefully shoved a National Lawyers Guild (NLG) volunteer legal observer to the ground. The city is now facing a tort claim notice —the first step of a potential lawsuit—because of the shove.
NLG observer Christopher Kuttruff, wearing a bright green hat like they all do, was filming the rough arrests. A flustered PPB officer identified only as "Officer Hughes" violently pushes him over. It was captured by OPB reporter Ericka Cruz Guevarra:
People yelling at police right now for their treatment of protestors. Something went off. People running away from state troopers now @OPB pic.twitter.com/C9QeZHSGnK

— Ericka Cruz Guevarra (@erkagvra) September 10, 2017
"That unlawful use of force was not only an attack on Mr. Kuttruff but was also an unlawful attack on the people's universal human and state and federal constitutional rights to politically organize themselves and to engage in free speech and expression," the NLG said in a statement today.
"Without any reason to do so, or any prior notice, Officer Hughes assaulted and battered Mr. Kuttruff by pushing him backwards, off the sidewalk, into the street, and down on the asphalt," it says. "Mr. Kuttruff's damages include physical damage, pain, fear, and humiliation at the time of the incident. Mr. Kuttruff also requests that the City of Portland takes actions to retrain and incentivize officers to not target legal observers and to generally not use unreasonable and unlawful force against individuals in demonstration situations."
Read the NLG tort claim notice here: