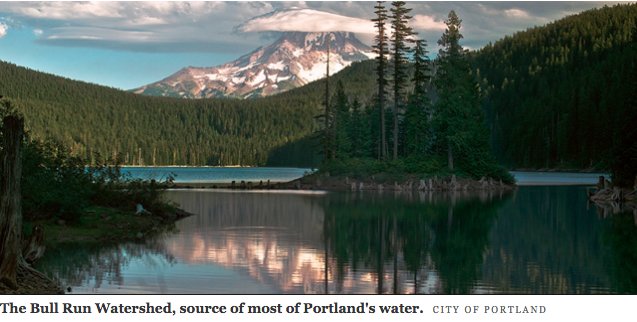 Portland recently went four and a half years without detecting Cryptosporidium in its water supply. Now it can't go a week without turning up the parasite.
The latest detections, the Portland Water Bureau announced today, came in samples collected last week. In fact, samples from November 5, 6, 7, and 8 turned up at least one Crypto "oocyst." That's the longest string of days with positive samples since at least 2012, according to a city web page on crypto testing. But they're far from alone. Since mid-October, Crypto has shown up in samples from the Bull Run Watershed on a weekly basis. In total, 34 oocysts have been detected in 27 samples this year.
Crypto is a parasite that in some forms can pose health risks for humans—especially those with compromised immune systems. City and county health officials are quick to point out there's been no sign of adverse health effects in the recent spate of detections, and the water bureau isn't advising people to avoid Portland's water.
Cryptosporidium is frequently present in animal scat, and the PWB has theorized that heavy rains have washed it into the Bull Run water supply with increasing frequency. But serious rainfall wasn't foreign to Portland from April 2012 to December 2016, when there were no crypto detections in the water supply. It's still not clear what exactly accounts for the newly frequent detections.
"Because of the size of the reservoirs, mixing of the water within the reservoirs, and travel time, our modeling has shown that once Crypto enters the reservoirs, it is possible that it may be detected at the intake for several weeks after a single event," PWB spokesperson Jaymee Cuti told the Mercury recently. "Therefore, when Crypto is detected at the intake, it is not always evident which rain event it may be related to."
To eliminate risks from Cryptosporidium and other threats, Portland City Council recently voted to move forward with a massive filtration plant that estimates suggest will cost up to $500 million.