IN A CITY HALL that's hosted countless heated hearings, it's entirely probable that none has merited its own partisan mailer.
Sponsored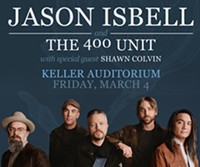 Jason Isbell has established himself as one of the most respected songwriters of his generation. Don't miss Jason Isbell and the 400 Unit, March 4th at Keller Auditorium!
But to hell with tradition—the city's landlords are angry.
In a move more typical in an election season, local landlord coalition More Housing Now! recently dropped 10,000 postcard-sized flyers [PDF] in the mail, calling for its members to show up in force to a city council hearing on February 28.
"Attn: Single-unit rental property owners," the mailer reads. "Portland City Council is planning to force you to pay up to $4,500 in tenant relocation fees."
If there had been any doubt that the debate over tenant moving expenses is now an all-out war, it ended with that mailer. The hearing scheduled for Wednesday afternoon is shaping up to be a proxy for the rental battles playing out around the city.
At issue is a policy that's been a part of Portland's rental landscape for a year: Under the Mandatory Rental Relocation Assistance law, landlords must pay between $2,900 and $4,500 when they issue no-cause evictions, or force tenants to move with rent increases of at least 10 percent.
The law is scheduled to sunset next month, but city commissioners plan to pass a permanent version. And last week, after nearly a year of debate, Portlanders got their first look at what that new proposal looks like.
The central fight—and the reason why landlords have sprung for mailers and Facebook ads—has to do with property owners who rent out a single unit. These landlords used to be exempt from the payment policy. Now, after some public dithering from Mayor Ted Wheeler, it appears Portland City Council has the votes to do away with that exemption.
"Only two weeks after [Wheeler] assured small property owners he was sticking to his guns, he has caved in to radical groups, reversed course, and is planning on joining with Comm. Chloe Eudaly to make sure you have to pay, too," the mailer says. "We need your help if we have any hope of making the Mayor stick to his original promises."
If the postcards are successful, council chambers will be packed to the rafters with small-time landlords. But they won't be the only ones with gripes.
On the other side of the housing debate, tenant advocates are displeased with new exemptions to the relocation payment policy the Portland Housing Bureau has proposed. They include loopholes for landlords who rent out their primary homes for three years or less, people who are in active military service, and property owners who want to move a member of their immediate family into a home.
The city's proposal also suggests that raising utility payments and rental fees don't constitute rent increases—a provision that could lead to de-facto rent hikes.
Groups like Portland Tenants United have begun circulating their own calls to action, urging vulnerable tenants whose rental agreements could be affected by such loopholes to come before council and explain why it matters.
The two groups will square off, West Side Story-style, at 3 pm on February 28.
May God have mercy on us all.