It's been 27 years since Sam Adams got his first job in Portland City Hall. As a 29-year-old chief of staff to then-mayor Vera Katz, Adams built a reputation as a fiercely loyal and politically savvy aide, eventually serving as city commissioner before becoming the first openly gay mayor of a major American city. Now, after his political career was cut short by several scandals, Adams wants his longtime employers—the Portland public—to give him another chance.
"The level of dissatisfaction in City Hall right now is profound," Adams, now 56, told the Mercury in mid-January, shortly after announcing his plans to run against incumbent City Commissioner Chloe Eudaly. "I think, being the experienced outsider, I offer a value proposition for people to consider."
Sponsored
Sketch comedy troupes from all over N. America descend on The Siren Theater for 3 glorious nights.
But some Portlanders aren't convinced that Adams deserves the job.
Portland has changed in the eight years since Adams left City Hall. While no longer gripped by an economic recession, the city has been incapacitated by skyrocketing housing prices—a crisis that's pushed middle-class families into poverty and low-income households into homelessness. While job growth has kept up with the city's growing population, high rents in central Portland have made paychecks flimsier and commutes longer.
As Adams gears up for a race against City Hall's strongest advocate for affordable housing, city hall insiders, civic leaders, and a new generation of activists—many of whom spoke to the Mercury on the condition of anonymity, given potential employment concerns—are conflicted whether Adams' past accomplishments, and past missteps, would help or hurt a Portland that's very different from the one Adams left.
Before entering the mayor's office in 2009, Adams was known for his passionate, bullish drive to succeed in City Hall—a spark that helped him champion weighty transportation projects, like expanding the Portland Streetcar and installing the OHSU aerial tram.
But City Hall veterans say that changed weeks after he was sworn in as mayor, when Willamette Week broke the news that Adams had lied about a past romantic relationship with a legislative intern named Beau Breedlove, who at the time was 17 years old. Adams eventually claimed he didn't have sex with Breedlove until his 18th birthday, but the admission did little to extinguish the scandal, and after battling two unsuccessful recall elections tinged with homophobia, Adams became a more passive leader, attempting to regain the trust of colleagues and constituents. Despite his change in demeanor, polls showed Adams wouldn't survive a re-election run in 2011. Instead of risking a loss, Adams left after one term to lead the civic-minded nonprofit City Club of Portland before landing a job in Washington, DC at the World Resources Institute (WRI), a climate change think tank.
Portland all but forgot Adams until 2017, when Cevero Gonzalez, a former mayoral staffer who worked under Adams, sent a letter to City Council that accused the former mayor of inappropriate workplace behavior. Gonzalez said that when he had worked in Adams' office, Adams had routinely quizzed Gonzalez about his sex life, made him scout gay bars when Adams traveled, and once drunkenly tried to force him to go to a downtown strip club. What's worse, Gonzalez said, Adams' staff condoned his behavior and dismissed Gonzalez's complaints. Ultimately, Gonzalez didn't press charges, and since neither of the men were still employed by the city when Gonzalez made the claim, the city declined to investigate. Shortly afterward, Adams left WRI under undisclosed circumstances; in May 2019, he moved back to Portland. In October, Adams told Willamette Week that Gonzalez's allegations had made it challenging to find work.
But it seems there's one place where Adams still might have the support to land a job.
On January 15, Adams submitted his paperwork to join the City Council race for Commissioner 4. Some were surprised that Adams chose to challenge Eudaly, an established, if sometimes divisive, sitting commissioner, instead of either joining the race to unseat Mayor Ted Wheeler or running for one of two open council seats with no incumbent. Others saw a calculated decision to go after a candidate whose work to protect renters has made her the scourge of landlords and business owners—groups that Adams has a history of getting along with.
"I think we have different outlooks on what it means to be a public servant," says Adams of Eudaly's leadership. "My style is to treat people like adults... I tell them what I know, ask them for what they know, and say, 'Let's figure this out together.'"
Adams says he never considered running for retiring Commissioner Amanda Fritz's seat, claiming he's eager for the leading candidate in that race, Carmen Rubio, director of nonprofit Latino Network, to join City Council. And while Commissioner Nick Fish's unexpected death in January left another council seat available, Adams said he saw "a lot of great talent" throwing their names in the race and didn't want to get in the way. And—for now—he says he's uninterested in returning to the mayor's office.
That's when he zeroed in on Eudaly. "In this particular race," Adams says, "I think that I offer a contrast to the incumbent."
Eudaly, a community activist and independent bookstore owner, was elected as a political outsider in 2016, after campaigning on a promise to protect renters from unreasonable rent hikes and no-cause evictions. By challenging Eudaly, Adams knows housing will have to be one of his flagship issues—and has already pitched a plan to fast-track the construction of affordable housing, encourage cooperative living situations for people transitioning out of homelessness, and use the Portland Clean Energy Fund to hire houseless people for short-term environmental restoration work. While on City Council, Adams helped form the City's Housing Bureau in 2009 and steered funding toward affordable housing.
"I seek to be appointed to be the renter/homelessness/housing commissioner," says Adams, proposing a new position that would prioritize the city's housing crisis.
Since entering office, Eudaly's passed a policy that requires landlords pay moving costs for tenants evicted without reason, introduced limits to renters' security deposits, and cobbled together a plan to keep landlords from using discriminatory screening practices on prospective tenants.
Eudaly calls Adams' positioning as a renter advocate a "bold move," given that he was hardly known for his housing advocacy during his time in office.
"That's interesting, seeing as he was the mayor of Portland in the years leading up to, and following, what is now a 10-year housing crisis," Eudaly says. "As far as I know, he did nothing to prevent mass displacement. I don't recall any meaningful work around protecting tenants from exorbitant rent increases. I think that's a big thing that he has to answer to."
Eudaly's supporters—many of whom say they would vote for Adams if he was in a different race—agree. Portlander Henry Kraemer, a longtime progressive activist, says he was baffled to hear Adams was choosing to run against "the strongest and most steadfast champion for tenants and housing-insecure people" on City Council.
"The housing crisis didn't just magically appear. It was the result of inaction and bad decisions over decades, including the 20 years when Adams was [in City Hall]," says Kraemer. "You can't let a crisis fester under your leadership for two decades and then ask for take-backsies."
"It will be really hard," Kraemer adds, "for Adams to look tenants and housing activists in the eye and say, 'Forget everything Eudaly has done for you. I promise I can do better.'"
Others cite Eudaly's record on addressing the climate crisis, improving public transportation, and promoting racial justice as reasons Adams should be supporting—not competing against—the newer commissioner. One environmental activist, who asked to remain anonymous, is disappointed that Adams' run may threaten the city's newly majority-women council.
---
"It will be really hard for Adams to look tenants and housing activists in the eye and say, 'Forget everything Eudaly has done for you. I promise I can do better.'"—Henry Kraemer, progressive Portland activist
---
"A lot of people who don't identify as cis men are pretty frustrated that he would take on a woman on council and challenge an incumbent who... has been really good on a lot of issues that matter to us," they said. "I think there's certainly a gendered element there."
Adams argues that City Council seats "are not hereditary titles" that incumbents should expect to retain.
"Portlanders like their elections contested," Adams says. "And look, I'm a gay guy. I have a lifetime of people saying, 'Step aside, it's not the right time.' I long ago stopped doing that."
Because of Adams' long history in City Hall and strong relationship with monied business interests, Eudaly says it feels like she's running "against the establishment."
"This moment with Sam has made me realize that, even though I'm the incumbent, I'm still the outsider in this race," says Eudaly. "I'm not connected to a lot of the behind-the-scenes mechanisms that he is."
Eudaly's perspective on Adams' campaign is markedly different from how some of the most powerful members of Portland's real estate and business communities—whom Adams cultivated a trusting relationship with during his time in City Hall—view the former mayor's return to politics.
Homer Williams, the developer behind the Pearl District and South Waterfront, recalls working closely with Adams during Katz's tenure.
"That was a period of time where the city was actually getting things done," Williams says, adding that Adams' time in City Hall was marked by progress, not the stagnancy he's perceived more recently in council chambers and with city-backed development projects.
"Sam bought into what he was doing, and he was a very good implementer," says Williams. "He realized that not everyone had to agree to get things done."
In his single term as mayor, Adams tackled a number of major projects. From funding free bus passes for public school students to securing 15 miles of new bicycle routes to luring Major League Soccer to downtown Portland, Adams was consistently able to name a challenge and solve it on deadline.
"My biggest frustration with City Hall right now is that you have a group of progressive people that espouse the right values, but when it comes to implementing those values, they can't actually do them," says Felisa Hagins, political director of Service Employees International Union (SEIU) Local 49. "Sam never said he was going to do something he wasn't going to do. There's a level of respectful honesty between people with a shared vision, and we had that with him."
---
"Sam never said he was going to do something he wasn't going to do. There's a level of respectful honesty between people with a shared vision, and we had that with him."—Felisa Hagins, political director of SEIU Local 49
---
Local 49 represents janitors, security officers, nurses, and manufacturers in the private sector. Hagins recalls Adams once showing up at the Moda Center at 3 am to greet janitors as they left after a work shift.
"I can't recall a time I brought workers to his office. He always came to them," Hagins says. "That's the kind of mayor Sam was."
Dubbed the "green mayor" and the "bike mayor," Adams also moved the needle on Portland's commitments to reducing the city's carbon footprint.
"He really had a vision for Portland, and what we could do for transportation as a progressive city," says Brian Davis, a local transportation engineer who's consulted on city projects. "That vision hasn't really been duplicated since he left office."
Of Adams' tenure, Davis says if there was one thing that "hindered his ability to really move things forward," it was the Breedlove debacle.
It's been more than a decade since Adams apologized for lying about his relationship with Breedlove.
After becoming mayor, Adams brought a newfound focus on LGBTQ+ issues, instituting a transgender-inclusive health plan for city employees and co-founding the Q Center. But for some LGBTQ+ Portlanders, the fracture in the queer community caused by his relationship with Breedlove has yet to heal.
"The Breedlove scandal really did change how I view Sam, in part because I'm queer," says a transportation advocate who also asked not to be named. "Having an out gay mayor confirm a lot of right-wing stereotypes about gay men grooming younger men—it just really offends me, honestly."
Other members of Portland's activist community—including many who weren't active in politics when Adams last held office—demand a more transparent explanation from Adams regarding both the allegations from 2009 and 2017.
"It harms the community when a person in a leadership position does something problematic," adds the environmental activist. "Was there an accounting and a restorative process with the community? I don't know if that really occurred. We really do deserve to understand how he's changed."
The day before Adams filed to run for the Commissioner 4 seat, Adams' lawyer, Mike Fuller, released a report asserting that Gonzalez's 2017 allegations lacked the evidence needed to support a legal claim of sexual harassment. Fuller's independent investigation was based on analysis by an employment law attorney and a former Oregon judge, both of whom reviewed city emails, with the subjects' identities removed, and the already-public facts of the allegations. Fuller did not contact Gonzalez during his investigation.
"I know that my accuser believes what he says," Adams tells the Mercury. "But I didn't sexually harass."
In interviews with Willamette Week, three of Adams' former chiefs of staff independently dismissed Gonzalez's workplace harassment claims.
But another former city hall staffer says Gonzalez's 2017 allegations didn't come as a surprise to those who worked with Adams at City Hall. According to the staffer—yet another source who asked to remain anonymous—the mayor's office under Adams' leadership was rife with "locker room behavior," and those who complained were retaliated against.
"There was a cult of personality around him. People would just go along with whatever he said," says the staffer. "The power dynamic wasn't healthy."
Adams says he was driven to return to Portland politics to mend the public's frayed relationship with local government.
It's a valid concern: A study conducted by the city in 2009, when Adams entered the mayor's office, found 30 percent of all Portlanders surveyed felt like they weren't able to influence government decisions. A decade later, that number had doubled: In 2019, a city study found that 61 percent of Portlanders don't feel empowered to influence city decisions.
"I fear people have moved past their frustration [with city government] and are now settling... essentially throwing up their hands and saying, 'Apparently, there is nothing we can do about this,'" says Adams. "The desire for change is palpable."
He might need a stronger argument to convince Portlanders that a former mayor can bring that change.
Portland has seen significant changes since Adams left City Hall, and not just within the housing market. Along with newfound commitments to equity within city bureaus and an increasingly progressive business community. the city's witnessed a surge in political activism and protests that has proved far broader and more durable than the city's Occupy movement that sprung up while Adams was in office. In December, Fritz—the last of the four commissioners who Adams worked alongside as mayor—will leave City Council, and there's no guarantee the success he had collaborating with one group of commissioners will carry over to a new council.
"City Council seats are few and precious, and if you want to serve, you better be ready to make a damn good argument about what you, and you alone, have to offer," says another City Hall insider who asked not to be identified.
"'It's the only job I think I can get,' isn't enough," they add. "Experience is good, but it's not everything."
The Adams campaign is still fresh. When the Mercury spoke to Adams on January 21, he was still assembling a campaign staff and putting together a website to formally unveil his policy positions. Portland's waiting.
"I'm sure there's some reason he's running for this particular seat, at this particular time, against this particular candidate," says transportation engineer Davis. "I can't wait to see what it is."
Reporter Blair Stenvick contributed to this article.
Sponsored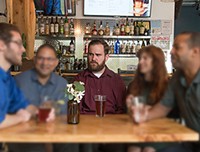 Adults aged 18-35 with good hearing will be paid for their time. Located at the Portland VA Medical Center