On February 21, a Portland jury convicted Jeremy Christian on 12 charges, including murder, attempted murder, and intimidation crimes (the legal term for hate crimes in Oregon) for his actions on multiple MAX trains in late May 2017.
Sponsored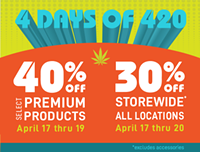 30-40% off Premier Dispensaries April 17-20
Flower, pre-rolls, edibles, carts and more.
These 4 Days of 420 are for you.
Notably, the jury found that Christian had intentionally targeted two Black women on May 26 because of their race and perceived religious beliefs—an event that led to Taliesin Namkai-Meche, Ricky Best, and Micah Fletcher attempting to protect the women by confronting Christian. Christian responded by killing Best and Namkai-Meche and critically injuring Fletcher.
Christian's conviction gives the victims' families and surviving victims an opportunity to heal after an emotionally draining trial and three years of waiting for justice. It should also help Portland move forward from a uniquely terrifying tragedy.
What Portlanders can't move past, however, is the fact that incidents of hate—while less violent than Christian's attack—continue to occur in our public spaces. And it's on Portlanders to emulate Namkai-Meche, Best, and Fletcher's strength and courage to continue standing up for those targeted by hate speech and violence.
To learn how best to do that, I turned to Portland United Against Hate (PUAH), an organization that gives people a way to report incidents of hate or intimidation without having to go to the police. During 2018, the first year PUAH collected information, it received 138 reports.
Debra Kolodny, the program director at PUAH, began teaching a workshop called Interrupting Hate In Public Spaces following the 2016 election of Donald Trump. Their first workshop had a waitlist with 1,000 names on it. Kolodny tells me that most people have their own fears and anxieties about standing up for others in public.
"Everybody's afraid that they're going to misread the situation," Kolodny says, "or escalate the situation, or that whatever they do, they're putting themselves in the way of violent harm."
---
"Our responsibility to watch out for each other doesn't begin when someone screams racial epithets or pulls out a weapon—it starts the minute we step into a public space."
---
There's no one-size-fits-all approach to confronting hate speech or harassment, and Kolodny emphasizes that there's "no zero-risk situation." But Kolodny does teach a few time-tested de-escalation techniques based in psychology. They say these principles should be used during a verbal incident—before a weapon has been drawn or the situation has escalated to a physical assault.
"Don't engage the perpetrator," they say. "Center and empower the target—don't make decisions for them, make sure you check in with them and see how they're doing... and never call the cops without the permission of the target."
Kolodny has workshop participants roleplay as perpetrator and target in a hate incident. When the perpetrator gets ignored, Kolodny says, "you diffuse them and create imbalance, and they don't actually know what to do."
"If they're not being pushed back at, they don't have anything to push against," they add.
Another piece of advice Kolodny gave should resonate with anyone who sticks in their earbuds as soon as they step onto a train or bus (myself included): Try not to be so absorbed in your phone or laptop that you could miss the beginning of an incident. Our responsibility to watch out for each other doesn't begin when someone screams racial epithets or pulls out a weapon—it starts the minute we step into a public space.
According to PUAH, the majority of reported hate incidents in Portland consist of verbal harassment and do not involve weapons or a physical assault. But the fact remains that anytime you put yourself between a person yelling discriminatory insults and their target, you face a risk of verbal or physical retaliation.
That's why it's important to educate ourselves about how to effectively de-escalate uncomfortable situations. Taking workshops like the one PUAH offers—and seeking out other opportunities to inform ourselves and others—can help lessen the uncertainty that comes with intervening.
In the chaos of the moment, it can feel impossible to know if you're doing the right thing, and even the best-intentioned actions can yield tragic outcomes. But if the options are between doing nothing and making Portland a safer place for people of color, religious minorities, LGBTQ+ people, and other targeted groups, then the right choice seems clear. Being present and trying to de-escalate the situation—while making the most responsible, informed, and thoughtful decisions possible—is a risk worth taking.
If you would like to schedule an Interrupting Hate In Public Spaces workshop for your organization or public agency, email Debra Kolodny at debra [at] portlandunitedagainsthate [dot] org. If you are an educator interested in using de-escalation resources in the classroom, contact local nonprofit Resolutions Northwest (resolutionsnorthwest.org).