Independent, citizen-led police oversight is one of the few tools Portlanders have to ensure cops are held accountable for misconduct. But 2020 has begun with the city's two leading police oversight committees facing critical instability—and how the city responds will determine the future of Portlanders' already shaky trust in the city's law enforcement.
Sponsored

Custom framing, photo frames, printing on metal, paper and canvas.
"I'm feeling like we've been participating in accountability theater rather than actual accountability," said Andrea Chiller, a member of the city's Citizen Review Committee (CRC) at a March 4 meeting. "That's actually harmful for this community."
The CRC is an 11-person group of volunteers that makes policy recommendations to the Portland Police Bureau (PPB) and determines if a citizen's complaint against an officer is serious enough to warrant PPB discipline. It's the only committee that's allowed to make recommendations about police discipline that doesn't have a city employee as one of its members.
Yet the majority of the CRC's members feel their work—which is often touted by city officials as a uniquely strong police accountability tool—is increasingly pointless. That frustration came to a boiling point in early January with the abrupt resignations of Kristin Malone, the CRC's longtime chair, and Daniel Schwartz, another veteran CRC member.
In his resignation letter, Schwartz wrote that a continuing series of issues have "made it difficult for me to continue to believe that the mandate of police oversight given to the CRC is seen by the city as anything more than an empty gesture."
He pointed to the frustration felt when, during a CRC meeting, former PPB Chief Danielle Outlaw agreed with the CRC's decision that an officer who threatened to arrest a person for filming police during a protest should face serious discipline, as the officer was attempting to restrict that citizen's free speech. Only months later, after reading a story in the Oregonian, did Schwartz and his fellow committee members realize Outlaw had changed her mind—and had downgraded the officer's punishment to one day of unpaid leave.
Malone, who penned a shorter resignation letter that echoed Schwartz's concerns, had spent the past five years trying to improve CRC's ostensible ability to hold negligent officers accountable. Instead of being allowed to objectively weigh a citizen's complaint, CRC members have long been required to consider the decision from the perspective of the police. Malone's efforts to change that rule went ignored by Portland City Council and Portland City Auditor Mary Hull Caballero, the elected official who oversees the CRC. Hull Caballero stopped attending CRC meetings four years ago.
When interim CRC chair Candace Avalos read Schwartz and Malone's letters aloud at a March meeting, those who've sat on the CRC the longest nodded their heads in agreement.
"The city auditor has told us in many different ways that our work is not meaningful and not respected," said Julie Falk, who joined the CRC in 2015. "How are we expected to believe any differently?"
Chiller, a CRC member since 2016, said her recent work on the committee has felt "toothless." Learning that Outlaw had shrugged off the CRC's recent discipline recommendation only cemented that feeling.
"This goes to the very core of our work," Chiller said. "It's demoralizing."
The CRC's resignations came just a month before US District Judge Michael Simon said the city was still out of compliance with a six-year-old settlement agreement it made with the US Department of Justice over the PPB's outsized use of force against people with a mental illness. Simon said the only reason the city remained out of compliance was that the mandated citizen-led group tasked with overseeing PPB's promised reforms, the Portland Committee on Community Engaged Policing (PCCEP), wasn't impactful enough.
Like the CRC, PCCEP has struggled to retain members, with several individuals citing a lack of support and respect for the group, along with little power to improve trust between the community and the police, as their reason for resigning. Members have expressed frustration that their PPB policy recommendations aren't seriously considered by Portland City Council, making their volunteer work meaningless.
At the March CRC meeting, Avalos mentioned PCCEP's retention problems.
"A number of people resigned because they lost trust in the process," said Avalos. "It's not that different than what's happening here."
Avalos added that when she joined the CRC in 2017, a number of CRC members had recently resigned in protest. The same thing had happened a decade before, too. Maybe it's become an expected process: An eager volunteer joins a Portland police oversight group, expecting the group to have some kind of impact—only to resign after discovering a broken system.
It's a cycle that not only erodes trust, but further protects negligent police officers. As members of Portland's police-oversight communities warn residents, yet again, that their perspectives are being ignored, how much longer will Portlanders be content with accountability theater? 
Sponsored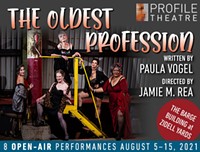 What's the retirement plan for the oldest profession? A moving comedy by the premier writer of our time.