"WHORE is scarce a more/reproachful name/than poetess." That's one of the epigraphs of Liz Duffy Adams' Or,—the latest offering from Portland's Third Rail Repertory Theatre, and one of the most acute cases I've seen of bad title, great play.
Whores and poets are central to Adams' play, here directed by Philip Cuomo, which takes as its subject the life and times of Aphra Behn, 17th-century British poet/spy/early proponent of sexual freedom. This Aphra Behn is played by Third Rail regular Maureen Porter, with a tongue-in-cheek aplomb and outsized sincerity that I haven't seen from her in previous appearances (perhaps she just needed the room provided by a complex, fascinating lead role for a woman, COUGH COUGH Portland theater companies COUGH COUGH). When the play opens, Aphra's doing time in a debtors' prison for being a spy, a thing that really happened! The king springs her from jail, and the rest of the drama concerns her struggle to achieve financial solvency through completing her first play. You heard right! This is a play about a woman becoming financially independent... in 1670!
Porter's joined by the excellent Amy Newman in a variety of roles including charming, hedonistic actress Nell Gwynne, and Third Rail mainstay Damon Kupper as a woman (turns out Damon Kupper in drag is the best Damon Kupper) and many of the play's men—some charming, some hapless, and all smitten with Aphra. Or, is a goofy, unapologetically bawdy, winsomely adult play, in which not much really happens, but there's much to be entertained by, with the exception of some truly uncalled-for rhyming couplets (SERIOUSLY WHY?). With its small but effective cast and fast-unfurling dialogue, Or, is a spirited romp that also has a lot to say about the complexity of sex, gender, and being one of the first woman writers ever.
That's plenty to sustain a brisk, 90-minute production, and there's no need to brush up on your Aphra Behn before seeing Or,—but a particular kind of hardline, in-the-weeds English major may want to. Because that's the thing about Aphra Behn: Almost no one knows who she was, but among a certain subset of book-sniffing ladies who collect tote bags and enjoy iambic pentameter, she's a literary badass, a rock star, a proto-Patti Smith with an extra-nerdy provenance (full disclosure: I own a lot of tote bags). Aphra Behn's existence matters hugely, because—as Or, demonstrates—she was one of the very first women to take up the pen and write about the interior experiences and autonomous sex lives of women, at a time when most ladies in literature appeared in poems by dudes like John Donne and Ben Jonson, who sure wrote a lot about ravishing shepherdesses. Virginia Woolf put it this way: "All women together ought to let flowers fall upon the tomb of Aphra Behn... for it was she who earned them the right to speak their minds."
Aphra Behn's story is an important one, and Or,—and Third Rail—does right by it. She also had a hilarious sense of humor (see: "The Disappointment," a jokey faux-epic about premature ejaculation, written between 1640 and 1689). Or, does justice to that, too.
Sponsored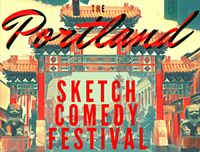 Sketch comedy troupes from all over N. America descend on The Siren Theater for 3 glorious nights.