T

hey arrive one by one, beginning at 11 pm on a Saturday night.

Sponsored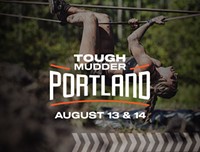 Lock in your summer adventure, Portland. Join us for world famous obstacles over a 5K or 10K distance.
They greet each other with smiles, hugs, and high-fives. The DJ steps into his booth, tests the gear, then starts his set with the latest Drake hit, or with an old-school joint by 2Pac or Geto Boys. After stretching their legs for a moment, they lace up their boots and step into the rink, where they'll dance the night away on eight tiny wheels.
If your only roller rink experience has been pre-teen birthday parties, cheesy organ music, and sketchy rental skates, you haven't been to a late-night adult skate party. Though skate parties have existed for over two decades, they've mostly been off the radar, familiar only to the most dedicated quad enthusiasts. And, as the name suggests, these ain't for the kids. Adult skate parties are exclusive to those 21 and older, start around midnight, and can go to five in the morning. You won't find many wall huggers or tenderfoots here, but you will see grown folks spinning, dancing, skating solo, or rolling deep in tightly synchronized lines. With a live DJ providing a soundtrack of hip-hop and R&B, an adult skate party isn't much different from a typical night out in the cut, or if Soul Train were held inside a skating rink.
Adult skate parties, or "jams," take place all across the nation, attracting thousands. Nationally, skate parties draw a predominantly African American crowd, but they're open to everyone, as people are drawn to the rink for different reasons. Mo Sanders, an African American man known professionally as "Quadzilla," was introduced to skating at age seven by his parents. Also a roller derby player, competitive skater, and custom skate designer, Sanders—now in his mid-40s—has attended skate parties all over the world for more than 20 years.
"For us, it's always been a community thing," he says. "Our friends and family come here, so you always know it's a safe place. When people come to these things they actually come to skate. They're not here to mess around or try to get in trouble or be hoodrats or anything like that. We come to skate because we enjoy skating."
Some of the biggest parties are held out East or down South, with annual meetups in cities like Detroit or Baltimore or Houston. The biggest and longest-running skate party is believed to be Joi's Sk8-A-Thon held in Atlanta, which is celebrating its 22nd anniversary this Labor Day weekend with a five-day jam known to draw upwards of a thousand skaters to the rinks.
According to Sanders, each region of the country has its own style of rhythm skating, and you can recognize where someone is from by the way he or she skates.
"You go to New York, it's called roller disco, but it's a specific way you do roller disco," Sanders explains. "Go down to South Florida and Central Florida, you'll see jam skating. You go down to the Midwest, you'll find shuffle skating and jam skating. You go to Detroit, it's a different style. You go to Tennessee, it's a different style. The West Coast, they got sliders. Nobody does sliders except for Cali. You go to Chicago, they love spinning. Spins and spins and spins—and J.B. moves. They dance to James Brown music and that's it."
Here in Portland, rhythm skating doesn't have its own unique style, and adult skate parties haven't received the same attention or attendance as they do in other cities. Oaks Park holds an 18-and-over skate from 9:30 to 11:30 pm every Tuesday night as well as a 21-and-over Saturday late-night skate every few months, but until last December, the city was without a true, weekend-only skate club. After attending a skate party hosted by Sacramento's 2RAW Nor Cal, Patrick McMillen was inspired to start a 2RAW PDX chapter. McMillen, also known as DJ Glyde, has been a skate DJ since 1987. He's a lifelong roller skater, participating in skate parties across the country.
"I started skating when I was four, and haven't stopped since," he says. "It's very addicting. You actually plan your life according to when the next skate jam is happening."
With the blessing of 2RAW (Rhythm and Wheels) Nor Cal, McMillen and his partner Jaimee Walls launched 2RAW PDX in December 2016. They host Saturday night skate parties every other month at Gresham Skate World, from 11 pm to 2 am. Though McMillen and Walls are white, the skaters are a wide mix of races and ethnicities (including one skater with cornrows who damn sure looked like Kendrick Lamar). 2RAW PDX currently has more than 20 active members, whose marginal dues go toward rink rental and occasionally flying in guest DJs from other cities. Their resident photographer, Ramona Feik, offers portrait and action shots of skaters. Membership isn't required to come and skate. 2RAW parties are open to everyone 21 and up, and even first-timers will quickly find a warm welcome.
According to Walls, 2RAW PDX provides an alternative outlet for folks who might not be into the bar scene, but still want to go out on the weekend.
"People who don't like to go out to bars and drink, they need somewhere they can go and get to know people and have fun," she says. "Something that not everybody does."
For many, like Noah Bowers and his parents, skate parties are a family affair. Introduced to roller skating at an early age by his mother, Bowers—with his impressive high-top fade—recently turned 21, and is now one of the more active members of 2RAW PDX. He and his parents also travel together to skate parties in other cities.
"I feel like roller skating has brought my family closer together," he says.
Skate parties can also provide a feeling of community and therapy that participants might not otherwise have access to.
"A few years back, I was depressed," Walls says. "And one of my friends told me, 'You need to get up and do something.' And I was like, 'No. I want to stay here and be sad.' And he said, 'Close your eyes and think of the last time you did something physical that was fun.' And I could hear my wheels hit the floor. I could feel the wind in my face. I could hear the music. I could smell the popcorn. And I was like, roller skating. Within a week, I was back at the rink. And then I heard about the adult nights, and I was like, 'Perfect.'"
Melanie Smith only learned to skate a year and a half ago, following a stint in prison. After her release, she felt alone, with a young daughter to provide for, and without a network of support. She went out roller skating on her birthday, and all her concerns took a backseat to a more immediately pressing concern.
"I didn't think about anything except not falling," she says with a laugh. "It became my freedom. A lot of us, when we get out there and when we hit that floor, it's freedom."
"That's really what the empowering part of 2RAW is," Smith continues. "We're all one family, even though we have different reasons for being here. Every party we have, we try to bring one new person in. One person from the community that you can bring in, that might be one person's life you're saving."
---
For future 2RAW PDX skate nights and more information, visit facebook.com/2RAWPDX.