For two years, Portland's newest contemporary art venue, ILY2, has existed in a state of flux. It was a downtown storefront window that hosted live performances. It was an emotional support hotline. Its next-to-latest form was that of an offshoot "glamshot" pop-up in the Lloyd Center Mall—called ILY2 Too. 
Now, in March, ILY2 will take root in a Pearl District art gallery space—the former home of PDX Contemporary, which has since moved to a new space in Northwest. But in many ways, ILY2 has just begun to make moves.
ILY2, which stands for "I Love You Too," began during the depths of the pandemic. Founder Allie Furlotti—an artist, model, stand-up comedian, and philanthropist who previously ran the Calligram Foundation—was looking for ways to support fellow artists. She had an idea of what and how an art gallery should be, which the ILY2 site describes as "rooted in radical generosity, and anchored by increased access to resources, network building, and mentorship."
To help realize her ambitious vision, Furlotti brought on an expert team: Jeanine Jablonski, a Portland-based art advisor and founder of Fourteen30 Contemporary, which closed in 2021, and Joshua Oduga, an independent curator who has worked with galleries and institutions around Los Angeles, including Jeffery Dietch, the Hammer Museum, and the Getty Research Institute. 
Together, in September 2020, ILY2 started a series of retail residencies, inviting artists to take over a downtown storefront to sell their work, host performances, and just, in general, have a good time.
"However (artists) wanted to run it, they got to shape the space to whatever they wanted it to be," Jablonski said. "They had the keys, they had a manual, and they got all the proceeds. It was really just a gift to them, and really a gift to the community." 
Furlotti hosted parties in the space and organized what she dubbed "fishbowl" performances that could be enjoyed from outside the street-facing windows.
 

 

View this post on Instagram

 
After a break-in early last year resulted in damaged and stolen artwork, the residency program took a brief hiatus. But a week later, Furlotti launched a free talk therapy hotline. 
The hotline, which Jablonksi emphasized is strictly for "entertainment purposes," was again inspired by a desire for access to resources, especially for those in the creative sector. ILY2's hotline offered and still offers "ASMR, talk therapy and self esteem tips," and welcomes text messages if you just need a quick boost. 
[PSA: If you are struggling with serious mental health concerns, you can speak with the folks at the Multnomah County Crisis Line at 503-988-4888. Their number is open 24/7. -eds.]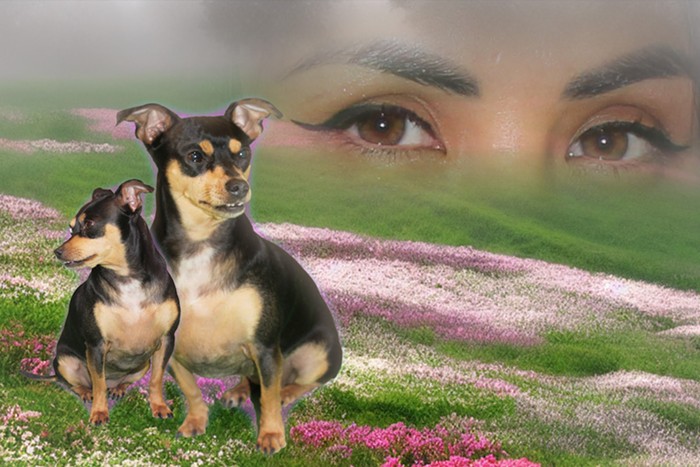 In December 2022, ILY2's mall outpost, dubbed ILY2 Too, began offering old school "glamshots," first by Robbie Augsperger during the recent holiday season, and now with max miller, whose residency runs throughout spring 2023. Think soft focus lenses and disco backgrounds by local artists, but don't you dare use the branded name Glamour Shots. 
ILY2's residency program offers artists a kind of creative freedom paired with prime real estate that is hard to come by in today's post-Covid Portland. As Jablonski explained, the motivation for ILY2 Too "was pandemic related, but also really (about) being in a city... where things like access are changing."
And while Jablonski sees this kind of experimental programming as setting ILY2 apart from the pack, she also notes that the team is still running a commercial gallery. It's just "a little bit different because it's based around Allie's creative energy," she said.
ILY2's first gallery exhibition will open in late March with a solo exhibition spanning over forty years of work by New York artist Bonnie Lucas, who makes deceptively soft assemblages and paintings that deliver razor sharp feminist critiques. Lucas will show works spanning her 40+ years long career. Oduga, who helped curate the show, explained: "I have always worked within archives, so I'm always interested in looking back." 
"Honestly, I'm excited for (other) artists to see the work, I think there's going to be so much inspiration that comes out of it," Jablonski said. "[Lucas] is incredibly under-recognized in the larger contemporary art world and the contemporary art market… that's what we're working on, is really opening things up for her." To that end, ILY2 also connected Lucas with local fabricators to realize a brand new project in glass.
As mentioned earlier, ILY2's Pearl District gallery space—though it has been remodeled—will be familiar to Portland art aficionados as the former home of PDX Contemporary. Jablonski and Oduga both tipped their proverbial hats to the impact of that gallery's director Jane Beebe, and expressed their excitement at being part of the artsy neighborhood's continuing transformation. 
"That space has such a rich history. And that block has such a rich history," said Jablonksi. "Being an outsider from Portland, it's like, 'oh, this place has really changed,'" Oduga added, "it's interesting to think about, you know, …kind of this next phase of [the neighborhood.]" 
"Really, we are excited to have conversations from everyone from curators to your second grade teacher," Jablonksi continued, "and that's also why we're creating these different access points. If you love ILY2 Too at the mall, you'll also really love the space in the Pearl and vice versa. We really want people to know that we're there, and we really want to talk."
---
Bonnie Lucas 1978-2023 opens at ILY2, 925 NW Flanders on Sat March 25, reception noon-3 pm, runs through Sat May 27, ily2online.com. ILY2 Too has glamshot appointments available through April 30.