Summer Guide 2019
Among the many other things Portland excels at, we make terrific ice cream. So cool your ass down this summer by paying a visit to the following local ice creameries and try what, in our valued opinions, are the best dairy and NON-dairy varieties!
---
7316 N Lombard
BEST DAIRY FLAVOR: Everyone comes here for the "real fruit ice cream," in which your choice of fresh Oregon berry is swirled into vanilla ice cream. I won't argue against that common wisdom—however, if they happen to be serving lemon chiffon ice cream on the day of your visit, ask them to swirl your real fruit into that instead of the vanilla. It's sweet, it's sour, and it's summer on a freakin' cone.

BEST NON-DAIRY FLAVOR: You can have any of the berry options—that's raspberry, marionberry, strawberry, and, for someone unknown reason, blueberry—swirled into a vegan coconut-based vanilla. Still summer on a freakin' cone, but without the cruelty, or the gas. BLAIR STENVICK
Sponsored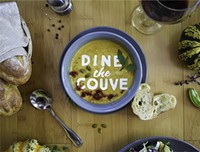 Experience the bounty of northwest flavor with special menus at Clark County restaurants all month.
---
22 SE 28th

BEST DAIRY FLAVOR: Who's ready for a cheese snack? Everybody. While Cheese & Crack isn't a straight-up ice cream shop, their luscious, pitch-perfect vanilla soft serve is an insider secret (you're welcome) and comes with dusting options of chocolate, strawberry, matcha or—stay with me here—BEET. Do not pretend you do not love this, Portland. I get that beet flavor every time (mixing it with matcha is good too). Cheese & Crack's vanilla soft serve tastes like scientifically perfect custard—thick, not too sweet, and deeply satisfying. SUZETTE SMITH
---
4525 SE Woodstock

BEST DAIRY FLAVOR: A strong contender for best ice cream joint in Portland, Cloud City has too many bests to choose from! Okay fine, go for the Sea Salt Cookie Dough... or better yet, the Chocolate Toasted Coconut... or to top 'em all, the Unicorn that pairs red velvet cake and a swirl of strawberry in creamy vanilla. Goddammit, just get all three.

BEST NON-DAIRY FLAVOR: I also absolutely adored their large non-dairy selection, with their Blueberry Coconut Crumble being the stand-out winner. Crunchy crumble paired with fresh bloobs and sweet coconut? So much love there. WM. STEVEN HUMPHREY
---
1105 NW Johnson

BEST DAIRY FLAVOR: Cool Moon is the one true king of Portland ice cream. Flavors change weekly, but I recently destroyed the game with a combo scoop of Spicy Thai Peanut and Earl Grey. The Spicy Peanut dominated the initial scarf, but the Earl Grey left a delicious, smoky aftertaste for nearly an hour afterward.

BEST NON-DAIRY FLAVOR: Cool Moon's approach to chocolate sorbet is, damn, basically chocolate. It's so rich you have to keep reminding yourself it's sorbet. SS
---
700 SW 5th (inside Pioneer Place), 6352 SW Capitol Highway

BEST DAIRY FLAVOR: SPUMONI! Dairy Hill serves spumoni, the only dessert that is as fun to say as it is to eat. That's how I found myself sitting in a mostly empty mall food court in the middle of a weekday, mouth full of pistachio ice cream and bits of gelatinous dried fruit, yelling "Spumoni!" at various passersby. Seriously, this spumoni is good.

BEST NON-DAIRY FLAVOR: The vegan Salted Caramel Chip crowds your mouth with different tastes and textures in a style charmingly reminiscent of a discontinued Baskin-Robbins flavor. Ice cream has gotten alarmingly serious lately, and eating vegan is often imbued with such heaviness—lighten up a little and indulge in this saccharine mess. BS
---
645 NW 21st, 1425 NE Broadway, 3040 SE Division

BEST DAIRY FLAVOR: The home of quality local frozen yogurt with a kick-ass toppings bar, Eb & Bean has lots to love, but I prefer the Hazelnut Praline. It's soft-serve perfection that's a match made in heaven when paired with caramel.

BEST NON-DAIRY FLAVOR: Like Reese's Pieces? If not, you're a monster, but if you do, then hit up the Salty Chocolate Peanut Butter that's full of robust, chilly, candy shop flavor. WSH
---
2021 SE Clinton, 2742 E Burnside

BEST DAIRY FLAVOR: TIRED: Salted Caramel. WIRED: Soy Sauce Caramel! This sodium-rich sweet proves that umami isn't just for the main course anymore. Honorable mentions go to Lavender Mint Chip—an ice cream that will help you remember mint is an herb, not a confection—and dreamy blood orange creamsicle.

BEST NON-DAIRY FLAVOR: Fifty Licks has some lovely, creative vegan options (the wonderfully delicate Coconut Lemon Saffron; the curry-infused golden milk). But the top prize has got to go to Cho-coco-mel—a rich, satisfying dark chocolate that will have you screaming, "I can't believe it's not dairy!" BS
---
SE 13th & Lexington

BEST DAIRY FLAVOR: This ice cream cart deep in the heart of Sellwood may seem unassuming, but they're pumping out some of the best ice cream in Portland. While there's a lot to choose from, start off with their Rocky Road, filled with chocolatey richness, macadamia nuts, and marshmallows. Easy to see why this is a fave for kids and adults.

BEST NON-DAIRY FLAVOR: If push came to shove, Hurry Back's dairy-free Pineapple is one of my favorite flavors in the city. Expect insanely fresh pineapple goodness that tastes like sweet, sugary air. WSH
---
---
4039 N Mississippi

BEST DAIRY FLAVOR: There's an obvious farm vibe to wood-fired pizza spot Lovely's Fifty Fifty: Their ingredients are seasonal and sourced from nearby farms. Their ice cream, available to go at the front of the restaurant, or for dessert after dinner, is housemade and changes with the influx of local farm bounty. Currently, the Ayers Creek Raspberry is my favorite. I'll mess around with the Rum Raisin too, but it's very rummy. There's something about the way this ice cream is made that brings the ingredients' flavors right to the front. SS
---
3707 SE Division

BEST DAIRY FLAVOR: Known as a place to get your authentic gelato and espresso fix, Pinolo's clear crowd favorite is the Stracciatella, which combines the Fior De Latte (AKA "the flower of milk") with a rich, intense chocolate. The Cioccolato is great too, for people who love their chocolate deep, dense, and not so sweet.

BEST NON-DAIRY FLAVOR: There are usually just a handful of dairy-free specials here, and the Blood Orange flavor is the stand-out. It's light, sweet, and complex—hey, just like you. WSH
---
1650 NW 23rd, 3713 N Mississippi, 4703 SE Hawthorne, 428 SW 12th, 9585 SW Washington Square

BEST DAIRY FLAVOR: Don't sleep on what I consider to be the best ice cream franchise in the city, Ruby Jewel. (And yes, I will fight you!) While their Caramel with Salted Chocolate flavor is a crowd favorite, my taste buds went nutz for the Salted Honey with Almond Brittle, which is a crunchy/sweet delight that kicks up to perfection with a hint of salt. Damn, that's good.

BEST NON-DAIRY FLAVOR: Ruby Jewel could step up their game with number of non-dairy options they provide, but the ones they have are wonderful. Go with the wildly refreshing Cherry Limeade, which nails that summertime grab-a-slushie-and-chill-by-the-pool vibe. WSH
---
126 SW 2nd in Pine Street Market

BEST DAIRY FLAVOR: I don't stand in lines. That's why, when I need my S&S fix, I whip over to their Wiz Bang Bar, which has all the regular flavors in their frozen case as well as their excellent soft serve. The best dairy selection is the Blue Star Old Fashioned Donuts, which takes the glazed, toasted donut flavor you know and love and dunks it dreamy frozen cream.

BEST NON-DAIRY FLAVOR: Even better is the vegan Roasted Strawberry Coconut Sorbet, featuring roasted caramelized Mt. Hood strawberries mixed with coconut cream. A-plus work! WSH
---
232 NE 28th, 931 NW 23rd

BEST DAIRY FLAVOR: The real scoop is that Staccato Gelato took over the former Alotto Gelato spot on Northwest 23rd. And while they always bring their inventive flavors game, Staccato's Thai Iced Tea gelato is always in the case and is truly their finest.

BEST NON-DAIRY FLAVOR: Recently I had a Turmeric Sorbetto that turnt all the right corners of my mouth, but don't overlook your steady BF4LYFE coconut either. SS
---
1728 SW Jefferson

BEST DAIRY FLAVOR: There's a lot of hype around this "handcrafted rolled ice cream" because 1) we're excited to go to a place that isn't Cold Stone Creamery, but will nevertheless mix candy into our ice cream, and 2) it's rolled? The wildest avenue available is obviously the Hot Cheetos, but at the end of the day it's not that exciting to eat: salty, sweet, not even that spicy. My hearty recommendation goes to the Campfire, which involves a toasted marshmallow (toasted right there!), mixed in with chocolate and graham cracker. You can taste the smokiness—and you can have another toasted marshmallow on top for free!

BEST NON-DAIRY FLAVOR: The Southwest Portland location only has fruit-based vegan options, and they were out when we visited. SS
---
3540 N Williams, 664 SW Gaines

BEST DAIRY FLAVOR: Vietnamese coffee is already a dessert in and of itself—that luscious condensed milk, that hair-bending espresso kick—but What's the Scoop ice cream-ifies it to new heights. Honorable mention goes to the cereal and milk flavor.

BEST NON-DAIRY FLAVOR: "Cool as a Cucumber" livens up the most boring produce (cucumber) with the most elegant liquor (St. Germaine). What's the Scoop also offers up a dense, wait-are-you-sure-this-is-vegan vegan chocolate sorbet—pick up a pint and some oat milk, and you're suddenly on your way to a homemade milkshake. BS