The Portland Dive Bar Preservation Society
WHEN MICHIE NAKAMURA first brought her mother into Slim's, the elderly woman, visiting from Japan, saw the wooden booths, pool table, and beer memorabilia and gushed: "It's just like an American movie!" After cooking for respected chefs in Portland and France, Nakamura was following in her chef mother's footsteps by running the kitchen at Slim's, the 105-year-old St. Johns restaurant and bar she and a partner bought 10 years ago.
Sponsored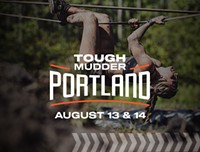 Lock in your summer adventure, Portland. Join us for world famous obstacles over a 5K or 10K distance.
Jesse Orris, a longtime Slim's regular and third-generation St. Johns resident, says he remembers Slim's as "a country-western bar, for sure"—the kind of place where his dad, "kind of a hippie," probably wasn't welcome. Nowadays, Slim's is a true dive bar, where at happy hour you can drink a dirt-cheap beer—$1.25!—no matter who you are.
Nakamura and her partner say that when they bought Slim's, the clientele was mostly white, and that seemed to be by design. They replaced the NASCAR signage with vintage beer ads and soccer scarves. (Slim's is an Arsenal bar, and will extend its already extensive hours—many St. Johns bars open at 7 am for longshoremen—to show early morning matches.)
Nakamura, with her pedigree, couldn't keep serving the frozen food Slim's had been offering. "It's not good for you, to drink all this beer and then eat that stuff." That's why the menu at Slim's now features some of the best dive bar food in the city: edamame, beef teriyaki, chicken satay. "We knew we had to keep everything under $10, and offer the fried food people want, but we tried to introduce some new dishes," Nakamura says. Patrons were dubious of "yuppie food," so at first they gave the new dishes away for free.
Is the new development in St. Johns affecting Slim's? Sure. But Nakamura owns the building, and the point of a dive bar, according to her, is accessibility: "Prices are low and you can come in a suit or you can come covered in paint." Of course, that dive attitude means occasional fights. It also means there's video poker and Keno.
There's an unexpected sense of altruism at Slim's. Nakamura is proud to say the bar offered its employees health insurance long before businesses were legally required to. Many employees have worked at Slim's as long as she's owned it, and some even longer.
While I'm at the bar, a breakfast cook finishes his shift and takes a stool nearby. His name is Skylarr ("with an A and two R's. Apparently I'm a pirate"), but he says everyone calls him "the Legend of Lombard." For some reason, I believe him. He tells me about his daughter and mother and grandmother; about when Slim's was still a country-western bar, but he impressed the old-timers with his David Bowie karaoke because "Bowie transcends"; about his plans for Slim's open mic night and where to get Chinese food in North Portland. That's the beauty of Slim's—you can't sit long without getting a life story. Quietly, tucked away up north, they're making legends here.