ONE OF the biggest obstacles to Shakespeare is the ubiquity of his work. Even if we don't think we know the plays, we know them—ever since we first saw The Lion King. A play we don't see as often is one of Shakespeare's biggest, most tragic tragedies, King Lear, currently playing at Post5 Theatre. (Although honestly, the first episode of Netflix's Fuller House seems to be some sort of Stoppardian meta-Lear—down to the banishment of the youngest daughter for no reason other than she didn't want to heap unnecessary praise on a venerable institution—but without, for better or worse, the bloodshed.)
Sponsored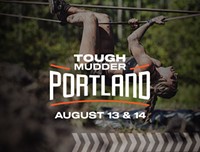 Lock in your summer adventure, Portland. Join us for world famous obstacles over a 5K or 10K distance.
The basics are familiar: King Lear splits his kingdom between his three daughters based on how much they love him, but the only good one (Cordelia) refuses to wax poetic for him, so he disinherits her. Goneril and Regan, the other two, are the absolute worst, and immediately start plotting against literally everyone.
Post5's Lear is Tobias Andersen, who, at nearly 80, and after a 50-plus-year career in regional theater and Hollywood, is an age-appropriate mad king. Andersen brings a chilling knowledge of madness to the role. He walks across his mind like it's covered with cracking ice, sometimes gingerly toeing the next step, sometimes stomping with a manic rage.
Yet even next to Andersen, Todd Van Voris nearly steals the show as the Earl of Kent. Kent always has Lear's back. Unfortunately, that means he doesn't hesitate to tell the old king when he's made a mistake, so Lear banishes Kent like five minutes in. Kent returns in disguise, and Van Voris' charm and command give you someone to actually root for.
The starkness of the all-black, half-lofted stage contributes to Lear's volatility, but the costumes feel more haphazard: Also almost all black, but different shades and styles, they look like someone just bought every black item at Goodwill. And while that black stage has an elegant gouache severity under white lights, it's too often rendered in mushy green, washed-out blue, or a bawdy Roger Rabbit red.
Maybe it's not one of the best Lears you'll see, but Andersen is one of the best Lears you'll see, and with an excellent Kent as well, it's almost always compelling.
---
King Lear
Post5 Theatre, 1666 SE Lambert, Fri-Sun 7:30 pm (plus Thurs March 17), through March 19, $20 (pay-what-you-will Sun), post5theatre.org
Sponsored
Virtual Auction Event & Drag Queen Fashion Show. You won't want to miss this show!