---
Jump to:
Friday
|
Saturday
|
Sunday
---
Friday, Dec 14
Spider-Man: Into the Spider-Verse
Mashing up the bombast of Marvel with the glory days of Pixar, Spider-Verse feels decidedly different—funnier, weirder, more daring—than most American animated movies. Also: It is hands down, no exceptions, no question the best Spider-Man movie, not to mention one of the best movies of the year. Does Planet Earth need any more Spider-Man movies? Probably not! But they're going to keep coming, so here's hoping they're even half as fun and great as Spider-Verse. Ugh. YOU GUYS. This movie is just SO GOOD. (Various theaters, see Movie Times for showtimes and locations) ERIK HENRIKSEN
Jenny Slate
Ask me whom I'd like to be stuck on a desert island with, or be our next president, and my answer is the same: Jenny Motherfucking Slate. She's the absolutely hilarious actress/comedian known for so many of your favorite roles, including Mona-Lisa Saperstein on Parks and Recreation, Liz B. on the Kroll Show, and the voice of viral sensation Marcel the Shell with Shoes On as well as Missy from Big Mouth! She's charming, funny as fuck, and you should beg, borrow, and steal to see any of her sold-out standup sets at Helium. Sorry if I'm being overenthusiastic and creepy, but I like her. (Fri-Sat, 7:30 pm & 10 pm, Helium Comedy Club) WM. STEVEN HUMPHREY
Trail Blazers vs. Toronto Raptors
The Blazers are nearly two months into their latest NBA campaign, and tonight they'll get their first crack at a Toronto Raptors team whose hot start has set the pace in the season's early going. December games don't get much bigger than this, so expect Portland to be firing on all cylinders as they look to take down yet another Eastern Conference powerhouse on home turf. (7 pm, Moda Center, $23 and up, al ages) CHIPP TERWILLIGER
Protomartyr, Preoccupations, Hurry Up
The pairing of Detroit's Protomartyr and Calgary's Preoccupations for a double-headliner tour is a brilliant one, and not merely because the two bands are already alphabetically nestled together in your iTunes library. Protomartyr has the market cornered on thinking, literate-minded rock music, with vocalist Joe Casey's half-spoken lyrics touching on religion, philosophy, and politics. Preoccupations, on the other hand, examine guitar-rock's more jittery, mechanical attributes, using it as a vehicle for melodic repetition and abstract minimalism. Together, the two bands make for a thorough treatise for the shape of post-punk to come, as evidenced on their new split 7-inch, which finds each band covering one of the other's songs, to surprising and invigorating results. (9 pm, Mississippi Studios, $18-20) NED LANNAMANN
The Helio Sequence, Wild Pink
The beloved local indie rock outfit return to the Doug Fir stage for an intimate hometown show celebrating the 10th anniversary of their Sub Pop-issued fourth album, Keep Your Eyes Ahead. (9 pm, Doug Fir, $24-26)
Kurt Vile & the Violators, Jessica Pratt
Kurt Vile is Kurt Vile—long hair, guitar, barely enunciated lyrics about "Rollin' with the Flow," you get the picture—but tonight's opener Jessica Pratt is pure magic. Already deserving a place in the same pantheon that houses Karen Dalton, Judee Sill, and Vashti Bunyan, Pratt's 2012 debut and 2015 sophomore album On Your Own Love Again have proven her ability to spin spider-web melodies out of a few chords and a voice that sounds like it belongs to a lonely alien folksinger echoing across a faraway galaxy. But that's not quite right, because Pratt's music is far too introspective to be alien; she always sounds like she's a million miles away but still somehow grounded in her own head. Almost every Jessica Pratt song is a complex patchwork of fleeting thoughts, memories that can't seem to fade, and striking images. (8 pm, Crystal Ballroom, $29.50-32, all ages) CIARA DOLAN
A Benefit Concert for Paradise
Listen to the stellar sounds of several acts including Galaxy Research, Mouth Painter, and Party Witch as they share their art in support of North Valley Community Foundation Camp Fire Relief—a Chico-based non-profit helping those affected by the devastating Paradise fire. (8 pm, Turn! Turn! Turn!, $5-25)
Portland Night Market
You know the kind of bustling, busy, brightly lit street market you see in movies, where the director wants you to know you're visiting a strange, magical place? Well, for this weekend only, that magical place Portland's Custom Blocks, and it contains a multitude of the city's best makers and creators, as well as some of its best food, drink, and music, too. (Fri-Sat 4 pm, Sun 11 am, Custom Blocks, free, all ages)
SAINt JHN, Jazz Cartier
Brooklyn-based hip-hop and R&B artist Carlos St. John (AKA SAINt JHN) brings the "Not A Cult Part II" Tour to the Wonder Ballroom stage for an all-ages show featuring supporting from Jazz Cartier. (9 pm, Wonder Ballroom, $18, all ages)
It's a Tony Starlight Christmas!
If you like your holiday swinging with a dose of cocktails, check out It's a Tony Starlight Christmas, in which Portland's fave crooner is joined by a rat pack of talented singers to perform classic holiday hits and comedy in the style of Frank, Dino, Liza, Bing, and more. (8 pm, The Tony Starlight Showroom, $30-70)
---
Saturday, Dec 15
Uncle Cait & Aunt Amy's Holiday Party
Just as Caitlin Weierhauser withdrawals were setting in, we're given this sweet holiday reprieve. AND Amy Miller is back too! Two of Portland's funniest expat comedians are back for a single holiday-themed show full of sweaters, jokes, and adorable nicknames. Just the thought makes me warm and jolly inside. Here's your last chance to catch them before the winter dreadfuls set in. Wow, this is gonna sell out. (8 pm, Siren Theater, $15) SUZETTE SMITH
Frankie Simone's Holigay Spectacular
Frankie Simone's Holigay Spectacular aims to "keep the season bright and gay" with burlesque performances from the likes of Zora Pavonine and Che Che Luna and sets from Blossom, electro-swimwave singer/songwriter Cristina Cano (AKA Siren and the Sea), and the rising pop sensation herself. Expect mind-blowing dance moves and plenty of holigay cheer. (9 pm, Mississippi Studios, $15-20) CIARA DOLAN
Peacock Lane
SCARF UP, MOTHERFUCKERS! It's time to get your eggnog-loving ass to Peacock Lane, which starting TONIGHT will blaze and burn with SO MUCH GODDAMN CHRISTMAS CHEER that your eyes will shoot out jets of scalding-hot mulled wine! For over 80 years, the residents of Peacock Lane have gone bugfuck shitcrazy with Christmas lights—and my sources on the Lane are whispering that this year is gonna be a particularly mind-blowing orgasm of electric insanity! Will there be a hot cocoa booth? FUCKING OF COURSE THERE WILL BE, AND I'M GOING TO DRINK ALL OF IT. (6 pm, Peacock Lane, free, all ages, through Dec 31) ERIK HENRIKSEN
Tenacious D
The underdog element of folk-metal-comedy duo Tenacious D took a hit when Jack Black turned out to be one of the world's biggest movie stars. But the homegrown charm of their HBO series and first album returns with Post-Apocalypto, which is more than the D's first album since 2012's Rize of the Fenix—it's also a six-episode cartoon series freely viewable in full on YouTube (you can also watch Post-Apocalypto: The Movie, which pastes all six episodes together). The crudely drawn animation—apparently done entirely by Black—is reminiscent of the doodles of Dio and Van Halen logos that littered countless spiral notebooks in countless high school classes. More importantly, it's got the same silly stoner humor and worship of the almighty riff that made Tenacious D such a fun, affectionate proposition to begin with. (8:30 pm, Crystal Ballroom, $50, all ages) NED LANNAMANN
Tim Burton's The Nightmare Before Christmas In Concert
Old-man goth-kid Tim Burton has made a lot of great movies (Edward Scissorhands!) and a lot of shitty movies (Alice in Wonderland!), but when he's good, he's good—and for proof, look no further than 1993's stop-motion musical A Nightmare Before Christmas, adapted by director Henry Selick from Burton's fantastic story. Sweet, creepy, funny, sad, and gorgeous to both look at and listen to, it's a simultaneous celebration and satire of this goofy-ass season… and it'll be even better with the Oregon Symphony performing Danny Elfman's all-timer of a score live to picture. (7:30 pm, Arlene Schnitzer Concert Hall, $35-115, all ages) ERIK HENRIKSEN
Perfect Blue
In 1997, "relatable" was not a word many would use to describe Satoshi Kon's amazing (and stunningly fucked-up) debut thriller Perfect Blue. But the film, over 20 years later, is about 20 times more potent, because two decades worth of ever-increasing celebrity worship and the online facilitation of unbalanced fankind's worst impulses have—sadly, horrifyingly—made Kon's reality-warping, identity-splintering nightmare world just that: Relatable. (7 pm, NW FIlm Center's Whitsell Auditorium) BOBBY ROBERTS
Patterson Hood
What a generous and wonderful gift the artistic output of Patterson Hood has turned out to be. The son of one of the greatest bassists who ever lived—David Hood of Muscle Shoals, Alabama—Patterson's legacy would have been assured even if he'd just dipped his toe in the waters of his dad's profession. But as it turns out, Hood not only co-fronts one of the most prolific and fiery rock bands of the past two decades (Drive-By Truckers), he's carried on a simultaneous solo career in music and become a fantastic essayist and storyteller, exploring the conflict of the two Americas and the redemptive power of music. Now a Portlander, Hood carries on a relatively new holiday tradition with two solo shows at the Doug Fir, where he'll do plenty of talking, and just as much playing. (Fri-Sat 9 pm, Doug Fir, $20-25) NED LANNAMANN
Stumptown Soul Holiday Spectacular
For the fifth straight year, an all-star cast of Portland musicians gather for the Stumptown Soul Holiday Spectacular, featuring an array of soul, gospel, pop, Hawaiian, rhythm & blues, rockabilly, and folk performances, along with some traditional holiday classics, all aimed at spreading some holiday cheer in support of the Portland branch of the Shriners Hospital for Children. (7:30 pm, Wonder Ballroom, $20-25)
Bed, The Domestics, Small Million
Alex and Sierra Haager bring their infectious blend of fuzzed-out indie rock and pop to Portland's newest venue to celebrate the release of Bed's new LP Replay with like-minded locals the Domestics and Small Million rounding out the proceedings. All ticket sales (along with Bed's album sales and merch sales) will benefit the Immigrant Legal Resource Center, with a goal of reaching $10,000. (8 pm, Polaris Hall)
Vursatyl's Christmas Jam
One of the dopest MCs Portland's ever known is taking over the Big Legrowlski to tie the city together with his first (is that right? This is technically dude's debut?) solo record, Crooked Straights. (8 pm, The Big Legrowlski, $15)
The Lavender Flu, The Whines, Eat Skull, Alternative Milks
The Lavender Flu employs a wider, more dynamic musical vocabulary than in garage punk's narrow trappings. There are bits of plucky fingerpicking, spacey delay, noise washes, and more, swirled in purposeful arcs. (9 pm, The Fixin' To, $8) ANDREW R TONRY
Fluff and Gravy Holiday Party
Beloved local label Fluff and Gravy Records takes over the White Eagle Saloon for the second straight year, with Anna Tivel, Jeffrey Martin, Catherine Feeny, Vacilando, Nick Jaina, and Whim on hand to share an array of classic and original holiday tunes, while the label gives away a full pallet of music and merch by way of raffles and door prizes. (8 pm, White Eagle, $8-10)
Mike Jones
The Houston rap scene icon who famously gave out his cell phone number (281-330-8004) brings his live show through the Paris Theater in support of his forthcoming album, Where Is Mike Jones?. (8 pm, Paris Theater, $25)
Twirl: A NoPo Queer Disco
The (World Famous) Kenton Club hosts another installment of Twirl, a new Queer Disco night in North Portland. DJ Le'Mix and DJ Pocket Rock-It spin the finest in funk, house, boogie, and disco, while guest MC Sativa Goddamn Jones presides over the ceremonies. (9 pm, The World Famous Kenton Club, $5)
Dweezil Zappa
Dweezil Zappa revisits an array of his father's deep cuts and hits when the "Choice Cuts!" tour swings through the Roseland. (8 pm, Roseland, $25-50, all ages)
---
Sunday, Dec 16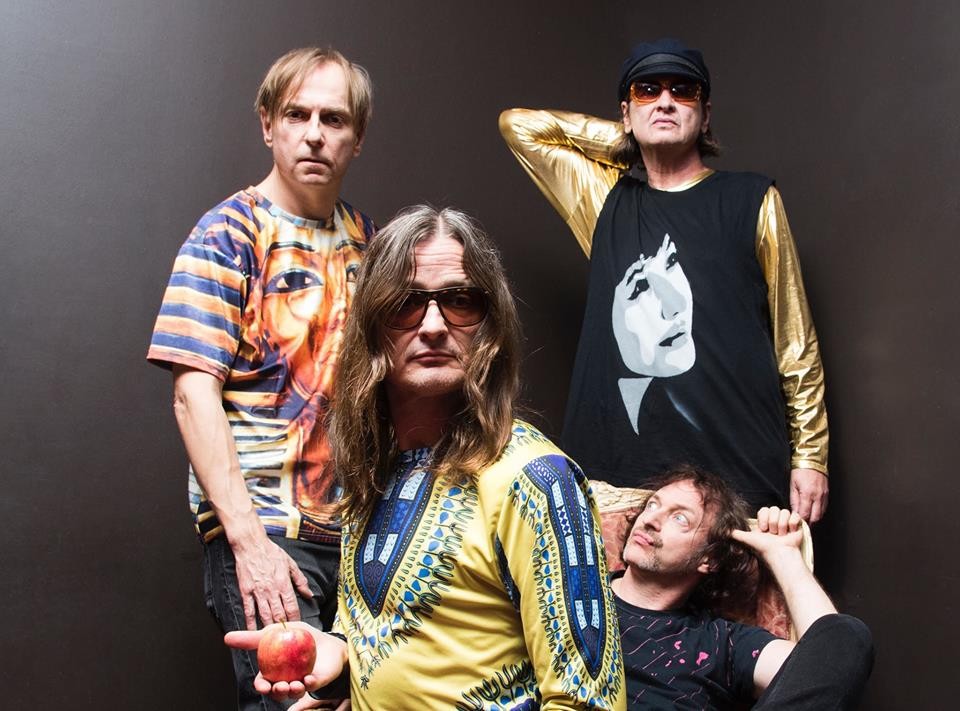 Redd Kross, Dale Crover Band
Teenage Fanclub, the Posies, and Redd Kross constitute the holy triumvirate of '90s power-pop. Those first two bands have been obsessed with creating the perfect sequel to Big Star's #1 Record for the duration of their careers, but Redd Kross' origin story is a little less straightforward. Formed around the nucleus of choir boy brothers Jeff and Steve McDonald, Redd Kross started as a goofy, quintessentially Californian hardcore band, and then synthesized punk with their childhood adoration for Sid and Marty Krofft and bubblegum pop bands like the Partridge Family, resulting in a warped paean to '70s Saturday morning ephemera. Then comes the band's trio of power-pop all-timers: 1990's technicolored Third Eye, 1993's Phaseshifter, and 1997's Show World. Even after all these years, Redd Kross remain one of America's greatest—and strangest—bands. (9 pm, Mississippi Studios, $15-18) MORGAN TROPER
XRAY.fm Space Glam Holiday Jam
XRAY is more than a little extra this holiday season, and that's a good thing, because when they're not taking over malls, they're also bringing the glitter and glam to Holocene with performances from Conditioner Disco Group, Ritual Veil, and DJ Barrows, with Chelsea Starr taking over the decks for the late shift. (7:30 pm, Holocene, $10)
Charts, Tino Drima
Portland's Charts and San Francisco's Tino Drima share their infectious doo-wop-informed garage rock sounds at the latest installment of Sunday Sessions at Rontoms. (8 pm, Rontoms, free)
A Holiday Bizarre
Comedy Really Cares presents its final fundraiser for 2018, built on the atmosphere that only the best slumber parties of your adolescence could provide, but adding things like tarot readings, a silent night raffle, improv by Slumber Party Armando, and more. Proceeds benefit SARC, and donated toys (you should donate some toys!) will go to Doernbecher's. (6 pm, Siren Theater, $15-30)
The Portland Bazaar
One of the biggest and best opportunities to shop local for the holiday season, with vendors including Tender Loving Empire, Hannah Prints, WIld Outdoor Apparel, Frankie & Coco, Ladyfaye Jewelry, Little Feral, Soft Century, and many more. (10 am, Iron Fireman Collective, free)
Don't forget to check out our Things To Do calendar for even more things to do!