Hundreds of green-clad protesters created a human barricade to protect the bike lane on SE 26th Ave. on either side of SE Powell Blvd. Wednesday afternoon, calling on transportation agencies to reinstall the green bike boxes at the intersection. The protest, led by transportation advocacy groups The Street Trust, Bike Loud, and Oregon Walks, took place just over a week after Portlander Sarah Pliner was fatally hit by a semi-truck at the intersection while commuting to work on her bicycle.
"There are [safety] fixes that need to be done today," said Aaron Kuehn, who helped create the barrier on 26th Ave, in front of Cleveland High School. "It doesn't need to take all of these people to stand here."
Police have yet to release details of what led to the fatal crash, but Kuehn noted that transportation safety advocates aren't placing blame on Pliner or the semi-truck driver—they're placing blame on the infrastructure that allowed for a fatal crash to happen.
"The reason so many of us turned out is because we know it could have been any of us and it could have been one of the students," Kuehn said.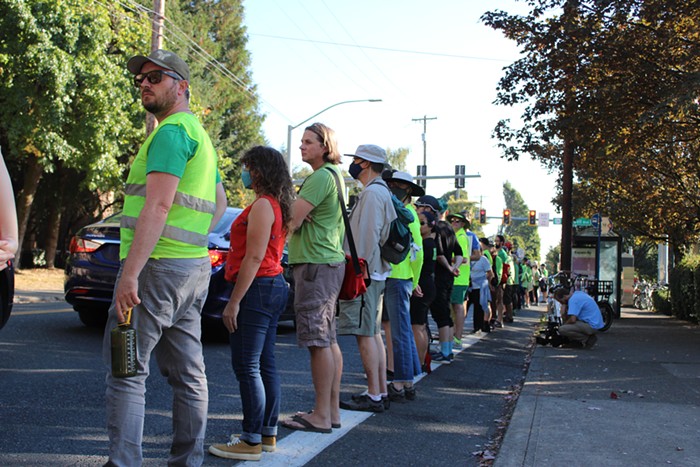 Transportation activists have long called for better safety conditions on SE Powell Blvd. While the thoroughfare functions like a city street, it is actually a state-owned highway operated and maintained by the Oregon Department of Transportation (ODOT). ODOT owns over a dozen highways in the Portland metro region, many of which are considered "high crash corridors"—streets in the city where a significant number of crashes occur—by the Portland Bureau of Transportation (PBOT). While ODOT and PBOT generally agree that the city should take control of ODOT highways that function as city streets through ownership transfers, actually transferring them is a challenge. ODOT's highways have costly maintenance needs that the city doesn't want to become responsible for and ODOT says it doesn't have the money to make the improvements immediately.
Protesters Wednesday urged ODOT to immediately reinstall the green bike boxes to the traffic signals on 26th Ave. at the SE Powell Blvd. intersection. The bike boxes were removed in 2018 after ODOT installed a signaled crosswalk and median two blocks away, on SE 28th Ave. and Powell Blvd.
According to Melanie Boekee, a protest attendee who lives on SE 26th Ave. near SE Powell Blvd., the removal of the bike boxes did little to change the volume of bike traffic along the road. While ODOT intended to shift all bike traffic to SE 28th Ave., Boekee said there is a "constant flow" of bicyclists on SE 26th Ave. Multiple bicyclists who rode through the protest Wednesday thanked the attendees, agreeing that the intersection is dangerous for bikers.
While some drivers honked their horns in support of the demonstration, several drivers flipped off the protesters and drove by to aggressively counter-protest. One driver yelled "Run them over!" while driving past protesters standing next to Pliner's memorial.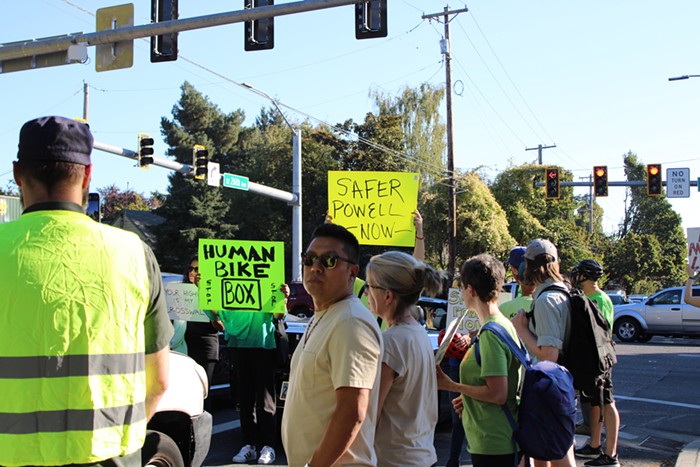 Traffic fatalities and resulting protests have influenced policy change in the recent past.
After years of community organizing, 82nd Ave.—another ODOT highway in Portland—was transferred from state to city ownership earlier this year after two pedestrians were fatally hit by drivers within two weeks of each other in 2021. The ownership transfer was funded by $70 million from ODOT, $35 million from PBOT, and $80 million from the Oregon Legislature to pay for the overdue maintenance and safety improvements.
Last week, ODOT spokesperson Don Hamilton told the Mercury that the agency needed to wait for the police report on the SE Powell Blvd. crash prior to determining if any changes needed to be made to the intersection. On Monday—following several calls for immediate action from local politicians and community groups—ODOT director Kris Strickler announced he was directing the agency to "evaluate possible options to quickly transform Powell into a safer roadway."
"Recent incidents on Powell, including a tragic death on Oct. 4, are evidence that this road cannot, and should not, function as a traditional highway anymore," Strickler said in a press release. "It's time to make changes to ensure the safety of all users."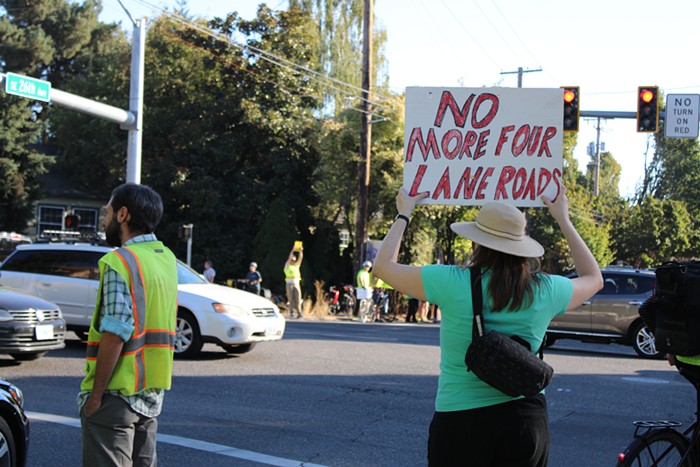 Strickler plans to attend a community forum on the intersection at Cleveland High School on October 20 at 6 pm, hosted by Oregon Senator Kathleen Taylor and state representatives Karin Power and Rob Nosse. Representatives from PBOT, TriMet, and Portland Public Schools also plan to attend. Members of the public are encouraged to attend the forum to give feedback on safety concerns and changes they'd like to see on SE Powell Blvd.
"To keep our community safe, no change is off the table," Strickler said. "If changes result in slowing traffic down, I believe that is an acceptable tradeoff.