Visitors' Guide to Portland 2019
No matter where you're from, you're probably aware of live music's restorative powers. Rather than extol the virtues of this exercise, let us guide you through Portland's best places to take your ears on a date.
Sponsored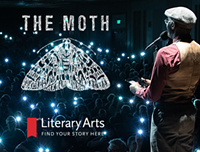 Literary Arts presents The Moth: Portland Mainstage. True Stories, told live. Held at Arlene Schnitzer Concert Hall.
---
Aladdin Theater, 3017 SE Milwaukie
Located in the Brooklyn neighborhood, the Aladdin Theater first opened as a vaudeville house in 1928, then became a family movie theater for about four decades, and later an adult movie theater in the '70s and '80s. It's been a music venue since 1993, bringing rock 'n' roll shows to this otherwise residential corner of Southeast Portland (it's also host to stand-up comedy and podcast tapings). The original movie theater layout is barely modified—the first floor is mostly seated, with more seating in the overhanging balcony to accommodate the building's 620-person capacity. There's some standing room up by the stage, which gets pretty wild during the mosh-heavy concerts like Ty Segall or Thee Oh Sees. But the Aladdin mostly hosts lower-key big-name acts like David Crosby and Judy Collins. Its attached bar, the Lamp, has decent food and excellent happy hour deals. You can tell if the Aladdin's got a show going based on the illumination or darkness of its sea-foam-green-and-red neon marquee, which is topped with a little smoking genie's lamp. CIARA DOLAN
---
Arlene Schnitzer Concert Hall, 1037 SW Broadway
If you want to feel super fancy, take in a show at the Arlene Schnitzer Concert Hall. The performing arts center is home to the Oregon Symphony, Metropolitan Youth Symphony, and Portland Youth Philharmonic, but also hosts non-classical events—icons like Louie Armstrong, Madonna, and Prince have played there, and more recently artists like Solange have graced its stage. It was built in the late 1920s, and hasn't aged much. The inside is ornate and massive, with an orchestra level and a large balcony overhead. Its exterior is immediately recognizable by the beloved "Portland" sign. Tickets are pricier, since the seated venue primarily hosts internationally acclaimed touring acts, but even up in the nosebleeds with a sippy cup of too-expensive wine, any visit to the Schnitz is worthwhile. CD
---
Black Water Bar, 835 NE Broadway
Portland isn't the best city for all-ages music. With the collective storm of its archaic liquor control commission, gentrification, and a microbrew culture that caters first and foremost to people over 21, spaces for young musicians and music lovers are hard to come by. Black Water Bar really is a singularity: It's open to kids, books the best local and touring punk bands, and serves alcohol to older patrons. Black Water Bar has become one of the city's best smaller venues, all-ages or otherwise. It's also one of the best, reasonably priced vegan dining spots in town. CAMERON CROWELL
---
Crystal Ballroom, 1332 W Burnside
The Crystal Ballroom has lots of good qualities: Its 100-plus year history. Its gorgeous decor (including two massive chandeliers). The eye-popping list of artists who've played there. Plus the fact that it's still a vibrant part of Portland's music scene, even after a century standing at the corner of Southwest 14th and Burnside. And yet the main thing people seem to remember about their first time at the Crystal is the feeling of dancing "on air" thanks to its original sprung floor—one of the few left in existence. With room for about 1,500, a cozy balcony, bars on each level, and a diverse slate of shows ranging from country to hard rock to EDM, the Crystal shows no sign of slowing down. BEN SALMON
---
Dante's, 350 W Burnside
While the rest of Old Town slowly adapts to the new commercial landscape, Dante's holds true to the downtown core's less-than-savory roots. With its warm indoor fireplace and exposed brick interior, the club has the feel at times of a cozy ski lodge. But its low lights and dark corners conjure naughtier intentions, helped by the fact that the stage is a regular home for burlesque shows and pole-dancing exhibitions. Musically, Dante's tends to opt for grittier fare: beer-soaked garage rock, sleazy metal, and underground hip-hop. It's also the longtime home for Karaoke from Hell, a live-band karaoke experience with a deep songbook and a lot of volume. ROBERT HAM
---
Doug Fir, 830 E Burnside
True to its name, the Doug Fir feels like someone turned the basement of their log cabin into a futuristic subterranean club. Situated on a busy block of East Burnside, upstairs you'll find an ultra-mod bar, '70s diner-like restaurant, and outdoor patio with a fire pit. Downstairs houses the mid-sized venue, which has another bar, a disco ball, a few booths, and standing room for about 300. Most shows feature touring indie rock, punk, or folk musicians, though some local bands have release shows there. CD
---
Edgefield, 2126 SW Halsey, Troutdale
The McMenamins empire encompasses more than 50 pubs, hotels, and theaters across the Pacific Northwest, but their crown jewel might be Edgefield, a former poor farm outside of Portland that's been turned into a resort, complete with a hotel, winery, and golf course. Every summer they host concerts on the lawn, and it's the best large outdoor venue in the Portland area. In 2019, acts like the Roots and Vampire Weekend are gracing the Edgefield stage. But no matter who's playing, it's worth driving out to Troutdale to check out the grounds and sample the full range of McMenamins-made beer, wine, and liquor before taking in a show. And don't worry about overdoing it—you can spend the night! NED LANNAMANN
---
Holocene, 1001 SE Morrison
The vibe of this Southeast Portland venue is something like a nightclub from a '70s sci-fi movie with tastefully futuristic art scattered around the two-level space and a love for modern dance music and R&B that's always one step ahead of the blogosphere. Holocene's long-running parties always showcase the deep bench of DJ talent in the city, and their bookers also keep a sharp eye for up-and-coming local and touring musicians, pulling from every genre under the sun—and likely a few that they don't have a name for yet. RH
---
Laurelthirst Public House, 2958 NE Glisan
This neighborhood pub is more than just a place to grab a quick drink and shoot a round of pool—the LaurelThirst doubles as one of the best places to see live folk and roots music in the city. Boasting a calendar that might just be the busiest in town, the Laurelthirst typically hosts two shows an evening, and the early "happy hour" shows usually don't even have a cover. This has been a mainstay on the Portland live scene for nearly three decades, so if folk, country, old-time music, or just plain good old-fashioned rock 'n' roll are your thing, pop by for a free live show before dinner, or make it your destination for the night, as the place hosts regular gigs by Portland talent like Lewi Longmire, the Freak Mountain Ramblers, and Portland Country Underground. NL
---
The Liquor Store, 3341 SE Belmont
This venue (not a real liquor store) is positioned at a key intersection on Southeast Belmont. Across the street there's a slew of hip bars like Aalto and the Sweet Hereafter, and next door there's the wondrous Avalon nickel arcade and movie theater. It's another one of these subterranean joints, with a bar upstairs that often hosts DJ nights and a cavernous, low-lit venue downstairs where you're likely to find local psych-rock or dance parties on any given night. CD
---
Mississippi Studios, 3939 N Mississippi
Situated on the trendy Northeast Mississippi strip, Mississippi Studios is the ultimate mid-sized music venue. You enter through the attached bar, which serves burgers, salads, and snacks like deep-fried pickle chips. There's a huge, partially covered patio out back with picnic tables and a fire pit. Sometimes they project movies on the exposed wall. The venue itself is two levels: an upper balcony with rows of seats for when you're too tired to stand, and the ground floor, which is covered in rugs for maximum coziness. Everything is clean and comfortable, which is honestly a relief when you just want to have a low-stress night out. They host local showcases, dance parties, and well-known touring acts from every genre—2019's calendar includes Team Dresch, Priests, and Sarah Shook. CD
---
Moda Center, 1 N Center Court
With a capacity of nearly 20,000, the Moda Center is the city's largest music venue, but it's primarily used as an indoor sports arena (it's home to the Portland Trail Blazers). Only really big-name artists play the Moda—like Paul McCartney, Judas Priest, and Stevie Nicks—and this is probably the only venue in town that's capable of adding pyrotechnics to a concert. If you want to nibble on a soft pretzel while watching Justin Timberlake in a humungo arena, this is the place for you. CD
---
The Old Church, 1422 SW 11th
It feels good to drink non-sacramental wine while sitting in a pew. See for yourself at the Old Church, a nonprofit events hall (and real church) downtown that periodically hosts jazz and folk concerts. CD
---
Revolution Hall, 1300 SE Stark
Housed in the former Washington High School building in Southeast Portland, Revolution Hall hasn't lost any of its scholastic charm—walking through the hallways feels like you're cutting class. The venue is an auditorium in the center of the school, split between a wraparound balcony and mostly seated ground floor. It regularly hosts indie rock bands, folk icons (like Joan Baez), burlesque shows, podcast tapings, stand-up comedy, and smaller shows on its roof deck, which boasts a panoramic view of the Portland skyline. CD
---
Roseland Theater, 8 NW 6th
Formerly known as the Starry Night in the 1980s (until the owner murdered an employee in 1990), the Roseland Theater sits on downtown's main thoroughfare, West Burnside. It's been through a lot—when Prince played there the walls were painted purple, and according to legend, when Insane Clown Posse played there, Faygo started to leak from the downstairs ceiling. It's a massive (1,400 capacity) theater with a ground floor and an upstairs balcony with an adjacent bar. Hip-hop, metal, punk, and plain old rock shows featuring bands like Modest Mouse subsume the Roseland and the smaller venue located within its confines, Peter's Room, nearly every night of the week. CD
---
Star Theater, 13 NW 6th
Like so many older buildings in the city, the Star Theater has been through some changes in the 100-plus years since it was built: It's been a silent movie house, a burlesque theater, and a nightclub. These days, it's a fine performance space that shares plenty of DNA with sister club Dante's (both are owned by Frank Faillace), but boasts a much better sound system and a much bigger capacity—that's why the Star can draw acts like Charli XCX, Death Grips, and the Dandy Warhols. Off nights are filled with goth dance parties, burlesque shows, and stand-up showcases. RH
---
Tonic Lounge, 3100 NE Sandy
The new and improved Tonic Lounge hasn't lost its sense of purpose: Hosting an eclectic array of music that leans toward the louder, heavier genres—punk, metal, and rock 'n' roll. It's a great place to see up-and-coming local acts open for underground bands from all over the world. The Tonic is essentially split in half: There's a dark, cozy bar on one side, and on the other there's the stage, another bar, and a gracious assemblage of pinball machines. Enjoy excellent happy hour deals, tasty food, and a large, partially covered outdoor seating area for all your smoking and cavorting needs. ARIS HUNTER WALES
---
Turn! Turn! Turn!, 8 NE Killingsworth
Local stand-up comedian Nariko Ott had an apt description for this North Portland venue: "It's like someone looked at a Goodwill and thought, 'I wish we could drink here.'" What space isn't taken up by the small stage and mosaic-covered tables is devoted to a selection of used records and books, vintage clothes, and a shelf full of old music magazines from around the world. Oh, and a bar that serves well-curated craft beer and delectable sandwiches. Owned by an underground rock lifer, TTT's calendar tends to be a wonderfully motley affair with regular Sunday night jazz gigs, showcases for up-and-comers, experimental/noise acts, and a healthy dose of roots-rock. RH
---
Wonder Ballroom, 128 NE Russell
Located inside the historic Hibernian Hall on Northeast Russell, the Wonder Ballroom has been humming along as one of Portland's busiest mid-sized concert venues for more than a decade. The room's 778-person capacity allows it to host a wide variety of acts, from internationally touring folk singers to fast-rising indie rock bands to popular local artists. Offstage, the Wonder offers a top-flight experience, from its Spanish Revival-style architecture and spacious main floor to the full bar, basement café, and unobstructed sightlines from the balcony. Here's the thing about the Wonder: It's a comfortable place to see a show. And in a world with plenty of less-than-ideal venues, that's a beautiful thing. BS