Womxn's Issue 2019
Founded in 2009 by Portland- based chef and farmer Stacey Givens, Side Yard Farm is an entirely womxn- and volunteer-run urban farm, supper club, and catering company located in the Cully neighborhood. What started as an outlet for Givens to sell her produce to roughly 20 local restaurants has since morphed into something else—as she tells me, "It's not just a farm."
Over the past decade, Side Yard has steadily expanded to become a sort of community hub. It's hosted kids' camps, "chicken retirement classes," culinary workshops, yoga, bike-in movie nights, and pop-up meals featuring Givens' produce. Side Yard even sends chefs and farmers to Japan on annual "seed-to-plate" tours, and attracted national attention in 2015 when Givens appeared on an ice cream-focused episode of Chopped.
Givens says that by hosting pricey events like weddings and swanky suppers, she's able to lend her space to nonprofits and offer affordable programming that benefits her community and beyond, like the Lost Table, a bimonthly dinner for a grief support group.
"It's a potluck, so you could bring your person's favorite food," Givens explains. "People are kind of nervous walking up sometimes, but they get a drink, start eating, and then people begin talking across the table. We just all hold space for them, but we get to have a meal together, too. Seems like it's just more comfortable when you have food in front of you."
Givens has dubbed 2019 the "Year of the Queer," and will be collaborating with Q Center to find urban farming interns and unveil a queer farmers' market that will give queer youth opportunities to get some job experience. Givens says she also plans to put on queer suppers for the LGBTQ community that will be similar to the dinners Side Yard hosts in collaboration with the Refugee Care Collective.
For those, Givens explains, "I partner up with a refugee family and talk with them about their favorite meal, or something that they grew up with, and maybe they share recipes with me. Maybe they want to cook with me. Sometimes they just give me recipes and then they come to the dinner, and I'll do a fancy farm take on it—like six courses—and then they get to tell their story."
"Just 'cause it's the 'Year of the Queer' doesn't mean that if you're not queer, you can't be part of anything we're doing," Givens says. "If you support the queer community, you're a part of the queer community.. I think it's just time for getting in people's faces. Cause nothing's fuckin' changing. We're going backwards."
Side Yard has a lengthy volunteer email list that continues to grow, and Givens says she's even offered people opportunities to work in exchange for access to an event they may not otherwise be able to afford.
"It's hard for me to say no to things," she says, "when people want to bring something to the table."
Sponsored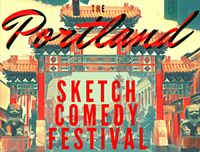 Sketch comedy troupes from all over N. America descend on The Siren Theater for 3 glorious nights.