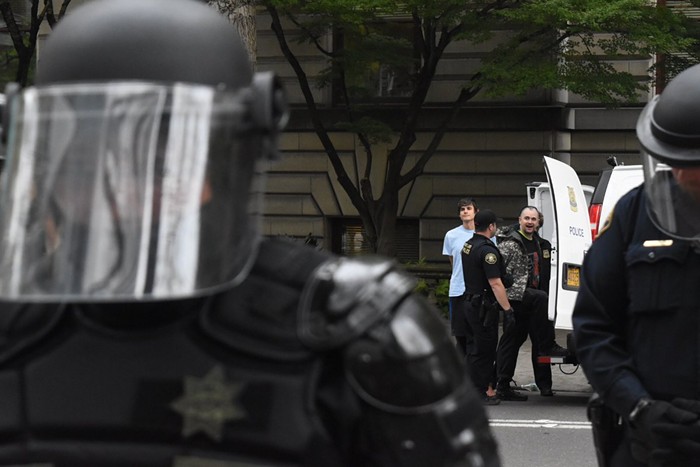 Portland City Hall descended into bedlam this afternoon, as protestors angry over passage of a new police union contract clashed with officers ordered to eject them from the building.
In one of the more forceful altercations between cops and Black Lives Matter protestors in recent years, cops struck and pepper sprayed activists, and pushed at least two forcibly down the steps of City Hall, causing them to fall.
The aftermath since has snarled downtown Portland. Protestors are stopping traffic, including MAX trains, on SW 5th—a key southerly route through downtown. Activists are still trying to clear pepper spray from their eyes with milk, nearly an hour after being sprayed. And there's a sense that, rather than solving key issues around policing, the new contract has instead spurred an incident of police force we'll be hearing about for a long time.
"Now we're mad!" Don't Shoot Portland coordinator Micah Rhodes said, standing in front of an idle Orange Line train. "We were being peaceful this whole time!"
Here's a rundown of the events that preceded the altercation this morning.
As protestors, incensed over the city's passage of the new contract, sat outside of council chambers around tents they'd erected, security officers attempted to evacuate the building, ordering people to leave. When no one budged, police moved in, forming a wall and pushing people toward the one door that wasn't blocked off.
Amid the pushing and screaming, one man, who would only identify himself as Benjamin, said an officer "choked the fuck" out of him. He said he'd been attempting to back away from officers, but couldn't move fast enough because of the crush of the crowd.
As police forced protestors from the building, facing shouts and screams, they wound up pushing Jessie Sponberg and Sara Long—activists, and both candidates for office this past May—off the steps at City Hall's 5th Avenue entrance.
The Oregonian's Brad Schmidt got good footage of the clash.
The police bureau's riot cops moved in quickly, pepper spraying at least a half dozen activists.

She was pepper sprayed. pic.twitter.com/WWs7LsxLSS
— Dirk VanderHart (@dirquez) October 12, 2016
"I can't believe what just happened," said Greg McKelvey, a spokesperson for Don't Shoot Portland. "We were just kind of hanging out."
Don't Shoot PDX's Greg McKelvey is emotional. "I feel responsible for these people." pic.twitter.com/0P4uzkc3uE
— Dirk VanderHart (@dirquez) October 12, 2016
The question now becomes what the aftermath of the altercation will be. Hales said this morning that the police bureau had made tremendous strides in its relationship with the community, though there is "still more work to do." The hour or so that followed that statement seems certain to snarl things. Protestors are already vowing to file complaints with the city's Independent Police Review, which investigates police conduct in such incidents.
Update, 3:24 pm:
Here we go. pic.twitter.com/0XmNd1wxnM
— Dirk VanderHart (@dirquez) October 12, 2016
Not long after our first posting, a group of riot copes moved in once again. They ordered protestors out of the road and onto the sidewalk across from City Hall, and formed up a wall of sorts to force them to do so. It set off another round of shouting, with a bunch more people getting pepper sprayed—including well-known homeless advocate Ibrahim Mubarak—and one man apparently having his arm broken in a fall. At least one kid was pepper sprayed twice.
As of this writing, police had left, and protestors promptly got back into the street. Meanwhile, in City Hall, council is meeting as planned, and taking up an action plan to prevent traffic violence.
Constantin Severe, head of the city's Independent Police Review (IPR), tells the Mercury the agency hasn't received any citizen complaints yet. That could be partly because IPR is based in City Hall, which is still on lockdown. Severe stresses his staff is "open and we're available," via phone and email.
And he can't resist tweaking City Council for the fall out of a police contract that IPR had requested be pushed off.
"I think the argument for the city to say 'trust us' on anything related to police accountability has been diminished with what's gone on the past couple weeks," he said.
Although City Hall is locked down, IPR is open to serve the public by phone (503)823-0146 and email: ipr@portlandoregon.gov
— Portland IPR (@PortlandIPR) October 12, 2016

Update, 4:55 pm:
The Portland Police Bureau says in a news release that nine people were arrested in today's altercation. It hasn't provided any names, but it appeared two "cop watchers," Mike Bluehair and Robert West, were arrested. So was Sara Long, an activist and former city council candidate.
The PPB says officials received emails this morning "threatening a large-scale shutdown of the transportation system, City Hall and to resist any police response." Tera Pierce, Hales' chief of staff, also mentioned threatening emails earlier today.
Cops say one officer was assaulted, but not injured.
"It should be clear that 'free speech events' do not require a permit; but, marches or demonstrations occurring in public streets that restrict movement of other community members do require a permit issued by the City of Portland to allow for the safety of all," the bureau writes in the release. "No permits were issued for today's events."
Here are some tweets from today's altercation.
Easily 50 cops out here. pic.twitter.com/MZfz8ImlQe
— Dirk VanderHart (@dirquez) October 12, 2016
Portland cops now threatening "impact weapons" if protestors don't stay out of road.
— Dirk VanderHart (@dirquez) October 12, 2016
Scene. pic.twitter.com/oIP6I8RtNQ
— PDX City Hall Watch (@cityhallwatch) October 12, 2016
This guy is yelling at protesters pic.twitter.com/nRKrgmKlYQ
— doug brown (@dougbrown8) October 12, 2016
Cops are back pic.twitter.com/jgt3aoqHHA
— doug brown (@dougbrown8) October 12, 2016
And here's more of our coverage of the police union deal, and resulting outcry.
•City Council Just Retreated to a Closed Meeting Space to Pass a New Police Contract
*MEMO: Police Union Isn't Automatically Entitled to a Say in Body Cam Policy

*City Hall Was Completely Locked Down Wednesday, After Drama Over a Police Union Contract

*Portlanders Just Got Their First Look at a Police Body Cam Policy: Here Are Four Things You Need to Know About it