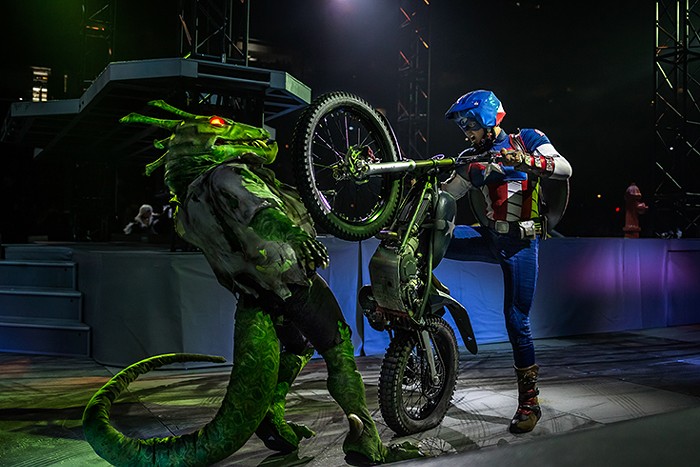 Calling all superhero geeks who also love hilarity and dirt bikes: The wholly entertaining Marvel Universe Live! Age of Heroes is back in town this weekend at the Moda Center! For the uninitiated, this is one of those kid-friendly "Disney On Ice" style productions—EXCEPT! Instead of Mickey Mouse, ice, and annoying songs that make you want to claw your eyes out, its MARVEL SUPERHEROES! FIGHTING! SOMETIMES ON DIRT BIKES!
I went last year, and thought it was an absolute hoot. Here's a clip from my review:

What I primarily loved about this show was the simultaneous reverence and irreverence for the characters. One moment the show is slavishly devoted to over-explaining minutia about the Marvel Universe, the next, Bruce Banner (the Hulk's alter-ego) is doing sick front wheel stands on a dirtbike. Now, I never knew this... but Bruce Banner is wicked awesome on a dirtbike, as is Wolverine, and when the two are racing their bikes around the stage, popping wheelies, and jumping ramps, it's like we're being exposed to a glorious (and hilarious) new world.
More than anything else though, it's a SPECTACLE. And along with appearances from the Avengers, Doctor Strange, Black Panther (!!!), and Spider-Man, this year's show will also feature your faves from the Guardians of the Galaxy franchise. So if this type of hilarity (please let it feature Groot on a dirt bike!!) is up your alley, don't miss it!
Marvel Universe Live! Age of Heroes, Moda Center, 1 Center Court, Fri Sept 22 at 7 pm, Sat Sept 23 at 11 am, 3 pm, and 7 pm, Sun Sept 24 at 1 and 5 pm, $20-95