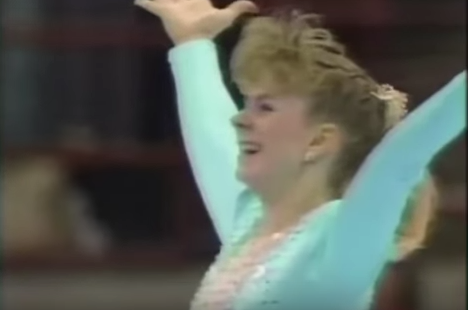 Sufjan Stevens has a known obsession with Oregon. In 2015 Stevens released Carrie & Lowell, which featured a stock of Oregon tie-ins. In interviews, he's discussed his many trips to Oregon during his formative years with his mother Carrie, the albums' namesake.
Steven's latest Oregon muse... Tonya Harding. According to a press release accompanying the song's release, Stevens has been trying to write a song about the disgraced figure skater since he saw her compete at the US Figure Skating Championship in 1991. If you're not familiar, check out this timeline of Harding's career and life from the Oregonian.
The press release goes on to detail his complex feelings about Harding's rise to fame, career, and downfall. Stevens says:
She's a complicated subject for a song partly because the hard facts of her life are so strange, disputable, heroic, unprecedented, and indelibly American. She was one of the greatest figure skaters of her time, and the first American woman to perform a triple axle in an international competition. She was an unlikely skating star, having been raised working class in Portland, Oregon. Being a poor outsider, her rise to fame in the skating rink was seen, by some, as a blemish on a sport that favored sophistication and style. Tonya's skating technique was feisty, fierce, and full of athleticism, and her flamboyant outfits were often hand-made by her mother (who was abusive and overbearing). (They couldn't afford Vera Wang.) And then there was the Nancy Kerrigan incident.
Another fun fact about Harding:

In 1996 Tonya used mouth-to-mouth resuscitation to revive an 81-year-old woman who collapsed at a bar in Portland while playing video poker.
The release ends with a sentiment we can all relate to:

I admit, early drafts of this song contained more than a few puns, punch lines and light-hearted jabs—sex tapes and celebrity boxing make for an entertaining narrative arc. But the more I edited, and the more I meditated, and the more I considered the wholeness of the person of Tonya Harding, I began to feel a conviction to write something with dignity and grace, to pull back the ridiculous tabloid fodder and take stock of the real story of this strange and magnificent America hero. At the end of the day, Tonya Harding was just an ordinary woman with extraordinary talent and a tireless work ethic who set out to do her very best. She did that and more. I hope the same can be said of us all.
IMHO: The song was worth the 26-year wait.
Read an interview with Portland's own Tonya Harding expert here.