Employees at a second Portland Burgerville store are charging forward with plans to get Burgerville management to recognize their union.
This afternoon, a group of employees from the fast food chain's Gladstone location (at SE McLoughlin and Glen Echo) will file a request with the National Labor Relations Board (NLRB) to hold an official union election. This action comes four days before employees at Burgerville's NE 92nd and Powell location will vote on their own unionization, adding fuel to the years-long, dual-state push by the Burgerville Workers Union to be heard by Burgerville execs.
Burgerville has refused to voluntarily recognize the union, which is why these stores have to hold a vote in the first place.
According to Stefan Stackhouse, who's worked at the Gladstone store for a little over a year, this decision comes on the heels of mounting retaliation from store management who oppose unionization.
In 2017, Stackhouse said he'd been getting regular raises and was on good terms with his superiors. But when a majority of Gladstone employees, including Stackhouse, sent a letter to store management in December explaining their intent to unionize, that momentum slowed.
---
RELATED
: "
Burgerville's Union Will No Longer Be Ignored by Management
" [
News, April 4, 2018
]
---
"Since then, my relationship with management has substantially changed," Stackhouse says.
At the end of 2017, Stackhouse had been working 29 and 1/2 hours per week (Burgerville offers benefits to employees working 30 hours, he notes). Now, Stackhouse says he's only being scheduled for a measly ten hours a week. He's asked management for more hours, but he says they told him he wasn't needed. Meanwhile, he's watched new staff get hired on and handed full 20-hour per week schedules. Others who signed the December letter have similarly watched their hours shrink.
If these cuts are found to be a direct response to the union efforts, Burgerville could get sued by the federal government under the National Labor Relations Act.
But schedule cuts aren't the only way Gladstone employees have felt punished by Burgerville management for seeking to unionize. According to Stackhouse, one employee posted some information about the union at work, to inform fellow workers about the process. Not only did a manager rip it off the wall, but he threatened that employee with disciplinary action for putting it up in the first place.
"It's willful disregard for our rights," Stackhouse says.
Once the formal request is filed, the Gladstone election is expected to take place within a month.
As of now, only two Burgerville stores—the Gladstone and Powell locations—have filed for a unionization election. Dozens more, however, have shown interest in joining the Burgerville Workers Union.
Who's next?
Sponsored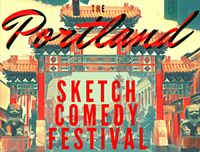 Sketch comedy troupes from all over N. America descend on The Siren Theater for 3 glorious nights.