A group of teen activists gathered at the First Unitarian Church of Portland last night to pitch hardball questions at a panel of local law enforcement leaders. Led by high school students Britton Masback and Taji Chesimet (founding members of
Youth Educating Police
), the discussion focused on police interactions with youth and the students' general concerns around policing tactics.
Sponsored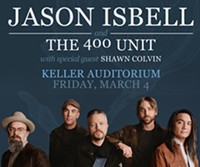 Jason Isbell has established himself as one of the most respected songwriters of his generation. Don't miss Jason Isbell and the 400 Unit, March 4th at Keller Auditorium!
The panel included incoming Portland Police Bureau Deputy Chief Bob Day, a 28-year veteran of the force and, most recently, a captain in the PPB's training department. In the brand-new position created by Chief Danielle Outlaw, Day will effectively be PPB's second in command. He'll officially start that new job today.
Day is entering this new position during a moment where public trust in PPB is particularly lacking—less than a month after a police shooting that left a mentally distressed man dead and just over a year since police fatally shot an unarmed 17-year-old boy in the head. Portland's corps of police accountability activists and victims' family members continue to push for answers. Mayor Ted Wheeler's budget ask for 58 new sworn PPB officers appears to only add to the public's wariness.
On the eve of his swearing-in ceremony, Day answered a number of tough, unexpected questions from student leaders regarding police militarization and use-of-force policies. Day's responses offered a peek into how the incoming deputy may tackle his new job.
Here's a few of them:
On the role social media plays in policing: "On one hand, it's allowed us to have a greater relationship with the community," he said, listing the bureau's Facebook and Instagram stats. "But it also highlights some of the challenges we face... like when we can't response as quickly to issues as we'd like."
On militarizing police: "The police bureau has not accepted military equipment." Day noted the importance of PPB ending the use of military-grade firearms.
On police use of force: "[PPB] has been slow to recognize the need to change in this area," Day admitted. "But we're making strides."
On the recent audit of the PPB's Gang Enforcement Team (GET): Day said the audit exposed the poor data collection practices within the bureau. He also noted that the bureau is going through much-needed implicit bias training—something that could help improve future GET outcomes (a reminder: the audit found police disproportionally targeted people of color).
On the role officers play in the criminal justice system: "Discretion is key... taking everything on a case-by-case basis," Day said. The initial role a police officer plays in a case can change the course of justice, he adds. "I always tell other officers, 'We're the tip of the spear.'"
On interacting with the public: "People want to hear from us. At the end of the day, for all of our struggles, and we have many, we need to honestly address the public's concerns. It's important sometimes to sit with the messiness of it all," Day said. "It keeps us human... it keeps us real."