Members of Patriot Prayer, a group of right-wing provocateurs from Vancouver, brought a cache of loaded firearms to the top of a parking garage in downtown Portland prior to the group's August 4th protest.
Sponsored
Win a behind-the-scenes tour of our kitchen, see how we make our artisan edibles, and get some swag.
In an afternoon press conference regarding the latest's Patriot Prayer rally, Portland Police Bureau (PPB) Assistant Chief Ryan Lee explained that before the August protest kicked off, officers found a number of people standing on the roof of a parking garage above with loaded guns. The garage was directly above where the afternoon protest was expected to take place.
The firearms were confiscated and the people were "redirected," Lee said. They all had permits to carry a concealed weapon. None of them were arrested or charged.
This is the first time PPB has shared this alarming incident with the public.
"Hindsight is always perfect," said PPB Chief Danielle Outlaw. "We've pushed out a lot of information about our concerns about potential violence."
After the August 4 protest, PPB sent out multiple Tweets and emails detailing the types of weapons officers had confiscated from both right-wing and left-wing protesters. None of the updates mentioned firearms.
Outlaw said that PPB may reconsider telling the public about these kinds of incidents in the future.
The press conference was initially organized unveil a new city ordinance—one that would place stricter regulations on planned protests if they pose a clear threat to public safety. The ordinance would allow PPB to regulate the location and time of a planned protest if it met the new criteria (outlined here).
"There are some basic ideals we should be able to agree on as Americans," said Wheeler. "We don't tolerate violence in our streets. Violence is not... a legitimate means to a political end."
Wheeler's referring to the violent Saturday night clash between members of Patriot Prayer and local anti-fascist (or "antifa") protesters.
We've seen the same scenario play out in Portland streets over and over again. This time around, Patriot Prayer held a "flash march for law and order" in downtown Portland, calling on Wheeler to crack down on antifa protesters. Patriot Prayer was especially pissed off by how people at an October 6 rally to protest the Portland police shooting of Patrick Kimmons treated a man who drove his car into the crowd of protesters (which included Kimmons' family members). This rage was further stoked by a Wall Street Journal editorial claiming Portland has been overruled by a "leftist mob."
"This is not a partisan issue," Wheeler said this afternoon. "This is not about ideology. This goes beyond Democrat and Republican. This is about delivering a strong and principled message that we will not tolerate violence in our community."
Sponsored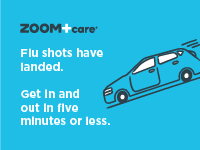 ZOOM+Care makes flu shots easy and safe. Schedule ahead, skip the line—get in and out in 5 minutes.