Oregon's top landlord advocacy group has issued a strong rebuke to a request made by Portland City Council Wednesday, which asked state and federal lawmakers to suspend rent and mortgage payments for individuals financially impacted by COVID-19.
Sponsored
Sketch comedy troupes from all over N. America descend on The Siren Theater for 3 glorious nights.
"Please ignore the misguided and uninformed correspondence that you received yesterday from the City of Portland," wrote Deborah Imse, director of Multifamily NW, in a letter sent to Gov. Kate Brown Thursday afternoon.
"It is critical that you understand that the City's proposal is not only dangerous to our community in the near term," she continued, "but that it would result in a cascading series of events threatening our basic economic structures."
In the referenced correspondence sent to state and federal lawmakers Wednesday, Portland City Council asked for the government to forgive all residential and commercial rent and mortgage payments for the duration of the crisis caused by the COVID-19 pandemic.
Brown has already imposed a statewide moratorium on residential and commercial evictions due to non-payment of rent due to COVID-19—which comes with an expectation that the unpaid rent would eventually be paid back. The city council's proposal goes further to ask that rent costs—and all mortgage payments—be entirely waived during the pandemic's spread.
Without these kinds of protections, the city commissioners wrote, "We are putting tens of thousands of Portlanders who currently have housing at risk of becoming destitute or homeless as a result of this public health crisis."
For Imse and other landlords represented by Multifamily NW, the idea of waiving rent and mortgage payments seems like a step towards economic disaster—rather than away from it.
In her letter, Imse explained how most mortgages for multi-unit apartment complexes are not financed through the Federal Housing Administration, which is offering mortgage repayment plans for its borrowers. Instead, Imse said, many complexes are financed through a smattering of different private and public funding sources, including private equity firms and Oregon's public pension system. Canceling those payments could permanently impact the state's economy, Imse wrote.
"Oregon government has neither the authority nor financial wherewithal to restructure or back these investments in the way that the city is proposing," she wrote.
Imse predicts that if the state grants Portland's request, it will initiate a "dire" domino effect among homeowners, renters, social services, and all taxpayer-funded programs. Instead, Imse pushed Brown to consider funding a rent voucher program for Oregon tenants, which would task the government with covering tenants' unpaid rent during the crisis' duration. Imse estimates the vouchers would cost the government about $350 million per month.
Neither Brown nor Portland City Council has responded to Imse's letter—yet.
Sponsored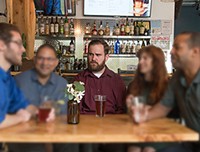 Adults aged 18-35 with good hearing will be paid for their time. Located at the Portland VA Medical Center