You:
"DANG IT! I wish there was a way for me to look fashionable AND support the
Portland Mercury
at the same time!"
Sponsored
Win a behind-the-scenes tour of our kitchen, see how we make our artisan edibles, and get some swag.
Us: "NOW THERE IS!"
Introducing the Portland Mercury "TP" Tee! A high quality, super soft, 100 percent cotton T-shirt that depicts two of the Earth's rarest commodities: Toilet paper and the Portland Mercury!

As you may have read
, the COVID-19 crisis has taken away the majority of our advertising (from music venues, restaurants, bars, theaters, and more) due to the ban on public gatherings. So if you love the
Mercury
's brand of smart, progressive journalism, complete entertainment listings, and often inappropriate comedy,
and
you want to see us survive, you have some choices: You can
donate here
, you can
advertise here
, or you can
buy this SAH-WEET new Mercury T-shirt here!
(Or hell... do all three!)
Special thanks goes out to the fine folks at Pacific North Press—the makers of superb T-shirts, stickers, and more—who are helping lots of Portland's small businesses survive this crisis with fund-raising T-shirt campaigns. Check out their very generous efforts here!
So what are you waiting for? They're only 25 bucks! Do you want to be the most fashionable, generous, and adored (by us!) person in this crisis or not? HELP THE MERCURY BY BUYING A "TP" TEE TODAY!
Sponsored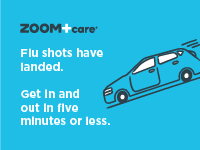 ZOOM+Care makes flu shots easy and safe. Schedule ahead, skip the line—get in and out in 5 minutes.